I'm off this morning to Orange Beach, Alabama, where I'm speaking at the 2018 Conference of the Alabama Writers Conclave (AWC). Check out the list of speakers here. So many good things about this event: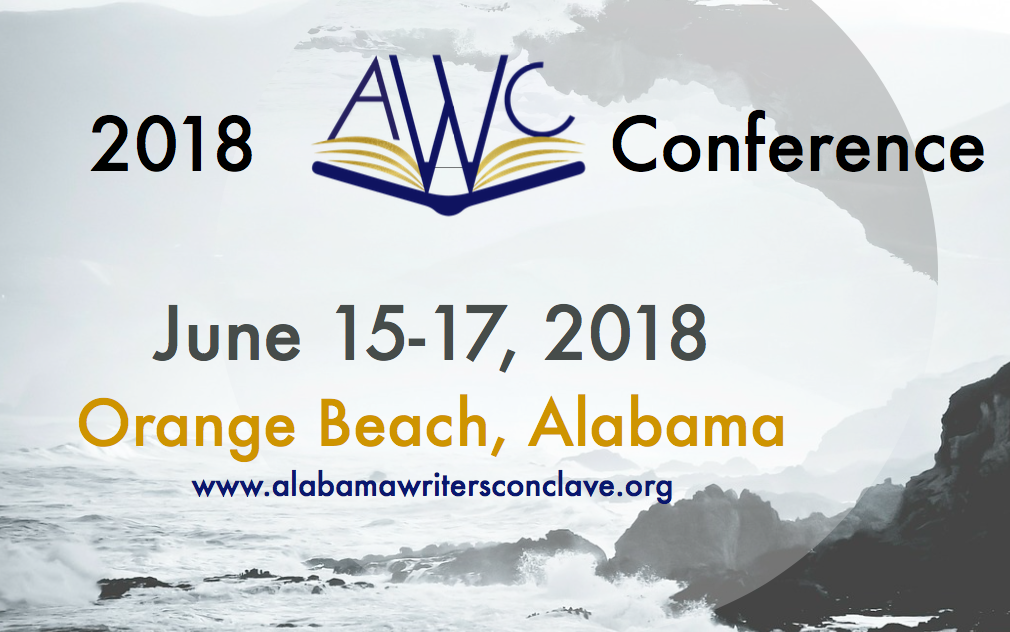 I get to hang out with my Alabama writer friends Jennifer Horne and Wendy Reed again (loved being with them in Birmingham and Tuscaloosa last week) and I finally get to meet Katherine Clark in person.
My husband is joining me for a long weekend on the coast. The AWC pays travel, two nights in a hotel, and an honorarium, so it's fun that I'm taking him as the spouse for this trip, after so many trips where he takes me as the spouse for his medical meetings. Tonight we'll have our final "anniversary week" celebration, with dinner at Fishers at the marina at Orange Beach. And hopefully he'll have some fun at the beach while I'm working on Saturday!
On Sunday we drive from Orange Beach over to Fairhope, where I'm joining Suzanne Hudson and Joe Formichella for a panel on Southern Writers on Writing at Page & Palette Books. I love this bookstore and this town, where I've been many times over the years for literary events and have made some good friends. 10 of us will be having supper at Tamara Downtown after the reading at Page & Palette Sunday afternoon.
Here's my schedule at the AWC Conference:
Saturday, 8:30 a.m. I'm teaching a workshop: "Working With Editors Memoirs, Novels, and Anthologies."

Sunday, 9:45 a.m. I'm on a panel with contributors Jennifer Horne, Wendy Reed, and Katherine Clark for Southern Writers on Writing. This will be my sixth event for this book, and I'm loving connecting with all the authors throughout the south on this book tour.
We're hitting the road in about two hours, so I'd better pack! Watch Facebook for photos. Have a great weekend, everyone!
Eight of the twenty-six authors who contributed essays (and the Foreword) to Southern Writers on Writing have new books out in 2018. I am honored to have all of these amazing writers in this collection, and I especially want to encourage my readers to check out these new releases for 2018. I love the diversity of this group of new releases, which includes two short story collections; five nonfiction books (two inspirational books, one memoir, one anthology, and one oral biography); and two novels. The authors hail from Tennessee, Mississippi, Alabama, Georgia, and South Carolina. CHECK THEM OUT: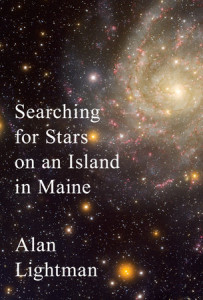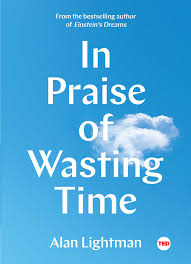 Memphis native Alan Lightman, who wrote the Foreword to Southern Writers on Writing, has 2 new books already out this year: In Praise of Wasting Time (May 2018) and Searching for Stars on an Island in May (March 2018).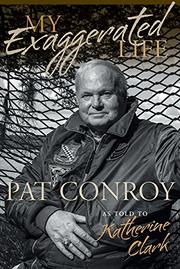 Katherine Clark's oral biography, My Exaggerated Life: Pat Conroy, came out in March.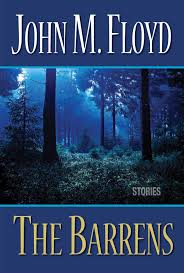 Prolific short story author John Floyd has another collection coming out in October: The Barrens. (He has published close to 1000 short stories!)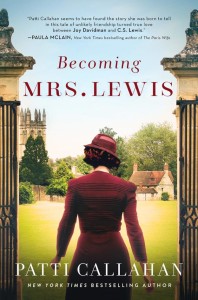 Patti Callahan Henry makes a departure from her coastal-themed novels with Becoming Mrs. Lewis, a novel about Joy Davidman, C. S. Lewis's wife, coming in October.
Harrison Scott Key brings us more humor with his new book, Congratulations! Who Are You Again?, coming in November.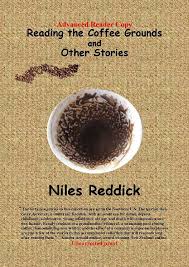 Niles Reddick, another prolific short story author, brings us Reading the Coffee Grounds and Other Stories, which will be out in August.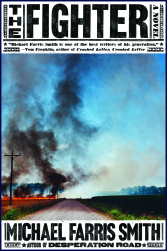 Michael Farris Smith's novel The Fighter came out in March.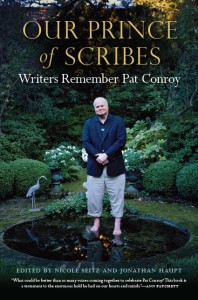 Nicole Seitz is editor of Our Prince of Scribes: Writers Remember Pat Conroy, coming in September.
So, the contemporary canon of southern literature continues! Happy reading!
This week I will be joining four of the twenty-six contributors to SOUTHERN WRITERS ON WRITING at two events in Alabama: Tuesday, June 5 at 5 p.m. we'll be at the Little Professor Bookcenter in Homewood, Alabama.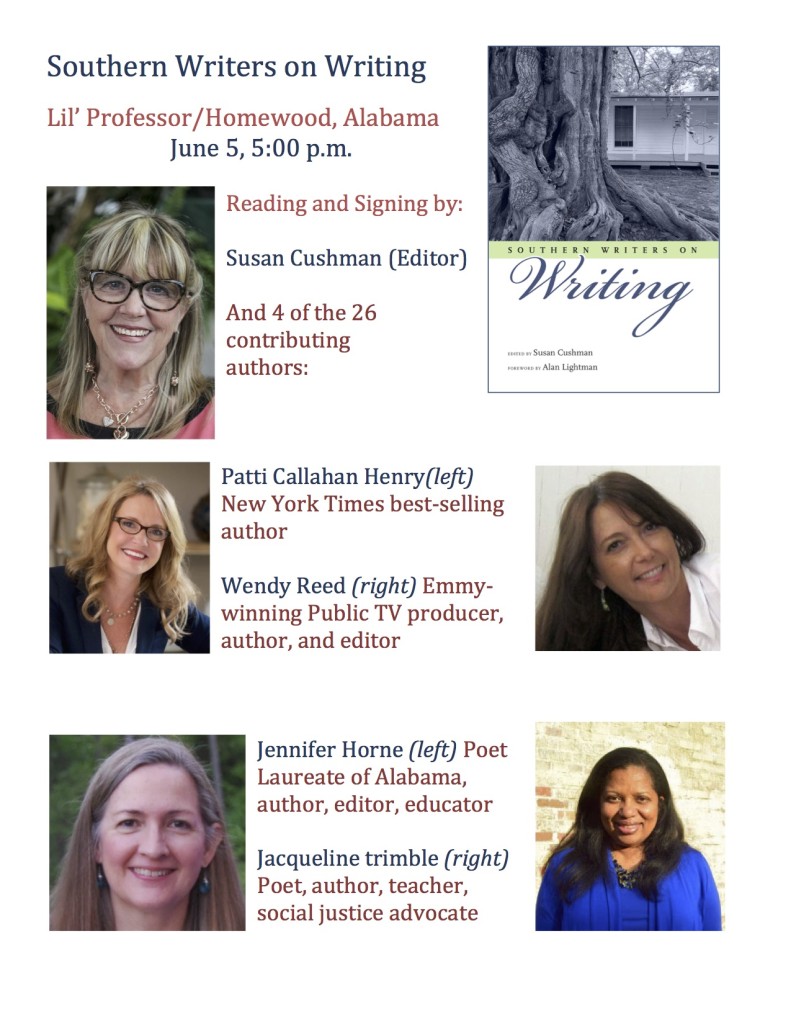 And then Wednesday we'll be at Ernest & Hadley Booksellers in Tuscaloosa, Alabama. (I'll be returning to Alabama June 15-17 for events at Orange Beach and Fairhope, so stay tuned for those next week!) Hope to see lots of folks from Birmingham and Tuscaloosa this week!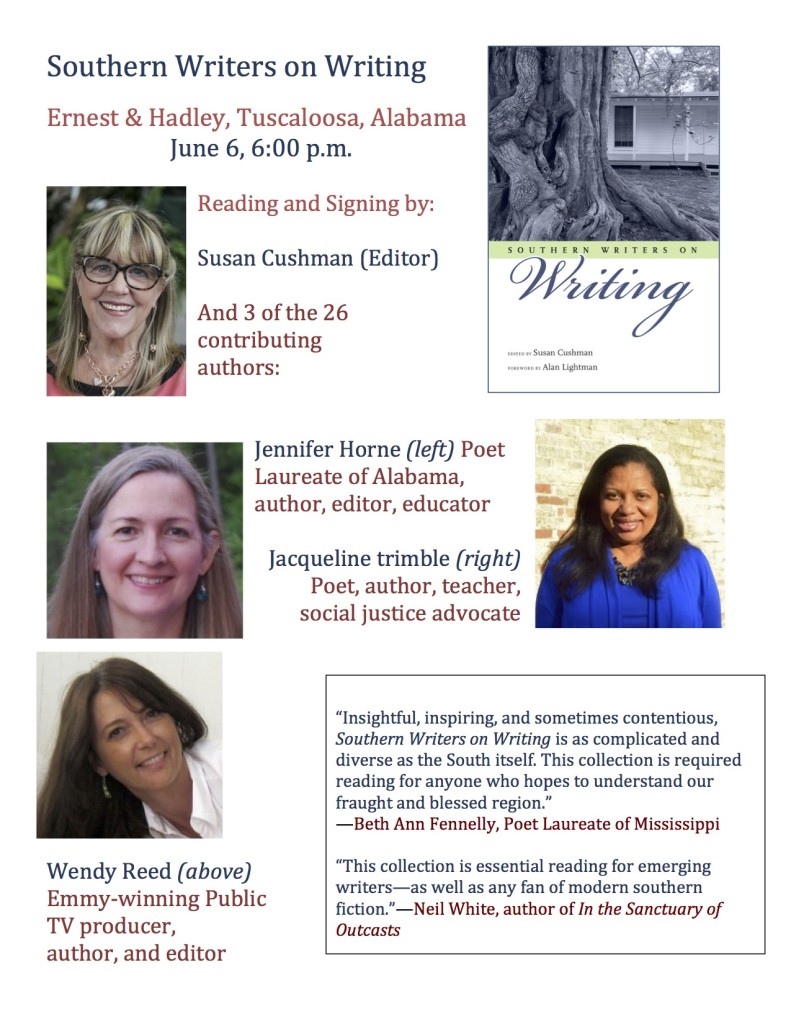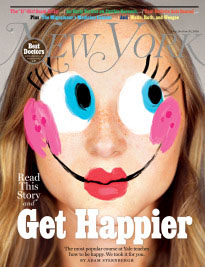 I just scored a 3.08 on a scale of 1 to 5 on the Authentic Happiness Inventory designed by folks at the University of Pennsylvania.  The score reflects my overall "happiness" compared with others in my age group, zip code, education level, gender, and occupation group. Although I think it's interesting that "writer" isn't even listed as an occupation, so I checked "artist," the closest option to my occupation. Why did I take this inventory?
This morning, with my morning coffee, I read an article in the recent issue of New York Magazine, "The Cure for New York Face," about Professor Laurie Santos's new course at Yale University, PSYC 157: Psychology and the Good Life. I was struck by the statistics—especially among people who seem to have lots of "reasons" to be happy, from an exterior point of view. Of course there's lots about two things that seem related to our "happiness"—time and money, and how we value them and spend them.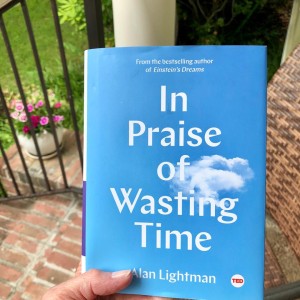 Some parts of the article reminded me of the wonderful little book I read recently by Alan Lightman, In Praise of Wasting Time. I bought and read this book a few weeks ago, primarily because its author wrote the Foreword to the anthology I edited that was recently published by University Press of Mississippi, Southern Writers on Writing. Alan is from Memphis, but teaches at MIT now. A physicist. And a novelist. Interesting combination, and he brings both of those gifts to bear in his book, and his TED talk.

Last fall I did a post about Gretchen Rubin's Happiness Project, "Moments of Happiness."
Last March I did a post reflecting on a Wall Street Journal article, "Two Types of Happiness."
The same month I read and reviewed Daphne Merken's book, This Close to Happy.
Five years ago I was blogging about an article in Psychology Today: "Mindfulness Does Not Lead to Happiness."
And six years ago I wrote this one: "Permission to NOT Be Happy."
Are you seeing a trend here? And yet, I do feel that I am "happier" now that I was six years ago. And I'm actually a bit surprised that I didn't score higher on the Authentic Happiness Inventory. But I do tend to be quite honest and in touch with my feelings. From a spiritual point of view, I sometimes wonder how important "happiness" is, as opposed to what seem to be deeper states like "peace" and "contentment."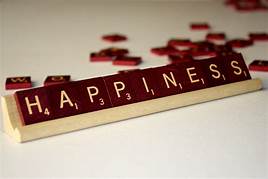 One thing I found interesting in the New York Magazine article was the author's comments about money and happiness. His study showed that $75,000/year seems to be the salary "scientifically proven to provide the maximum amount of well-being." So, he noted that in one study people making $30,000 a year were asked what salary would make them truly happy. The average answer was $50,000. But people making $100,000 a year said, on average, $250,000 would make them happy. Maybe it's the old adage that the more we have, the more we want. I'm thinking about this now, not in terms of financial success, but with my writing career. Five years ago I was working with a New York literary agent (whom I would later part ways with) on my novel, CHERY BOMB, wondering if it would ever be published. When it came out last year—with a small press in Mississippi and not with one of the "big five"—I was "happy" to be published. It was a lifelong dream finally coming true. Actually, having three books published last year was pretty amazing. And a fourth this month. So, why is it that I still want "more"? Why am I now querying literary agents again (for my linked short story collection) rather than submitting it to an academic press?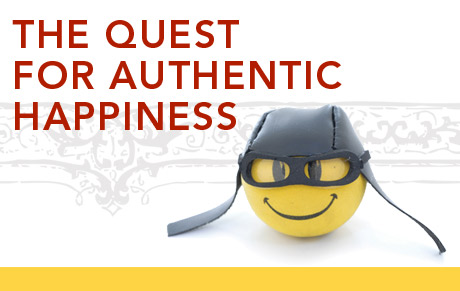 I put this question to a very spiritual person whom I trust, and he encouraged me that it was a normal progression in my career to desire this next step up. That I wasn't being obsessive about "success" in an unhealthy manner.
And yet I find myself praying—yes—for more success. My novel is entered into two prestigious writing contests and I'm waiting to hear the results this summer. Would I find a greater level of "happiness" if it wins one of those awards? Or even makes a short list or becomes a finalist? Of course I believe that would make me happier, but is that a superficial goal?
Again, I've been struggling with this for years, as these posts show:
"I Want More" (from 2016)
"We Want More" (from 2013)
It IS interesting to read those posts now, as someone who quit drinking almost nine months ago. I still want MORE (potato chips, chocolate, and—in conflict with those cravings—a skinnier body) almost every day, but I take encouragement from the fact that I was able to tame my out-of-control desire for more vodka, and hope that eventually the strength (and God's grace) that enabled me to do that will cross over into other areas of my life. Like food. And contentment in my career.
I'd love to hear from my readers about your take on happiness. And if any of you take the Authentic Happiness Inventory, please let me know what you thought about it. Meanwhile, have a great weekend!