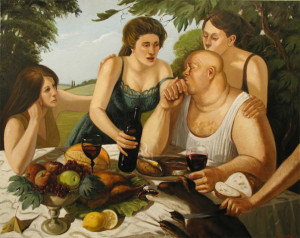 Thanksgiving—a favorite American holiday—lands on the calendar every year just a week or so after the Orthodox Nativity Fast begins (November 15). While most of the world, and certainly most people in the West, are preparing to feast on their favorite recipes for turkey, dressing, casseroles, and pies, Orthodox Christians are trying to balance that tradition with a very different one that comes to us from our Church. While it's not as strict as the fast we keep during Great Lent (before Pascha/Easter), it still involves quite a few days with no meat or dairy, and even a number of days with no seafood or alcoholic beverages. This tradition flies in the face of the festivities most people are enjoying during these weeks leading up to Christmas. I always struggle with this culture clash.
But this year, I'm a little more ready to embrace the fast—or at least to try for some moderation. Why? I've been overcome for several months now with an old enemy of the flesh—gluttony.
The Church Fathers have a lot to say about this vice, which St. John Climacus calls "the door of passions" in The Ladder of Divine Ascent. If marijuana is the "gateway drug" to more harmful pursuits, over-eating can open that same door to excesses in other areas of our lives. An overly full belly can lead to sloth (who doesn't want a nap after stuffing ourselves?), depression, alcohol abuse, and to the abuse of other pleasures which aren't in and of themselves "evil."
A few more words from the Church Fathers:
The great attraction of gluttony is not necessarily concerned with large quantities of food, but in the temptation to have just a 'little taste.' But if the wish for a taste succeeds in making you a slave to gluttony, the Evil One can then give you up utterly to destruction. For, just as water that irrigates many furrows makes those furrows fertile, so also the vice of gluttony, proceeding from your heart, irrigates all of your senses, raising a whole jungle of evils within you, making your soul a lair of wild beasts. (St. Basil the Great, On Renunciation of the World)
For me gluttony isn't so much about eating huge amounts of food—although binging is a problem at times—but mostly about craving certain foods or drinks. I can really relate to these words from Abba Dorotheus:
There are two kinds of gluttony. One is when a man seeks food that pleases him and does not always want to eat very much, but wishes to eat only what pleases his palate. Another is when a man is overcome by a tendency to eat much …. He only wants to eat and eat, nor minding what the food may be, only caring to fill his belly. (St. Abba Dorotheus, Directions on Spiritual Training)
I get "stuck" on certain foods at times, and am strongly attracted to eating at nice restaurants with white table cloths and good china… or at certain bars and drinking out of just the right glasses. This type of gluttony is known as "gourmandizing." My recent visit to New Orleans offered many opportunities for this activity.
So I went to Confession Saturday night and talked with my priest about gluttony. It's a complicated issue for someone like me who struggles with eating disorders, and who more often than not cares more about being skinny and looking good (and even about my health)  than being godly and doing the right thing for spiritual reasons. He was very understanding and non-judgmental. I appreciated his words of advice, but mostly I felt the spiritual power of the sacrament strengthening me for the pilgrimage ahead. I want to enter into the Nativity Fast, but also enjoy the culture's festivities. As is often the case, it comes back to moderation.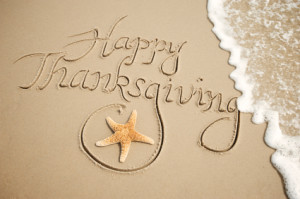 Bill and I are off to Seagrove Beach on Wednesday, where we will spend Thanksgiving alone at my favorite place on earth. We'll walk for miles along the edge of the ocean, burning up calories and soaking in the salty spray and the sunshine—it's supposed to be in the 70s while we're there. And we'll enjoy fresh gulf fish at our favorite seafood restaurants. I think it will be easier than cooking all those rich Thanksgiving dishes, although I love doing that when our children and grandchildren come for the holiday. And yes, I'll miss the traditional celebration, but I think this venue will offer a good opportunity for a healthy mix of feasting and fasting.
If you're entertaining family this Thanksgiving, I hope that your time together will be rich with love, laughter, and favorite foods that feed not only your appetites but also your souls.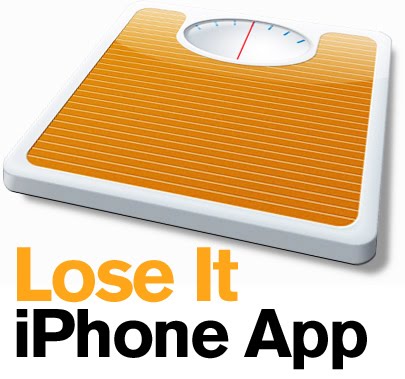 If you read my post last Monday, you know that I started counting calories in an effort to lose 33 pounds. Here's an update.
I'm using an iPhone app called "Lose It!" and it's really helpful. I started out by entering my current weight, my goal weight, and how many calories I wanted to budget (just under 1200). According to the app, it will take me until January 25, 2016 to lose 33 pounds this way. That's just under 2 pounds a week, a "healthy," recommended weight loss goal. And so the journey began.
The first three days were amazing. I lost 3 ½ pounds! Keeping up with the calories and exercise (20 minutes on the elliptical = one martini) was kind of fun. But then I hit an early plateau. I didn't lose any more weight the rest of the week. So I ended week 1 with a 3 ½ pound loss, which is great, although I was disappointed that I didn't lose any pounds between Thursday and today, although I stayed under 1200 calories/day. In fact I only had 844 yesterday—intentionally staying under and hoping for more weight loss.

Lose It! Has some other features, including tips on why you might not be losing as quickly as you hope. One of the tips was to be sure you are being accurate in calorie-counting. Sometimes I estimate, or when I look up a food, like pork tenderloin, and I guess my portion is 4 oz. but it could be more. So I ordered a kitchen food scale which should arrive today. No more guessing. Another tip is to vary your exercise. Evidently the body gets used to certain workouts, which is why circuit training became popular awhile back. I'm pretty limited to the elliptical and getting in a neighbor's pool, since walking outside on concrete (and in this weather!) causes too much pain in my (formerly broken) foot. But I am adding some upper body strengthening with exercise bands. And this week I hope to increase my time on the elliptical each day.
The main thing (segue into "Mental Health Monday") for me is not to become discouraged. I lost 3 ½ pounds and didn't gain it back. Time to keep going. Oh, and I'm so thankful for a friend who saw my journey on Facebook and is messaging me regularly. She also just started a weight-loss plan, so it's great to have a fellow pilgrim to be in touch with. And of course I always love to hear from my readers here. Hope you're having a great Labor Day.
Today I welcome my new friend, Norma Flora Cox, who is contributing a guest post. (Read more about Flora at the end of her article.)
"Healthy Christmas Ideas For Your Family"
For most people Christmas is a care free season and all that is in your mind is merry making. Whether you are going on a vacation or spending the holiday with family at home, healthy living should still be a concern. Despite it being a happy season you should ensure that you and your family maintain all your healthy habits. It might not seem serious or perhaps you may be giving yourself a break from your normal lifestyle to enjoy Christmas. However, what you do during those few days or week might have a negative for your health. With that in mind it is important to make your Christmas as healthy as possible.
Here are few healthy Christmas ideas for you and your family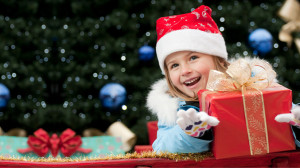 Active Christmas Holiday
• If you are planning to go on a holiday for Christmas, there are ways you can do it in a healthy way. For example going skiing in the mountains.
• Skiing is not only very fun, but it is also very physically engaging, giving your body much needed exercise. If skiing is not your thing, then there are plenty other physical and fun activities you and your family can do on the vacation.
• If you plan to travel outside your own country if you live in Europe, it is important to apply for your e111 European Health Insurance card. This will be your medical insurance when you are in another European member nation. Remember that accidents can happen anytime and so it is necessary to take precautions when on holiday.
• Instead of lazing around for the entire Christmas you and your family can organize competitive sporting activities. Christmas brings together people that haven't been together for a long time the sporting activities would be fun; they will help keep fit your family and it is also a good bonding session.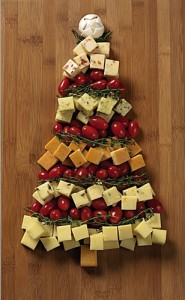 Healthy Christmas eating
• Just because it is Christmas it does not mean you are free to eat all the junk you have been refraining yourself from all year long. There are plenty of healthy foods that you and your family can enjoy.
• During your Christmas dinner you can still eat your turkey or pork. However, you should prepare it in a healthier way. For example, just by removing the skin you make your turkey healthier without altering the taste. Baking or roasting it would also be healthier compared to frying it.
• For healthy Christmas meals ensure that all the meals are accompanied by plenty of vegetables. You can make your vegetables more interesting by preparing them in a different way or cooking different vegetables that your family is not used to.
• For desert, you should try and keep it as natural as possible. A mixture of tropical fruits, would do just fine. If you're creative enough in the kitchen you can be able to transform simple fruits into an interesting desert. Avoid sweets that contain any processed sugar as they are not very healthy.
• If you do not take alcohol then you should not take during the Christmas. However, if the temptation becomes too much one glass of white wine will not do much damage.
You should make sure you enjoy your Christmas to the fullest, but do it in a healthy way.
A little more about Flora:

Flora, a passionate blogger who shares her thoughts on various topics she came across. Certified as a Masters in Finance, she frequently analyzes the financial aspects which she comes across and shares her knowledge in various blogs. Presently she is working for Ni number. 
Thanks so much for contributing this wonderful article, Flora!  I hope to have at least two more guest posts for future Mental Health Monday slots… there are only 4 Mondays left 'til Christmas, so send me your submissions SOON at sjcushman@gmail.com.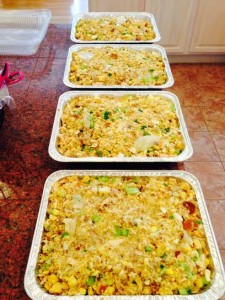 6 days before Thanksgiving… a good time to start preparations. Especially if you're expecting a crowd. For the first time in many years, we'll have all our children and grandchildren together AT OUR HOUSE for Thanksgiving. I'm so excited, but with 9-10 people around for a week (and 12 on Thanksgiving day) I'm planning ahead. Like today. I just spent all morning making the dressing. And this is not just ANY dressing. It's my Aunt Barbara Jo's "Best Dressing Ever," and it's worth the labor. Here's what you do: (this recipe makes two casserole pans, but I doubled it to make four)
Make 2 (cast iron) skillets of cornbread, using the recipe on Martha White's Hot Rise cornmeal. Crumble the cornbread up WYH (WITH YOUR HANDS.) (Watch for WYH throughout the instructions.)
Boil a hen or whole fryer with a white onion.
Boil 6 eggs and chop them up.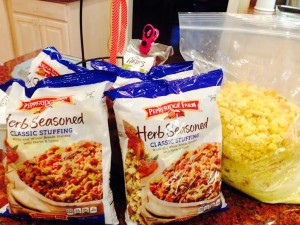 Chop up 2 batches of green onions and one batch of celery.
Mix the crumbled cornbread with 1 large bag of Pepperidge Farm Herb Stuffing mix and the chopped eggs, green onions and celery, WYH. (I use a large plastic "bucket" like you'd use to serve wine or beer on ice.)
Add sage, salt and pepper to taste.
Add 6 raw eggs (beaten) and continue to mix, WYH.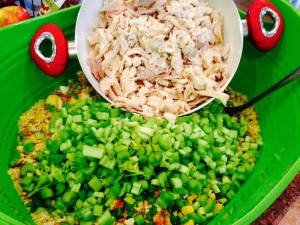 Shred the meat off the chicken and add it to the mix, again mixing it up WYH.
Spread the mix into two casserole containers (I use disposable aluminum ones because we serve our plates from the kitchen) and pour the chicken broth from the pot over them.
Cover with aluminum foil and FREEZE.
On Thanksgiving day, add one can of chicken broth to each pan (because some drying out happens with freezing) and bake 45 minutes to one hour at 400 degrees. You can cook the dressing from a frozen state if you add another 30 minutes or so.
Since we're having Honey Baked Ham rather than turkey, I'm using canned turkey gravy to serve with the dressing. It turns out to be more of a casserole than a side dish, with all that chicken in it.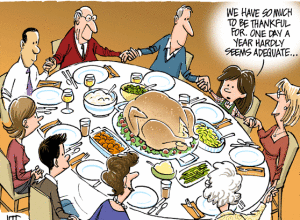 Whew. Glad that's done. Now I can look forward to playing with my granddaughters next week and not spending as much time in the kitchen. If you try the recipe (see photo) be sure and ADD THE PULLED CHICKEN, as I don't think I put that part in the recipe, which was published in our church's cookbook many years ago. Also, the recipe calls for 4 raw eggs but I use 6.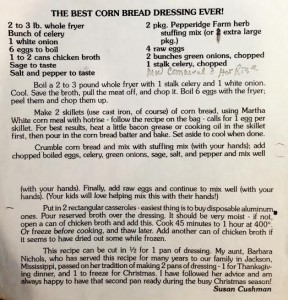 If you're also hosting on Christmas, make an extra pan for the freezer.
Enjoy your family and friends!