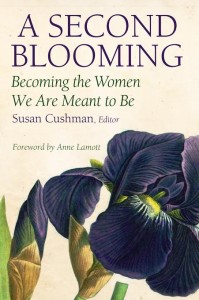 I'm off to Nacogdoches, Texas, on Thursday for the 2018 Pulpwood Queens Girlfriend Weekend, where as many as several hundred members of Pulpwood Queens book clubs from all over the country gather every year, along with several dozen authors. I'm on two panels:
Thursday, 7 p.m. A SECOND BLOOMING: BECOMING THE WOMEN WE ARE MEANT TO BE. This is the anthology I edited, published last March, and it has been chosen as the book club selection for February by the Pulpwood Queens. Several contributors will be joining me on the panel: Julie Cantrell, River Jordan, NancyKay Wessman, and Susan Marquez. Memphis author Suzanne Henley won't be there, but she will be there in spirit. Suzanne's essay, "Beyond This Point There Be Dragons," is included in the collection. And she has a book coming out this March: BEAD BY BEAD: THE ANCIENT WAY OF PRAYING MADE NEW. It's part memoir, part spiritual journal, part "how to pray with Protestant prayer beads."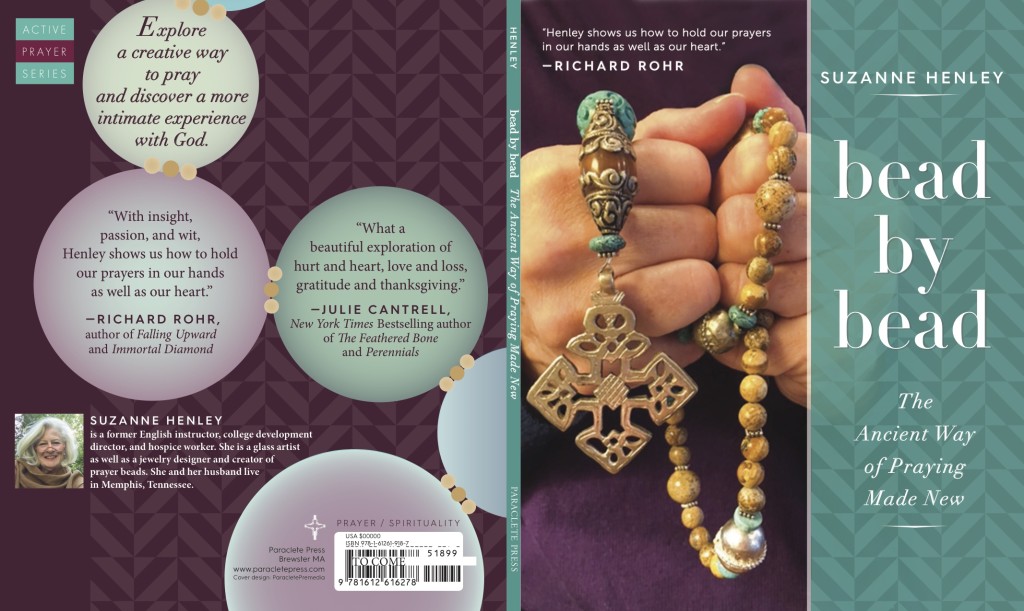 There's an auction during the weekend to raise money for the Pat Conroy Literary Center in Beaufort, South Carolina. Suzanne has contributed a hand-made set of her prayer beads, which I'll be taking with me to the auction on Thursday. The beads she uses are from all over the world, some as ancient as 200 B.C. She includes a beautifully written description and inspirational note to go with each set. She has dedicated this set to author Julie Cantrell, who has inspired Suzanne, and who also wrote a wonderful blurb for BEAD BY BEAD. Julie is also on a panel for her novel PERENNIALS during the weekend.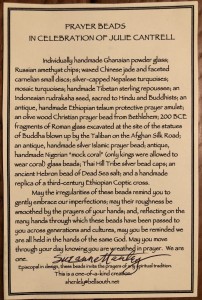 On Saturday afternoon at 2:12 I'll be on a panel for my novel CHERRY BOMB, which is one of the Pulpwood Queens book club selections for March. And I'm contributing an item for the auction, as well. It's an 8 X 8 inch canvas print of the "weeping" icon of Saint Mary of Egypt that I painted… the one that appears on the back cover of the book.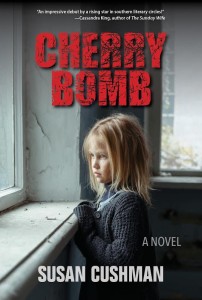 In CHERRY BOMB, the icon is weeping for women who have been abused (including the three main characters in the book). The icon I painted isn't actually weeping, but my daughter-in-law See Cushman added the "tears" using Photoshop. I hope that it will be a blessing to whoever buys it during the auction.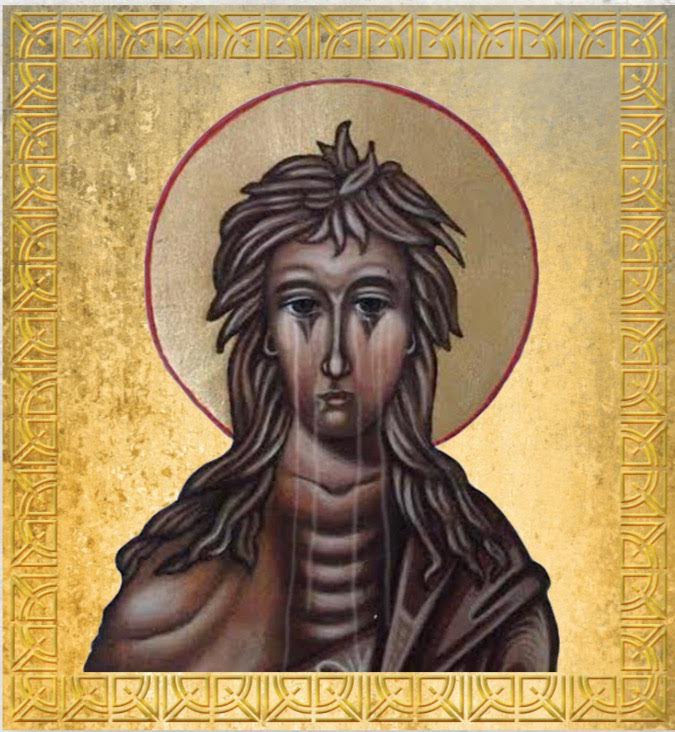 I can't wait to spend the weekend with these amazing women, sharing our love for books! The theme this year is "Bohemian Rhapsody," so watch for some pictures on Facebook with lots of fun costumes!
Never has the world needed a peacemaker more than today. We need a peacemaker to settle the wars in the Middle East. We need a peacemaker to keep us from a new war with North Korea. We need a peacemaker in our cities and communities to help prevent the growing mass murders and acts of terrorism. We need a peacemaker to help families mend and prevent domestic violence. We need a peacemaker to tame the wolf.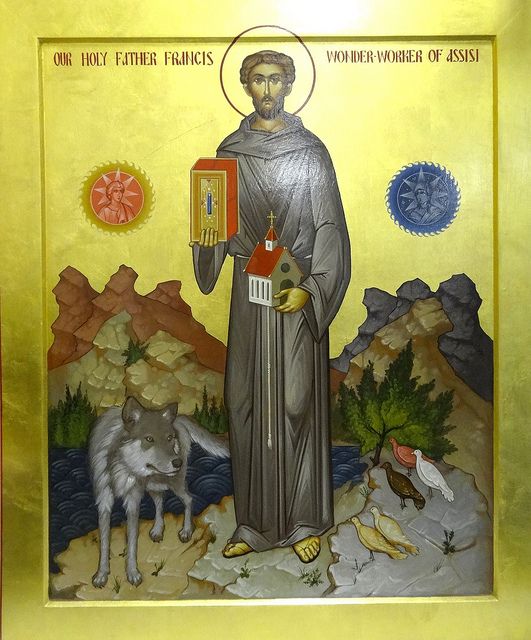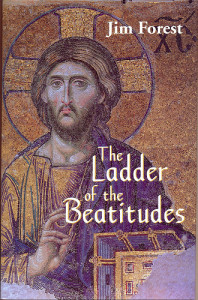 This morning I read the following excerpt on Facebook. It's from Jim Forest's book, The Ladder of the Beatitudes. I haven't read this book, but I loved his book Praying With Icons. I'm reprinting the excerpt about St. Francis here with the author's permission. I hope lots of people read this and share St. Francis' message of peace, courage, faith, hope, and love.
Today is the feast of St Francis. He was born in Assisi, in central Italy, in 1182. He started out as a wealthy man-about-town until he fell into a serious illness in his 19th year. He was praying in the dilapidated Church of St. Damiano one day in 1206, and he heard the voice of Christ saying, "Go, Francis, and repair my house which, as you see, is fallen into ruin."

One of the stories of his many efforts as a peacemaker comes toward the end of his life and concerns Gubbio, a town north of Assisi. The people of Gubbio were troubled by a huge wolf that attacked not only animals but people, so that the men had to arm themselves before going outside the town walls. They felt as if Gubbio were under siege.

Francis decided to help, though the local people, fearing for his life, tried to dissuade him. What chance could an unarmed man have against a wild animal with no conscience? But according to the Fioretti, the principal collection of stories of the saint's life,

"Francis placed his hope in the Lord Jesus Christ, master of all creatures. Protected neither by shield or helmet, only arming himself with the sign of the Cross, he bravely set out of the town with his companion, putting his faith in the Lord who makes those who believe in him walk without injury on an asp … and trample not merely on a wolf but even a lion and a dragon."

Some local peasants followed the two brothers, keeping a safe distance. Finally the wolf saw Francis and came running as if to attack him. The story continues:

"The saint made the sign of the Cross, and the power of God . . . stopped the wolf, making it slow down and close its cruel mouth. Then Francis called to it, 'Brother Wolf, in the name of Jesus Christ, I order you not to hurt me or anyone."

The wolf then came close to Francis, lowered its head and then lay down at his feet as though it had become a lamb. Francis then censured the wolf for its former cruelties, especially for killing human beings made in the image of God, thus making a whole town into its deadly enemy.

"But, Brother Wolf, I want to make peace between you and them, so that they will not be harmed by you any more, and after they have forgiven you your past crimes, neither men nor dogs will pursue you anymore."

The wolf responded with gestures of submission "showing that it willingly accepted what the saint had said and would observe it."

Francis promised the wolf that the people of Gubbio would henceforth "give you food every day as long as you shall live, so that you will never again suffer hunger." In return, the wolf had to give up attacking both animal and man. "And as Saint Francis held out his hand to receive the pledge, the wolf also raised its front paw and meekly and gently put it in Saint Francis's hand as a sign that it had given its pledge."

Francis led the wolf back into Gubbio, where the people of the town met them in the market square. Here Francis preached a sermon in which he said calamities were permitted by God because of our sins and that the fires of hell are far worse than the jaws of a wolf which can only kill the body. He called on the people to do penance in order to be "free from the wolf in this world and from the devouring fire of hell in the next world." He assured them that the wolf standing at his side would now live in peace with them, but that they were now obliged to feed him every day. He pledged himself as "bondsman for Brother Wolf."

After living peacefully within the walls of Gubbio for two years, "the wolf grew old and died, and the people were sorry, because whenever it went through the town, its peaceful kindness and patience reminded them of the virtues and holiness of Saint Francis."

Is it possible that the story is true? Or is the wolf a storyteller's metaphor for violent men? While the story works on both levels, there is reason to believe there was indeed a wolf of Gubbio. A Franciscan friend, Sister Rosemary Lynch, told me that during restoration work the bones of a wolf were found buried within the church in Gubbio.

Francis became, in a sense, the soldier he had dreamed of becoming as a boy; he was just as willing as the bravest soldier to lay down his life in defense of others. There was only this crucial difference. His purpose was not the defeat but the conversion of his adversary; this required refusing the use of weapons of war because no one has ever been converted by violence. He always regarded conversion as a realistic goal. After all, if God could convert Francis, anyone might be converted.

"They are truly peacemakers," Saint Francis wrote in his Admonitions, "who are able to preserve their peace of mind and heart for love of our Lord Jesus Christ, despite all that they suffer in this world."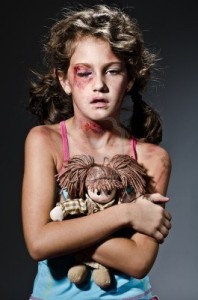 On page 4A of  today's Memphis Commercial Appeal, there's a shocking article about domestic violence written by Maria Chang, AP Medical Writer. In "WHO Study: Third of women suffer domestic violence," Chang reveals this chilling statistic from the World Health Organization:

40 percent of women killed worldwide were slain by an intimate partner, and being assaulted by a partner was the most common kind of violence experienced by women.
While the article doesn't define "partner" as always meaning a legal spouse, the use of the term "intimate" at least indicates a close if not familial relationship—one that should be safe. These statistics are from studies that took place between 1983 and 2010.
Two pages later in the same section of today's CA (Section A, page 7) is a guest column by Karen Camper, a member of the Tennessee House of Representatives and the Women Legislator's Lobby, titled, "Oppression of women fuels world's unrest." Rep. Camper's focus is on the affect that issues surrounding women's rights—especially in the Middle East—have on world peace, rather than the results of domestic violence on the individual. The article is worth a read. She sums up her thoughts with these words:
Respecting women and involving women in all aspects of society offer the only hope for achieving the transformational change that is so necessary for peace.
Whether or not that ever happens in our fractured world, Camper's observations are astute, and I hope that enough people are listening to help make a difference.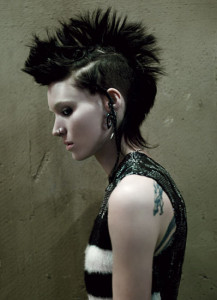 And this might seem an unusual segue, but Stieg Larsson uses facts about man-on-woman violence as section quotes in his novel, The Girl With the Dragon Tattoo, including this one:
Forty-six percent of the women in Sweden have been subjected to violence by a man.
Since the protag and two other supporting characters in my novel, Cherry Bomb, were all sexually abused, this is a topic that catches my eye wherever I see it. And the trained eye of the editor I'm working with right now on revisions for the novel. She's the one who recommended I read The Girl With the Dragon Tattoo, remember? For "an absolute master class in writing damaged women." I'm finding my reading of Larsson's work to be just that, especially where his protag, Lisbeth Salander is involved. As my editor says:
Lisbeth Salander never stops being a badass just because she gets wealthy enough to walk away from the hacker life—and that commitment to self preservation should also be strong in Mare (Cherry Bomb's protag). No one gets away from a childhood like hers without some damage, and not all damage gets healed. Don't be afraid of that—lean into it.
And so I proceed to live my own life—leaning into the damage I have personally suffered—while striving to bring that spirit of self preservation to the women I create on the written page. I have grown to love Mare over the past three years as I've written and revised her story. By the end of the novel, she's no longer the frightened little girl who escapes from a cult and is then abused by her foster father. She's no longer the angry teenager who sneaks around at night bombing buildings with graffiti. She has grown into a strong, compassionate, badass woman.