I met J. C. Sasser at the 2018 Pulpwood Queens Girlfriend Weekend last month in Nacadoches, Texas. She was on a panel with one of my favorite authors and friend, Nicole Seitz, and a new author-friend Brenda McLain. Their work was described as "southern gothic," a genre that J.C. said she wasn't familiar with until her work was described using the term. She was talking about her debut novel Gradle Bird.
After I got home from the weekend I looked up "southern gothic" to learn more about this genre. Here are a couple of definitions:

The stories often focus on grotesque themes. While it may include supernatural elements, it mainly focuses on damaged, even delusional, characters.

Benjamin Fisher's definition of the literary Gothic as something that evokes "anxieties, fears, terrors, often in tandem with violence, brutality, rampant sexual impulses, and death," and it becomes clear how the tradition of the Southern Gothic plays into already established ideas about the South as an "ill" region.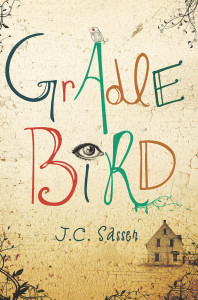 When I was visiting with J.C. after the panel, I told her that I thought the protagonist of my novel Cherry Bomb, "Mare," and her protagonist "Gradle" would be good friends if they knew each other. After finishing reading Gradle Bird this morning, I still believe they are kindred spirits, but they move in very different spiritual realms. Where Cherry Bomb's pages are filled with weeping icons and art and graffiti and nuns, Gradle Bird's are lush with ghosts and mental illness and the rural South's unique brand of Christianity. Both books have plenty of darkness—abandonment, trauma, and what the author Anne Lamott would call "love in the intergenerational ruins." And both have varying degrees of redemption for some of the characters.
As I read I couldn't help but think of another author whose work captivated me a few years back—Haven Kimmel. Especially her books, Something Rising, and The Used World, and Iodine. Sasser, like Kimmel, captures southern noir with great depth and artistic skill. And of course there are obvious comparisons to be drawn to O'Connor, Lee, McCullers, and Faulkner.
Sasser worked as a dishwasher, waitress, and cook at truck stop off Georgia's I-16 when she was twelve, so she comes by Gradle's character and the book's setting honestly. But I'd love to know how her amazing imagination came up with the Japanese fighting fish, the brilliant schizophrenic, and the ghost living in the attic. I won't share more of the plot (no spoilers here) so you'll have to read the book to experience Gradle's wild and heart-rending adventures. It's definitely worth the read! Congratulations, J.C., on a terrific debut novel!
If you're on Facebook, you've already seen how I photo-bombed the place all weekend with pictures from the 2018 Pulpwood Queens Girlfriend Weekend in Nacodoches, Texas. And here's a fun blog from River Jordan about the event: "Leaving Nacodoches." It was a treat to have River spend the night with us in Memphis last night on her way home to Nashville, so we could rehash the weekend a bit. By the way, Nacodoches is the oldest town in Texas, and a lovely, quaint, artsy, little town. Wish I had had more time to explore while I was there. Maybe next time!
There's so much I could say about the weekend… a wonderful time to get to know other authors and to visit with the ones I know and rarely get to see. Also great to meet so many enthusiastic book club members and readers, all lovers of good books. The theme was "Bohemian Rhapsody" so there were lots of costumes, as we dressed as hippies, gypsies, anything Bohemian, and favorite authors.
I was blessed to be on two panels during the weekend:
Thursday night: As editor for A SECOND BLOOMING: BECOMING THE WOMEN WE ARE MEANT TO BE (with contributors River Jordan, Julie Cantrell, Susan Marquez, and NancyKay Wessman.)
Saturday afternoon: For my novel CHERRY BOMB, I shared a panel with three other authors whom I had never met: Deborah Rodriguez, Patricia V. Davis, and Stephanie Chance. Pulpwood Queens Founder Kathy Murphy moderated the panel.

After each panel, the authors went to the signing tables, where readers brought books they purchased from Murder By the Book, who were the book vendors for the weekend. All of this was pretty typical of a book festival. What wasn't typical was the amount of time the authors and readers had to really hang out together and get to know one another. On Friday night the authors served the tables at the barbeque dinner for the readers. And all during the weekend there were opportunities to eat together or just visit over car or a drink at the bar. It's a pretty magical event.
Something I loved was the silent auction. Authors brought items—often related to their books—for sale to benefit the Pat Conroy Literary Center. I was happy to sell a canvas print of the "weeping" icon of Saint Mary of Egypt that I painted, which is featured in my novel CHERRY BOMB. And I made two purchases (of course): a set of Mexican pottery from Deborah Rodriguez, and a painting by Nicole Seitz called "Setting Free," which has layers of meaning for me.
I've shared a few photos (lots more are on Facebook, as I mentioned) but I'd also like to share something about the 6 books I purchased from authors I met this weekend. I'm sure some of these will show up as book reviews here on my blog in the future. Although there were several New York Times best-selling authors at the event, some of the books that caught my attention were by lesser-known writers, and I can't wait to read them: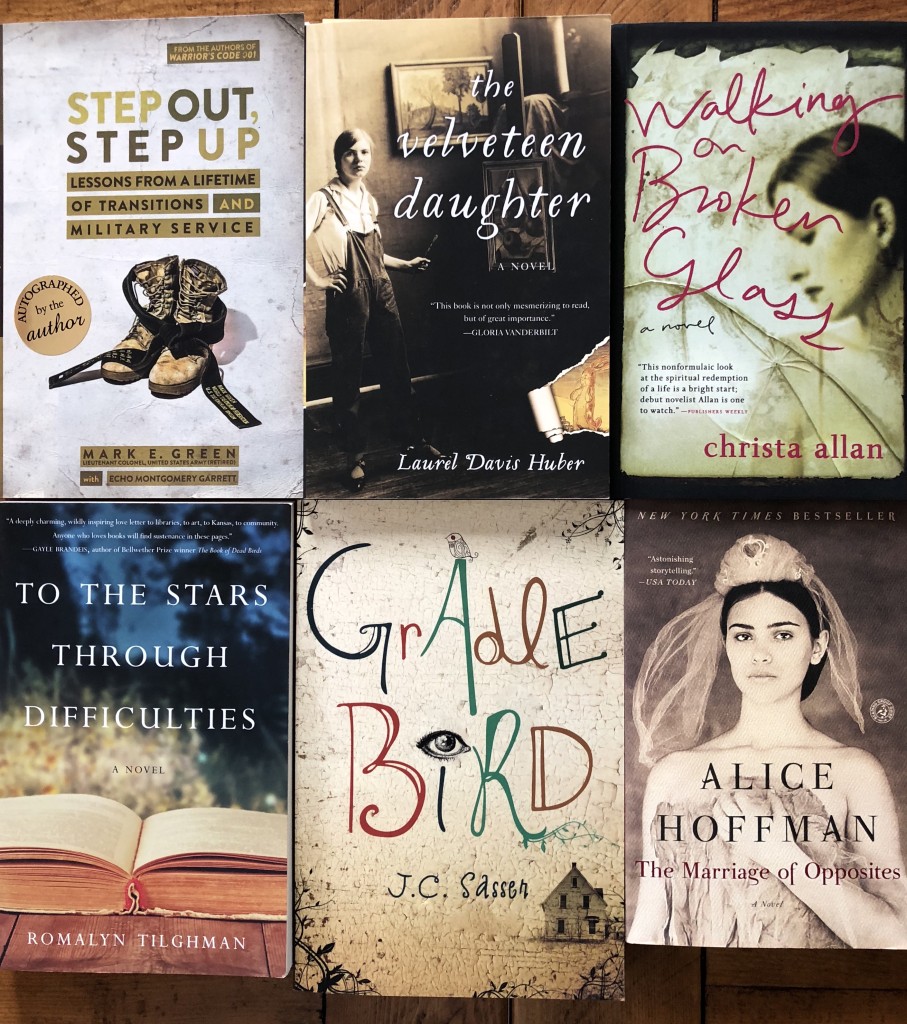 GRADLE BIRD is J. C. Sasser's first novel. I'm intrigued by the protagonist, sixteen-year-old Gradle Bird, who lives with her grandpa in a seedy motel and truck stop in Georgia. I think that she and Mare—the protagonist in my novel CHERRY BOMB (a sixteen-year-old runaway orphan who becomes a graffiti artist)—would be best friends! At one point during the panel that J.C. shared with Nicole Seitz and Bren McClain, J.C. mentioned that Gradle Bird and the other nobels on the panel were considered "Southern Gothic." As she described the term, I wondered if CHERRY BOMB might also fit into that genre…. although I marketed it as Southern literary fiction. Anyway, GRADLE BIRD is on top of my "to read" stack from the weekend!
THE VELVETEEN DAUGHTER is Laurel Davis Huber's first novel. I enjoyed getting to know Laurel during the weekend, and learning that we are the same age and on a similar trajectory in our writing careers. We also learned that we both love art and it plays a major role in both of our debut novels. Can't wait to read THE VELVETEEN DAUGHTER, which is about Margery Williams Biano, the author of The Velveteen Rabbit, and her daughter Pamela, a world-renowned child prodigy artist
TO THE STARS THROUGH DIFFICULTIES by Romalyn Tilghman caught my interest because it features women who are descendants of the women who built fifty-nine Carnegie libraries in Kansas a century earlier. It's about the importance of art and literature, and especially libraries, in our lives. Having visited six Friends of the Library groups in small towns all over Mississippi to talk about my novel CHERRY BOMB this past fall and winter, my interest in libraries has grown, and I can't wait to read this book. And… a conversation I had with Romalyn this weekend sparked an idea for my next novel. Stay tuned!

WALKING ON BROKEN GLASS isn't Christa Allan's latest book, but it's the one I bought after visiting with Christa this weekend. The subtitle for the books is FACING SOBRIETY WITH SOUTHERN CHARM. It's about a southern socialist who goes to rehab. As Publisher Weekly says: "This nonformulaic look at the spiritual redemption of a life is a bright start; debut novelist Allan is one to watch." Christa's recent novel, which she spoke about on her panel Saturday afternoon, is BECAUSE YOU LOVED ME.
THE MARRIAGE OF OPPOSITES also isn't the novel that Alice Hoffman came to talk about this weekend. Hoffman is the author of Practical Magic, which was made into a movie. And about 30 other books! As a New York Times best-selling author, she was a keynote speaker on Saturday morning. She talked about how "writing is the most interactive of all the arts," and "why reading is better than sex." And she talked about "inside and outside stories in a novel—inside being what's happening emotionally." Lots of inspiration for authors and readers alike. But I was drawn to THE MARRIAGE OF OPPOSITES because it's about a famous artist and takes place in France… a favorite topic and location for me!
STEP OUT STEP UP: LESSONS FROM LIFETIME OF TRANSITIONS AND MILITARY SERVICE by Mark E. Green, Lt. Col., U.S. Army Retired (co-written with Echo Montgomery Garrett) is a book I bought for my oldest son Jonathan, who is a retired Army helicopter pilot. I enjoyed visiting with Mark and Echo, especially learning about Mark's experiences with the 82nd Airborne and his service in Afghanistan. In his retirement Mark helps those in military service, veterans, and their families with resiliency and transition. I look forward to hearing what our son thinks of the book.
That's all for now. Stay tuned as I move forward with a new novel and get busy with pre-marketing for SOUTHERN WRITERS ON WRITING.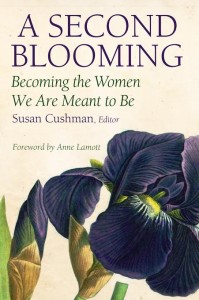 I'm off to Nacogdoches, Texas, on Thursday for the 2018 Pulpwood Queens Girlfriend Weekend, where as many as several hundred members of Pulpwood Queens book clubs from all over the country gather every year, along with several dozen authors. I'm on two panels:
Thursday, 7 p.m. A SECOND BLOOMING: BECOMING THE WOMEN WE ARE MEANT TO BE. This is the anthology I edited, published last March, and it has been chosen as the book club selection for February by the Pulpwood Queens. Several contributors will be joining me on the panel: Julie Cantrell, River Jordan, NancyKay Wessman, and Susan Marquez. Memphis author Suzanne Henley won't be there, but she will be there in spirit. Suzanne's essay, "Beyond This Point There Be Dragons," is included in the collection. And she has a book coming out this March: BEAD BY BEAD: THE ANCIENT WAY OF PRAYING MADE NEW. It's part memoir, part spiritual journal, part "how to pray with Protestant prayer beads."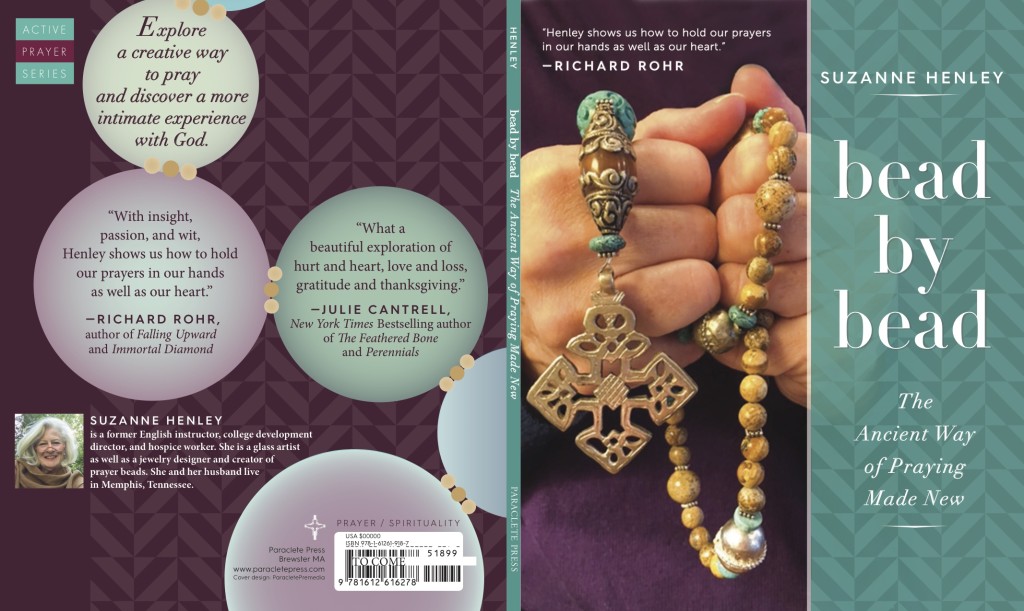 There's an auction during the weekend to raise money for the Pat Conroy Literary Center in Beaufort, South Carolina. Suzanne has contributed a hand-made set of her prayer beads, which I'll be taking with me to the auction on Thursday. The beads she uses are from all over the world, some as ancient as 200 B.C. She includes a beautifully written description and inspirational note to go with each set. She has dedicated this set to author Julie Cantrell, who has inspired Suzanne, and who also wrote a wonderful blurb for BEAD BY BEAD. Julie is also on a panel for her novel PERENNIALS during the weekend.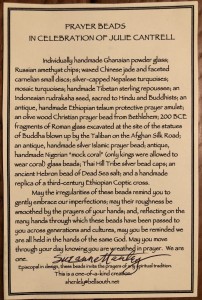 On Saturday afternoon at 2:12 I'll be on a panel for my novel CHERRY BOMB, which is one of the Pulpwood Queens book club selections for March. And I'm contributing an item for the auction, as well. It's an 8 X 8 inch canvas print of the "weeping" icon of Saint Mary of Egypt that I painted… the one that appears on the back cover of the book.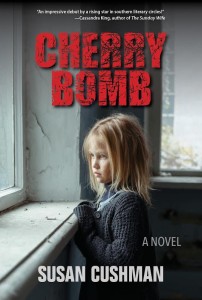 In CHERRY BOMB, the icon is weeping for women who have been abused (including the three main characters in the book). The icon I painted isn't actually weeping, but my daughter-in-law See Cushman added the "tears" using Photoshop. I hope that it will be a blessing to whoever buys it during the auction.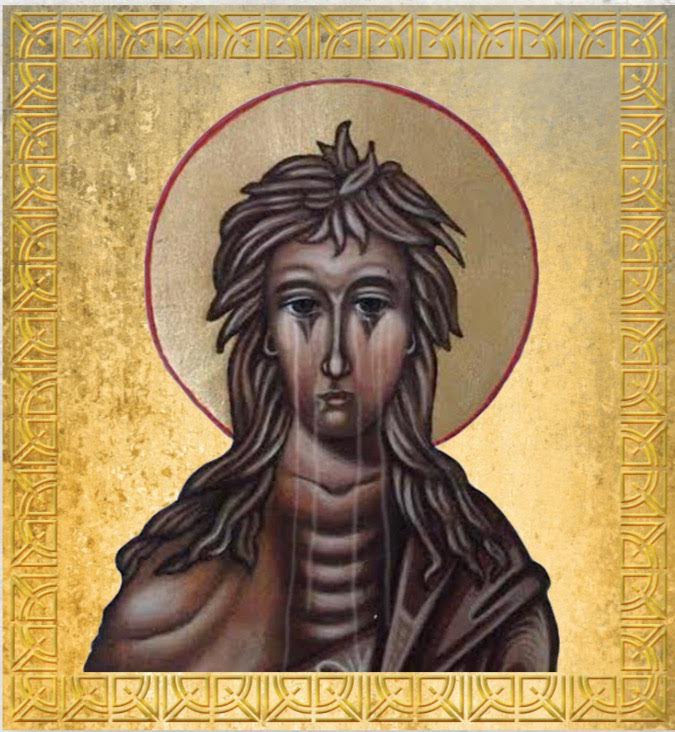 I can't wait to spend the weekend with these amazing women, sharing our love for books! The theme this year is "Bohemian Rhapsody," so watch for some pictures on Facebook with lots of fun costumes!
With just over two weeks left in 2017, I decided to put together my "end of year book list" and share it with my readers. I also decided to try and construct a "book tree" to celebrate the season, using all the books I've read and published this year. I think I made the base too wide, so the tree isn't as tall or shapely as I hoped, but after two attempts, I gave up and snapped a picture of my best effort. Now I've got to figure out where to put these books, since all my book shelves are full!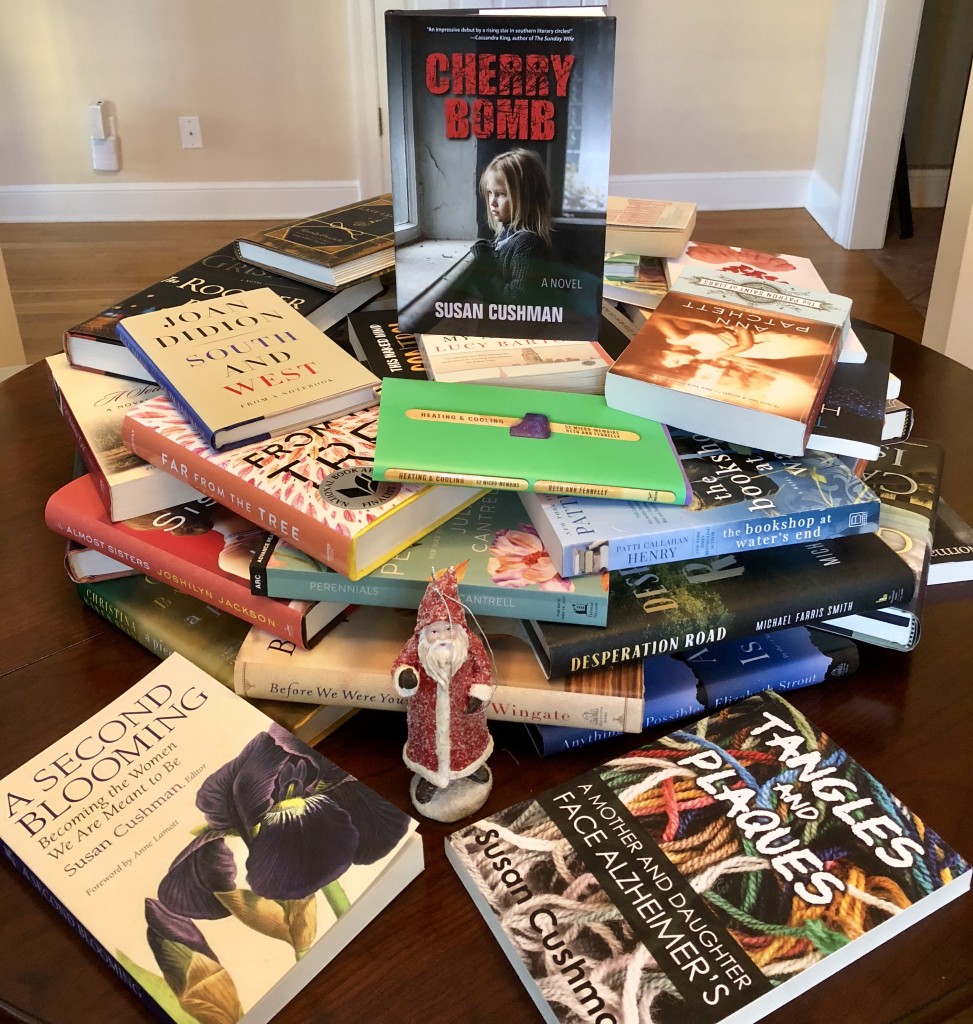 What an amazing year it's been! Publishing three books—Tangles and Plaques: A Mother and Daughter Face Alzheimer's, A Second Blooming: Becoming the Women We Are Meant to Be, and Cherry Bomb—and having an essay published in another anthology (Take Care: Tales, Tips, and Love From Women Caregivers, edited by Elayne Clift) have made for an exciting year. As I mentioned in a previous post, I have driven 9,800 miles (in 8 states) for readings, signings, salons, book club meetings, library events, and literary festivals from March through December. My final two events for the year are coming up this week: Thursday night I'm reading CHERRY BOMB at Novel bookstore in Memphis, and Saturday I'm signing CHERRY BOMB at Books-A-Million in Southaven, Mississippi. I've got six more events scheduled for CHERRY BOMB in 2018, and then my fourth book will be released in May: Southern Writers on Writing—another anthology I edited.
As a writer, I find that reading is not only enjoyable but crucial to my growth. I read a wide variety of books, from poetry and spirituality to self-help/psychology and other nonfiction, books about art, essay anthologies, memoir, and fiction (mostly novels.) As of today, I've read 46 books in 2017, and hope to finish one to two more before the end of the year. I read 38 books in 2016… you can read that list here if you're curious.
I know 18 of the authors of these books personally, and would love to meet many of the others some day, especially Anne Lamott, Joan Didion, and Ann Patchett. If I had to choose a favorite book from 2017, it would be Before We Were Yours by Lisa Wingate. It's the book I wish I had written.
What's up for 2018? I'm currently reading Gold Dust Woman: The Biography of Stevie Nicks by Stephen Davis. This is a real departure for me, as I rarely read biographies, but this one really captures the culture and music of much of my life, and I'm really enjoying it. And on the top of my "to read" stack are three novels:
Love and Other Consolation Prizes by Jamie Ford
Secrets of the Devil Vine by Faith Kaiser
Little Broken Things by Nicole Baart
So, here's my list. It's pretty much in the order in which I read the books. I'd love to know what you read this year. If you publish a year-end list, please leave me a link as a comment here or on Facebook. Happy holiday reading!!!
The Opposite of Everyone by Joshilyn Jackson
A Southern Girl by John Warley
Time Was Soft There by Jeremy Mercer
Garden in the East: The Spiritual Life of the Body by Angela Doll Carlson
The Statue and the Fury: A Year of Art, Race, Music, and Cocktails by Jim Dees
This Close to Happy: A Reckoning With Depression by Daphne Merkin
Heartbreak Hotel by Anne Rivers Siddons
The Girls of August by Anne Rivers Siddons
Unspeakable Things, a novel by Jackie Warren Tatum
Hallelujah Anyway by Anne Lamott
Truly Human: Recovering Your Humanity in a Broken World by Kevin Scherer
My Name is Lucy Barton by Elizabeth Strout
South and West by Joan Didion
The Nightingale by Kristin Hannah
Wolf Whistle by Lewis Nordan
Anything is Possible by Elizabeth Strout
What Alice Forgot by Liane Moriarty
Before We Were Yours by Lisa Wingate
Desperation Road by Michael Farris Smith
The Cement Garden by Ian McEwen
Belles' Letters II edited by Jennifer Horne and Don Noble
The Pen and the Brush: How Passion for Art Shaped Nineteenth-Century French Novels by Anka Muhlstein
Camino Island by John Grisham
Sycamore Row by John Grisham
A Piece of the World by Christina Baker Kline
The Almost Sisters by Joshilyn Jackson
Perennials by Julie Cantrell
An Unforseen Life by Mary Ann Connell
My Soul Looks Back by Jessica B. Harris
That Woman From Mississippi by Norma Watkins
The Bookshop at Water's End by Patti Callahan Henry
This Naked Mind by Annie Grace
The Last Lecture by Randy Pausch
The Cage-Maker by Nicole Seitz
The Address by Fiona Davis
Among the Mensans by Corey Mesler
Drinking: A Love Story by Carolyn Knapp (re-read)
Lit by Mary Karr (re-read)
The Patron Saint of Liars by Ann Patchett
Heating & Cooling: 52 Micro-Memoirs by Beth Ann Fennelly
The Rooster Bar by John Grisham
Far From the Tree by Robin Benway
Dancing With My Father by Leif Anderson
Goodbye, Vitamin by Rachel Khong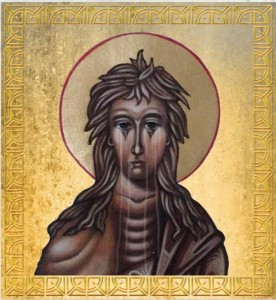 I woke up this morning wondering what I was going to write about for today's blog post. And then I read Ellen Morris Prewitt's review of CHERRY BOMB and I knew I wanted to share it:
"Cherry Bomb, St. Mary of Egypt, and Redemption"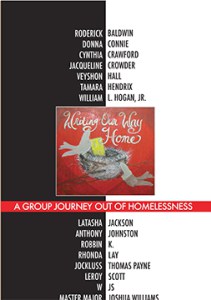 Ellen's words mean so much to me, especially her praise for my depiction of Mare's (the protagonist) days of living on the streets, where she went to escape the abuse she suffered first at the hands of her father and then from her foster father. Ellen spent seven years leading a writing group for homeless and formerly homeless people in Memphis, and then published a collection of their stories in 2014:
Writing Our Way Home: A Group Journey Out of Homelessness
Both of these books are full of hope and would make excellent Christmas gifts!
Happy reading!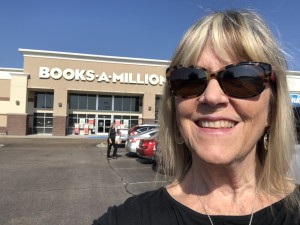 I wasn't excited when my publisher asked me to drive 300 miles to a Books-A-Million store in Hattiesburg, Mississippi, to sign copies of CHERRY BOMB for three hours on Saturday. I've done lots of readings at independent bookstores all over the South, which I always enjoy. Readers come to not only meet the author and potentially purchase a signed copy, but also to hear a reading and participate in a Q & A. At the BAM (Books-A-Million) store, I was just supposed to sit at a table in the front of the store and greet customers and tell them about my book, hoping they will buy a copy. And also to wander around the store giving out fliers and encouraging customers to buy my book. Could I do that without seeming creepy?
First I did a little research. Turns out BAM is celebrating its 100th anniversary this year! Founded in 1917 in Florence, Alabama, Books-A-Million, Inc. has grown to become the premier book retailing chain in the Southeastern United States, and the second largest book retailer in the nation. Based in Birmingham, Alabama, the company currently operates more than 260 stores in 32 states and the District of Columbia. BAM also has an internet development and services company, NetCentral, in Nashville, Tennessee.
Next, I talked with another Dogwood Press author, John Floyd (from Brandon, Mississippi), about his experience signing books at BAM stores, which he's done many times, promoting and selling his short story anthologies. He gave me a few tips, and when I arrived at the Hattiesburg store on Saturday, the store manager, Erika, immediately started telling me about John Floyd's success there! I was both encouraged and nervous—he's a hard act to follow. (He's also over 6 feet tall, handsome, and charming, and since more women than men buy books, he's got a distinct advantage!)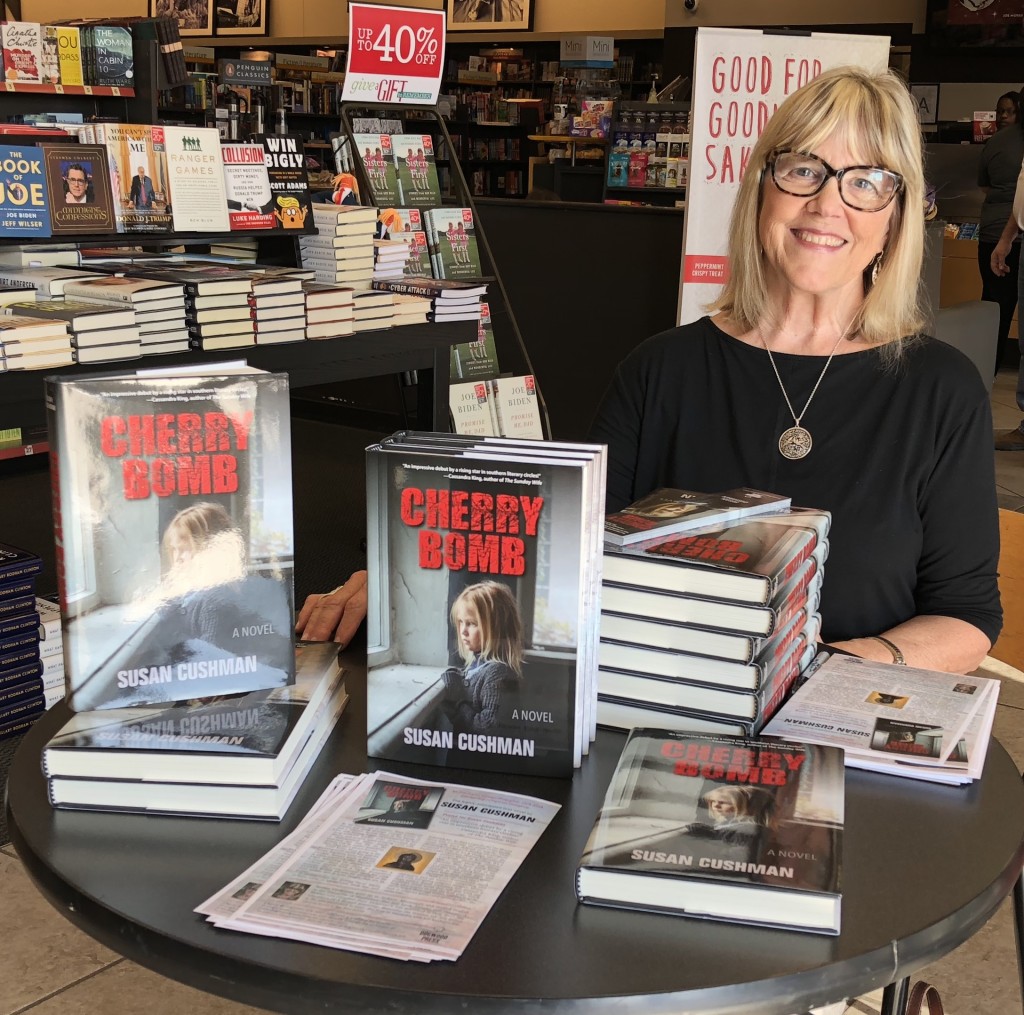 It was a beautiful day in south Mississippi, and lots of shoppers were in the store, which felt very festive. I got set up at my table and immediately a woman bought three copies to give as Christmas gifts! I was amazed and grateful. I asked if they were in a book club together and she said no, but they all love to read. My next customer, "Johnathan," was a very articulate young Baylor University graduate who works for a newspaper in Laurel, Mississippi. Johnathan is writing a "historic fantasy" novel, and we enjoyed talking shop for a while before I signed his copy of CHERRY BOMB. When there was a lull in customers stopping by my table, I wandered around the store handing out fliers and then went back to my table. One woman who read the flier while shopping came back up to my table to get a copy. She's flying to Australia and needed something to read on the plane. Perfect. A cute young nurse who lives in Laurel bought a copy next. Turns out she's also an artist and was interested in all the art in the novel.
It's easy to "profile" people as they walk in the store—I found myself sizing people up and deciding which ones might be interested in my book. But I learned on Saturday that people surprise you. It's not just sophisticated, artistic, spiritual women who are interested in CHERRY BOMB, and not just people of a certain age. The book appeals to everyone from young adults to baby boomers, and even to men. One 50-something man in jeans and a plaid flannel shirt and baseball cap said the book was "just up his alley" and was excited to have me sign a copy. The afternoon flew by quickly, and my final customer—a woman in her sixties—grabbed a copy as I was walking out the door. I learned a lot about people from south Mississippi on Saturday. And people in general. And yes, about myself.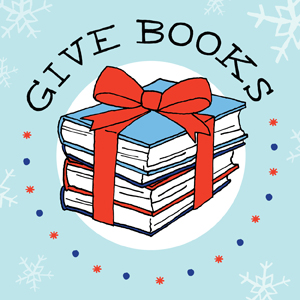 So now I'm actually looking to driving down to the BAM store in Meridian, Mississippi, this coming Saturday. I actually know two people in Meridian, and both are coming by to see me, so that will be fun. These stores are gold mines in towns like Hattiesburg and Meridian that don't have independent book stores. And on the 16th I'll be signing copies at the BAM store in Southaven, Mississippi, which is much closer to home. Stay tuned for more stories! And happy holiday shopping!!!
As we near the end of 2017, I thought it would be fun to take a look back at my book tour travels this year. It was incredible to have three books published within six months (February, March, and August) but it did present a marketing challenge. I am so thankful to the bookstores (independents and big box stores) who welcomed me for 2-3 visits during the year to read from my books. And to the Friends of the Library groups, book clubs, and friends who hosted me for private salons in their homes. I've already added the miles I'll be driving in December (I have 6 more events in December for Cherry Bomb), and the total for the year will be 9,806 miles (in ten months, March through December). That's an average of 980 miles/month that I drove for book tours this year! Here's a recap of those events:

21 events for Cherry Bomb
12 events for Tangles and Plaques
9 events for A Second Blooming
Visited 16 cities/towns and 9 states
Skyped with a book club in Texas
Types of events/venues:
Bookstores:  18
Libraries (Friends of the Library groups and/or book clubs): 6
Book clubs in homes: 4
Book Festivals (in 3 states): 3
Private salons in homes: 2
Community College Women's Conference: 1
Alzheimer's Support Group: 1
Music & Books event at bar/restaurant: 1
Memphis Botanic Gardens: 1
In 2018 I'm looking forward to adding to those miles and events as I travel to Nacogdoches, Texas for the Pulpwood Queens Girlfriend Weekend in January—where I'm on panels for both Cherry Bomb and A Second Blooming—and then finish up my Cherry Bomb tour at a few more events in Memphis and Mississippi.
In 1988, as I was leaving my home town of Jackson, Mississippi, to move to Memphis—and especially as I was leaving the aerobic dance business that I directed for several years in my thirties—the song that brought tears to my eyes most often was "I've Had the Time of My Life." It might sound silly, but running that aerobic dance business was one of the first things I ever did that made me feel really good about myself, so it was difficult to leave it. The lyrics are running through my head this morning as I think about how wonderful this year has been, and I'm so thankful to have realized this part of my dream as a writer.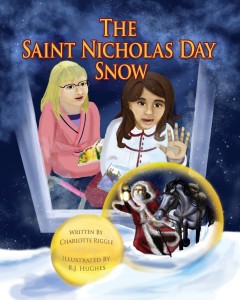 The talented children's author Charlotte Riggle has done it again. With help from the gifted illustrator, R. J. Hughes, "Charli" has given us a colorful, poignant look at a beloved historic figure through the eyes of two families who celebrate his life in The Saint Nicholas Day Snow (Phoenix Flair Press, October 27, 2017). The story does have an Orthodox Christian setting (and characters) but it will capture readers of all religious and cultural backgrounds. Anyone who loves Christmas and tradition and children and story.
Although Charli no longer lives in the South, she was born in Oxford, Mississippi. Her mom used to go horseback riding with William Faulkner's daughter. Her grandfather was the dean of the School of Education at the University of Mississippi. She's currently living in the Pacific Northwest, between Seattle and Mount Rainier. We met through Saint John Orthodox Church here in Memphis, where she was a member for many years before moving to the Seattle area. My husband and I are Godparents to her youngest child, and I've been blessed to be her friend for about twenty-five years.
When Charli's first book, Catherine's Pascha, came out in 2015, I knew she had found her niche. Not that this is the only niche available to her. Charli is a brilliant and gifted technical writer and is knowledgeable in many fields. It takes that kind of genius to write a good children's book. Genius coupled with an intense love for people—especially children, and even more especially children with special needs and disabilities.
If you'd like to hear more from Charli about this project, read her blog post, "Why I Wrote the Saint Nicholas Day Snow."
The Saint Nicholas Day Snow will make a terrific Christmas gift for your children, grandchildren, Godchildren, nieces, nephews, and neighbor kids. Read a description and order the book here or from Amazon.
What a great time I had last weekend on the Mississippi Gulf Coast! It started with a live interview on WLOX Biloxi TV (for CHERRY BOMB) on Friday afternoon (October 20) followed by a reading/signing at Pass Christian Books and Cat Island Coffee House right on the beach at Pass Christian, Mississippi on Saturday afternoon, October 21. The weekend was enhanced by a visit from our oldest son, Jon, my hosts Hardy and Katherine Thames (she's my Goddaughter), and a lovely after-party at the home and interior design studio of Al and Cathy Lawson in Bay St. Louis, and an early dinner (royal reds for me!) at The Blind Tiger on the water in Bay St. Louis. Oh, and Sunday morning's 16th birthday breakfast for Mary Thames and family at the Harbor View Café in Long Beach, Mississippi. (See more photos at the end of this post.)
I'm having a great time touring the South to share my joy over my novel CHERRY BOMB. Having already been to 7 venues in Tennessee and Mississippi (with 7 more events scheduled in Mississippi in November and December and 2 more scheduled in Memphis so far) I'm off on a fun road trip with my husband tomorrow. We're combining his career and mine, starting with two days in Franklin, Tennessee, where he's speaking at a medical meeting, and we're having dinner with one of our nephews, and I'm having lunch with a writer friend. Then we're combining a fall beach vacation with three book events for me. Here's the schedule for my appearances along the Florida Gulf Coast and the Eastern Shore of the Mobile Bay:
Saturday, October 28 (2-5:30 p.m.)—"Choose Your Own Cover" music and literary event at the Capitol Oyster Bar in Montgomery, Alabama. Patrons will pay $15 cover charge for some great music and will choose from five authors' books. I'm so excited to be joining Alabama authors Suzanne Hudson, Joe Formichella, Marlin Barton, Loretta Cobb, and William Cobb. And we'll all be enjoining the musical talents of Chris Clifton and Gove Scrivenor. My husband and I visited the Oyster Bar last April and enjoyed some of the best oyster and Argentine shrimp (yes!) ever. Can't wait to be back there on Saturday!
Monday, October 30 (4-6 p.m.)—Sundog Books, Seaside, Florida, where I'll be signing copies of CHERRY BOMB on the front porch of this terrific bookstore in a legendary town. (And meeting up with old Memphis friends afterwards at the Great Southern Café next door!)
Wednesday, November 1 (4-5:30 p.m.)—The Hidden Lantern Bookstore in scenic Rosemary Beach, Florida. After my book signing, I hope to head across 30-A to one of my favorite places, La Crema
Thursday, November 2 (2-3 p.m.)—Page & Palette in Fairhope, Alabama. This will be my second event at this wonderful bookstore, which hosted me back in April for my first book, Tangles and Plaques: A Mother and Daughter Face Alzheimer's.  Can't wait to read and sign CHERRY BOMB for the good (and very literary) people of Fairhope. And many thanks to my friend Ren Hinote, who is hosting an after-party in her home in nearby Montrose.
Watch for pictures on Facebook, and thanks, always, for reading. I hope to see some of you along the tour!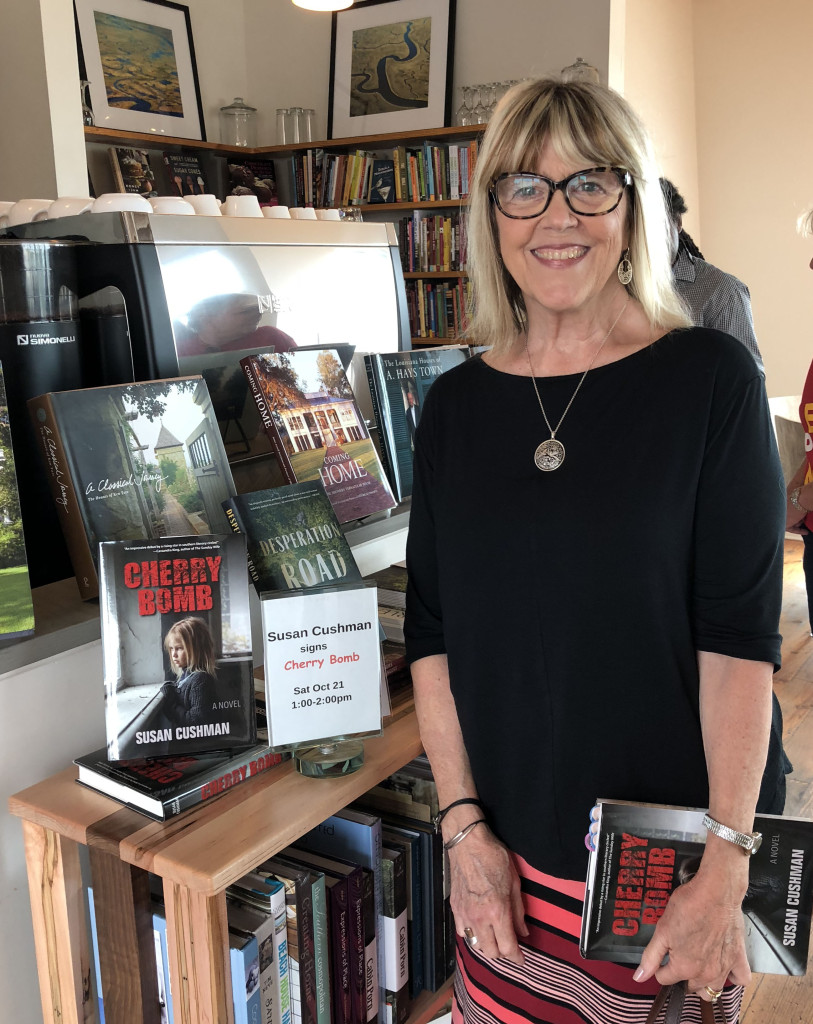 By

Susan

In

Anthologies, Book Sales, Book Signings, Book Stores, Events, Fiction, Graffiti, Literary Festivals, Novels, Publishing, Radio, Writing
2
This past weekend I traveled to Nashville, Tennessee, for the 29th Annual Southern Festival of Books. The only other time I had been was in 2012, when I was on a panel with Jennifer Horne, Wendy Reed, Marshall Chapman, and Rheta Grimsley Johnson for the anthology, Circling Faith: Southern Women on Spirituality. It was great to return as an author for my novel Cherry Bomb.
Nashville is a great city, and I always enjoy my visits. This time I wasn't able to take in any of the sites and sounds (I love country music!) other than those happening at the Festival itself. Back in 2012 one of my favorite things was an evening "in the round" (literary readings and music) at the Blue Bird Café. Didn't make it to the Blue Bird this trip, so I'll share my "10 favorite things" about the Festival itself.
1. Being on a panel for CHERRY BOMB, with fellow Tennessee author James E. Cherry (funny that his name is Cherry, right?) Our panel was titled "The Path to Publishing: Tennessee Debut Novelists," although James's novel EDGE OF THE WIND is actually his second. He and I both have published in other genres, including poetry and short stories (for James) and memoir and anthologies (for me). We also have both been published in a variety of independent presses, so we were asked to talk about our journeys to publishing, which was lots of fun. There were quite a few writers in the audience, who were seeking information about how to get their work published, so it was a very interactive session. Our moderators are both graduate students in the MFA Creative Writing program at the University of Memphis—Jamie Logan and Jordan Renee Evans—and they did a terrific job.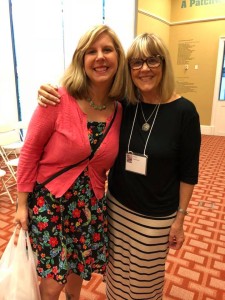 2. Signing copies of CHERRY BOMB for readers who purchased them. And getting to know them, if only briefly, and why they are interested in my book. It is so humbling and gratifying after working for years on the book, to finally see others appreciate it! It was great to see my old high school classmate (from Jackson, Mississippi) Cecil Ross. Some of those readers are friends I've known in Nashville for a few years, and it was great to see them again, like the talented poet and author Karissa Knox Sorrell, whom I actually met in person at the 2012 festival. Karissa, as well as others who came to my panel, like Bertie Hamilton DeWane and Marianne Robbins, are Orthodox Christians like me, so they have a special interest in some of the spiritual themes in the book, including the weeping icon of Saint Mary of Egypt.

3. My live interview with author and radio host River Jordan on Clearstory Radio. Jordan and I have been friends for about ten years, and we recently did a signing together at Barnes and Noble in Brentwood, Tennessee with local author Kathy Rhodes. River and Kathy had both contributed essays to an anthology I edited, A Second Blooming: Becoming the Women We Are Meant to Be. And River has also contributed an essay to another anthology I'm editing, Southern Writers on Writing (coming from University Press of Mississippi in 2018). In 2010 we traveled together to the Pulpwood Queens Girlfriend Weekend in Texas, where she was a featured author and I was her guest. I'm so excited to be returning to that amazing event this January as an author. River and I talked about my banner year of publishing three books, and a little bit about each of them. She asked about my experience working with different publishers and editors, like Joe Lee of Dogwood Press, who published CHERRY BOMB. CLICK HERE TO LISTEN to the interview—it's about 15 minutes long.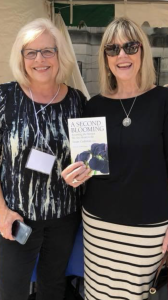 4. Visiting with fellow authors from all around the South that I rarely get to see. And even to meet a couple of them in person for the first time, although we've been chatting on Facebook for several years! Kathy Rhodes was anchoring a tent for Middle Tennessee Authors. We've been friends since about 2008, and we co-directed the 2010 and 2013 Creative Nonfiction Conferences in Oxford, Mississippi (with Neil White). Kathy is a terrific author and workshop leader and friend. I especially loved her 2013 memoir Remember the Dragonflies: A Memoir of Grief and Healing.
5. The next fellow author I ran into was Brenda McClain, who was enjoying some fine tunes at the outdoor music tent when I found her Saturday morning. Her novel One Good Mama Bone was released by Story River Press, an imprint of the University of South Carolina Press founded by Pat Conroy. Brenda is a South Carolina native, and I'm looking forward to being with her again in January at (you guessed it) the Pulpwood Queens Girlfriend Weekend.
6. Later I met Georgia native and fellow author Karen Spears Zacharias. Karen and I share a publisher—Mercer University Press published her recent novel Christian Bend, and also my anthology A Second Blooming. We visited briefly between my interview and hers with River at the Clearstory Radio venue at the top of the colonnade, overlooking some of the festival tents. What a joyful spirit she has!
7. I didn't have photo ops with everyone, but it was also great to see fellow Jackson, Mississippi native (we were in high school together in the 1960s!) Corabel Shofner at the authors' reception. Bel was on a panel for her middle grade novel Almost Paradise. Also shared a brief hug with my friend Beth Ann Fennelly (Poet Laureate of Mississippi) who was at the festival to talk about her latest book Heating & Cooling: 52 Micro-Memoirs. Oh, and finally meeting festival director Serenity Gerbman! And a short visit in the authors' hospitality lounge with North Carolina native Shari Smith, a fellow contributor to the anthology The Shoe Burnin': Stories of Southern Soul (River Edge Media 2013). Shari is the creator of Trio, a traveling exhibit of art and songs inspired by books. Speaking of which….
8. "The Conroy Center Porch Talk" (a live podcast) was great fun. Moderated by Jonathan Haupt, director of the Pat Conroy Literary Center in Beaufort, South Carolina, Jonathan welcomed author Wiley Cash, talking about his recent book The Last Ballad, and singer-songwriter Radney Foster, who performed an original song he wrote about The Last Ballad for the Trio project.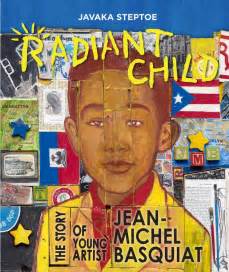 9. Javaka Steptoe, artist and author of award-winning children's books, gave a wonderful talk about his latest work Radiant Child, about Jean-Michel Basquiat, who  actually makes a cameo appearance in my novel CHERRY BOMB! There's a scene where Mare, the young protagonist, is watching an MTV video of Blondie and Fab Five Freddy, and Basquiat is in the background throwing up graffiti. Steptoe was a great presenter and I love the book.
10. My "parting shot" for the Festival is a group of street dancers I enjoyed watching as I walked from my panel in the Nashville Public Library to the author signing tent, which was right next to the Parnassus book tent. (Thanks to Parnassus for selling our books!) I missed the start of their dance, so I didn't quite get the significance of the articles of clothing strewn across the pavement, which they picked up at the end of the dance. But the music was haunting and I always enjoy dance.
That's a wrap for the 29th Annual Southern Festival of Books. Hope to return next year for their 30th year celebration!