I'm pinching myself so I'll know this is real. These six AMAZING literary rock stars have written blurbs for my novel, Cherry Bomb, which releases in August. This has been a six year (plus) project, and I couldn't be more excited about it. Or more pleased with Joe Lee at Dogwood Press for being such a great publisher. Thanks so much to these very busy, successful authors whom I'm honored to call my friends. I can't believe they said things like, "deft narrative control," "rising star in southern literary circles," "beautifully written, thoughtfully conceived," and "rendered with passion, acumen and concision." Cherry Bomb launches on August 8 (just three months away!) at Lemuria Books in Jackson, Mississippi (my home town). Here they are!!!

"In CHERRY BOMB, a troubled young artist finds a way to heal a horrific past in the intriguing world of street art, graffiti, iconography, and abstract expressionism. With deft narrative control, Susan Cushman weaves an unforgettable story of triumph and redemption that will linger long after the final page is turned. An impressive debut by a rising star in southern literary circles!"
—Cassandra King, author of The Sunday Wife
Using the life of real abstract expressionist artist Elaine de Kooning as a jumping off point, CHERRY BOMB fearlessly explores the intersection between art and spirituality, creating it as a palpable place where healing can occur. This is a bold, frank book, and Susan Cushman is a brave and talented writer.
             —Joshilyn Jackson, New York Times bestselling author of gods in Alabama and The Almost Sisters
"Any book that opens with a young woman painting graffiti across the steeple-ridden town of Macon, Georgia, is my kind of story. Cushman depicts the South as it is, not the sentimental claptrap some people want it to be. No cliches to be found here, just God and art and beauty and pain—just like sitting in church."
—Harrison Scott Key, author of The World's Largest Man
"How does Susan Cushman do it?  Out of the most unlikely materials—a teenage graffiti artist, an abstract expressionist painting teacher running from her past, and a reclusive nun who paints icons—she weaves an intricate tale that teases us with surprising connections.  This generous first novel is a tale of family and resilience and the healing power of art.  Beautifully written, thoughtfully conceived, CHERRY BOMB surprises and redeems."
—Beth Ann Fennelly, Poet Laureate of Mississippi
"By mixing the work of historical creatives with the risqué endeavors of a modern graffiti artist, Cushman takes a unique approach to examining the experiences of a young girl who turns to art while finding her way in life."
—Julie Cantrell, New York Times and USA TODAY bestselling author of Perennials
"Susan Cushman, in her marvelous first novel, tells the touching, parallel stories of two female artists, one famous, one not. The intersection of their lives, rendered with passion, acumen and concision, will entertain and enlighten you. The story moves as quickly as running paint, and, in the accumulation of detail, becomes a canny meditation on art and individuality, on spirituality and hope. Its indelible characters, especially its young graffiti artist, will take up residence inside you alongside Scout Finch and Frankie Addams."
            —Corey Mesler, author of Memphis Movie and Robert Walker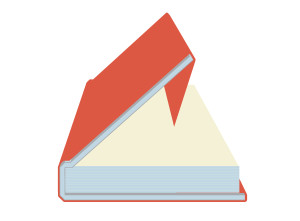 I hope everyone had a wonderful Christmas! I've shared lots of pictures on Facebook, so I'm not going to bomb my blog with our family Christmas images, but we are having a wonderful time in Denver with two of our three "kids" and their families, including our four granddaughters (which is why I didn't do a blog post on Friday). We'll head back to Memphis tomorrow where I'll continue work on all four books in their various stages of editing, production, and marketing.

I'm excited to share this wonderful blurb written by my publisher, Joe Lee, for the front inside cover of my novel Cherry Bomb. It appeared on the Dogwood Press blog, Friday, December 23, 2016. Check out the other authors featured there, including my friend John Floyd who is a wizard with short stories. His latest book is Dreamland.
Thanks for this wonderful blurb, Joe! (This will be a hardback book with a dust jacket cover. We're working on cover art now, so stay tuned!)
In the same way that a good bookseller can get you excited about reading a book (as our Mississippi booksellers do so well), good dust jacket copy does the same thing — how often have you read the flap cover and said, "Gosh, I've GOT to get this!" With that in mind, here's the dust jacket copy for Susan Cushman's debut novel, Cherry Bomb, which I can't wait for us to roll out next October:

            By the tender age of sixteen, Mary Catherine Henry has lived through enough horror to last a lifetime. Sexual abuse at the hands of her cult-leading father, abandonment by her drug-addicted mother (who nicknamed her Mare), and several spirit-crushing years with a dysfunctional foster family convince her that life on the streets will be easier, somehow, than what she's always known.

What keeps Mare going is the budding artist inside her, and the sleepy Southern town of Macon, Georgia, doesn't know what hit them when colorful graffiti "bombs" begin appearing on abandoned buildings—Mare even dares to decorate a Catholic church with a highly provocative message. The young runaway signs her work CHERRY BOMB, attracts the attention of the local media, and is soon caught—but not by police.

 A photographer for Rolling Stone learns of Mare while on assignment, finds her, and befriends her. So does a reporter for The Macon News and, eventually, the priest of the parish whose walls Mare defaced so angrily. Their efforts help earn her a scholarship at prestigious Savannah College of Art & Design, where she studies under legendary Abstract Expressionist painter Elaine de Kooning. It's a wonderful mentoring relationship … until Mare and Elaine discover they have much more in common than a love of art. And that bond, which forces both women to deal with pain and anger from their repressed pasts, threatens to tear them apart.

With a mix of remarkably visual characters and an intricate, compelling plot rich with intriguing religious imagery, Mississippi author Susan Cushman has penned a powerful debut novel that will stay with you long after you've turned the final page. You'll never forget Mare and Elaine … and you'll never look at religious icons—and street graffiti—the same way.

 

Wow! Doesn't that make you want to read the book? And you can support Susan before then by picking up a copy of Tangles and Plaques (A Mother and Daughter Face Alzheimer's), which will be released in several weeks by eLectio Publishing.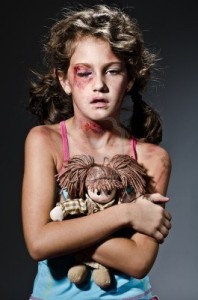 On page 4A of  today's Memphis Commercial Appeal, there's a shocking article about domestic violence written by Maria Chang, AP Medical Writer. In "WHO Study: Third of women suffer domestic violence," Chang reveals this chilling statistic from the World Health Organization:

40 percent of women killed worldwide were slain by an intimate partner, and being assaulted by a partner was the most common kind of violence experienced by women.
While the article doesn't define "partner" as always meaning a legal spouse, the use of the term "intimate" at least indicates a close if not familial relationship—one that should be safe. These statistics are from studies that took place between 1983 and 2010.
Two pages later in the same section of today's CA (Section A, page 7) is a guest column by Karen Camper, a member of the Tennessee House of Representatives and the Women Legislator's Lobby, titled, "Oppression of women fuels world's unrest." Rep. Camper's focus is on the affect that issues surrounding women's rights—especially in the Middle East—have on world peace, rather than the results of domestic violence on the individual. The article is worth a read. She sums up her thoughts with these words:
Respecting women and involving women in all aspects of society offer the only hope for achieving the transformational change that is so necessary for peace.
Whether or not that ever happens in our fractured world, Camper's observations are astute, and I hope that enough people are listening to help make a difference.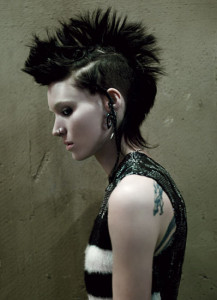 And this might seem an unusual segue, but Stieg Larsson uses facts about man-on-woman violence as section quotes in his novel, The Girl With the Dragon Tattoo, including this one:
Forty-six percent of the women in Sweden have been subjected to violence by a man.
Since the protag and two other supporting characters in my novel, Cherry Bomb, were all sexually abused, this is a topic that catches my eye wherever I see it. And the trained eye of the editor I'm working with right now on revisions for the novel. She's the one who recommended I read The Girl With the Dragon Tattoo, remember? For "an absolute master class in writing damaged women." I'm finding my reading of Larsson's work to be just that, especially where his protag, Lisbeth Salander is involved. As my editor says:
Lisbeth Salander never stops being a badass just because she gets wealthy enough to walk away from the hacker life—and that commitment to self preservation should also be strong in Mare (Cherry Bomb's protag). No one gets away from a childhood like hers without some damage, and not all damage gets healed. Don't be afraid of that—lean into it.
And so I proceed to live my own life—leaning into the damage I have personally suffered—while striving to bring that spirit of self preservation to the women I create on the written page. I have grown to love Mare over the past three years as I've written and revised her story. By the end of the novel, she's no longer the frightened little girl who escapes from a cult and is then abused by her foster father. She's no longer the angry teenager who sneaks around at night bombing buildings with graffiti. She has grown into a strong, compassionate, badass woman.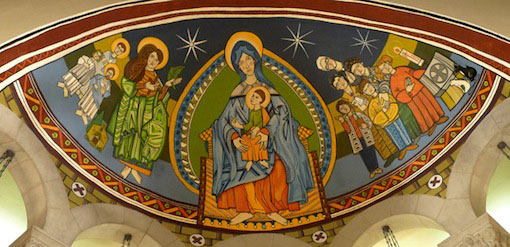 I was so excited yesterday when my friend, Sheila Vamplin, sent me a link to this article in First Things about graffiti artists painting icons in the dome of a church in Spain. So intrigued that I clicked through to this expanded article in The World, "Spanish Priest Commissions Graffiti for Church." And then I found this video, showing the artists at work. (Wish I understood Spanish so I could hear what the priest and the graf writers are saying.)
This makes me happy on so many levels.
As an Orthodox Christian and (retired) iconographer, I was taught to respect the rules that my faith sets down for liturgical art, including icons, music, and architecture. Without those guidelines, these ancient, traditional forms would gradually morph into something entirely different. Eastern (Byzantine) traditions would become "Americanized" over time. There was a time when I thought that was a bad thing. I no longer feel that way. After all, I live in America. I am an American. Its culture is my culture. It's been very difficult to assimilate the culture of the Middle East into my religious experience as a convert to Orthodoxy.

When I was writing icons, I had a discussion with Mother Gabriella, a Romanian abbess at Holy Dormition (Orthodox) Monastery in Rives Junction, Michigan. I was struggling with the strictness of both the styles and techniques taught by the Russian iconographers at the classes hosted by the monastery. I had also studied under Greek, Romanian, Ukrainian and American instructors, and it seemed that each "school" of iconography had its own set of rules. Mother Gabriella encouraged me to just "pray and paint" and let the style develop organically. She didn't believe there was anything more spiritual about one technique than another. Or that one medium is more spiritual than another. Some iconographers believe egg tempera is the only true spiritual medium for icons, looking down on those who paint with acrylics. I found great relief in the large berth she gave to liturgical art.
So when a Catholic priest in Spain reached out to two graffiti writers he found online ("Rudi" and "House") and asked them to paint the iconographic images for the dome of his church last year, he incorporated yet another element of his culture—graf writers are counter-culture. (See "God's Own Banksy.") And they would be painting the icons with the only tool of their craft—spray paint. (Interesting note: both graffiti artists and iconographers use the term "write" when talking about painting graffiti or icons.)
L'Hospitalet's Santa Eulalia church is neo-Romanesque in design, with a Catalan twist. Father Ramon Borr has this to say about his choice of "iconographers" for the dome of his church:
"Even though the press is scandalized by graffiti artists, for me graffiti is just another artistic technique."
I would love to meet Father Ramon and thank him for this bold move on his part. And to see these icons in person. I'm amazed by the skill the graf writers showed in the precision of the lines they achieved with spray paint. Since I researched graffiti for my novel, Cherry Bomb, I learned just enough to respect how difficult it is to achieve such precision. The article in The World says:
One of the two 'graffiteros' was Raul Sanchez, who's tag, or signature for street art, is House. House said that when Father Borr hired him he was surprised, and nervous, and thrilled.

"Only a graffiti artist can tell we used aerosol cans to do the work," he said by telephone from Alicante. "We tried to conceal that. In the Roman period spray paint obviously didn't exist."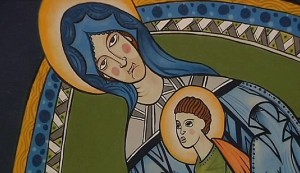 Just like acrylics didn't exist during the Byzantine era. The graf writers studied the Romanesque style in Barcelona before they began painting in the church. They respected the liturgical guidelines, but they brought their own creativity to the work.
My favorite "style" of iconography is that used by the Coptics. The simple, primitive figures and the bold colors have a spiritual element that reaches my soul in a different way from the Byzantine icons. A few years ago I took a workshop at an Episcopal Church in Memphis during which we learned to do "reverse painting" on glass. We transferred Coptic images to the glass by tracing the outlines with Sharpie pens and then filled in the colors—from back to front—with acrylic paint. I gave my icon away as a gift, and I'm sorry that I don't have any pictures of it.
But my Goddaughter, Sophie, and I had fun doing some Ethiopian folk art painting together on her birthday three years ago.  (She'll be ten on February 25!) We used gouache—opaque water colors—on canvas, with pleasing results. Sophie was only seven at the time. This painting isn't an icon, but you can see the primitive style of the symbolic images that also appear in Ethiopian icons.
I hope you enjoyed my peek into the diverse cultures of iconography and graffiti. I've only got a few days left here at my writing "retreat" on the beach. Can't wait to see what the women in The Secret Book Club are reading next! Have a great weekend, and please come back on Monday for my mental health post.