My friend Dr. Joanna Seibert invited me to contribute a guest post to her beautiful blog, "Daily Something." She's doing a series of reflections on quotes and images, and I was honored that she included an excerpt from an essay I had published eleven years ago in First Things, "Icons Will Save the World." Here's the post, with the excerpt:
I can't remember how I first met Joanna, but we've been friends for many years, and have visited both in Memphis and in Little Rock, Arkansas, where she lives. She is an emeritus professor of radiology and pediatrics at Arkansas Children's Hospital and the University of Arkansas Medical Sciences and has been an ordained deacon in the Episcopal Diocese of Arkansas for sixteen years. Joanna is the author of numerous books including, The Call of the Psalms, a Spiritual Companion for Busy People and The Call of the Psalms, a Spiritual Companion for People in Recovery, Healing Presence, Taste and See: Experiences of God's Goodness Through Stories, Poems, and Food as Seen by a Mother and Daughter, and a two-volume series of sermons, Interpreting the World to the Church.  She has been a writer for Forward, Day by Day, and has been a frequent contributor to the Living Church, and the Anglican Digest.
Subscribe to Joanna's "Daily Something" and enjoy her inspirational quotes, art, and meditations.
Read more about St. John Orthodox Church, which is pictured above.
As a member of the Orthodox Christian Church, I'd like to share a brief note about Iakovos, former Archbishop of the Greek Orthodox Archdiocese of North and South America (d. 2005).  A champion of civil and human rights, he walked hand in hand with Dr. Martin Luther King, Jr. in Selma, AL, which was captured in this iconic photograph on the cover of LIFE Magazine on March 26, 1965.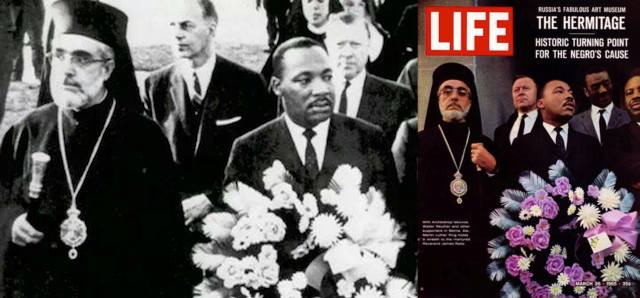 Archbishop Iakovos vigorously supported the passage of the 1964 Civil Rights legislation, exclaiming when the first bill was passed:
"Glory to the Most High! May this mark the beginning of a new age for all humankind, an era when the Word of God charts and guides our lives".
Today I'm going to share some of the best reflections on Martin Luther King and the civil rights movement I have ever read. Anywhere.
My friend and fellow Memphian Ellen Morris Prewitt wrote these words on her blog on Monday, April 2:
MLK50: What Was the Civil Rights Movement?
And on Tuesday, April 3:
And today, Wednesday, April 4:
My prayers are with everyone traveling to Memphis and participating in the events of the day.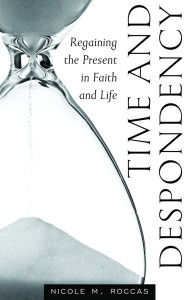 This is the sixth and final entry in my weekly series of reflections on Nicole Roccas's book TIME AND DESPONDENCY: REGAINING THE PRESENT IN FAITH AND LIFE, which I'm reading during this season of Great Lent. If you missed my first five posts and would like to catch up, here they are, in order from first week through fifth:

For some reason Nicole skips Chapter 6, "Prayers From the Present," altogether in the study guide that she created to go with the book. I read it before reading the "assignments" for this week, and found some treasures within:
One of the snares of despondency is to assume that more is always better…. [we] somehow get an idea in our minds that we should be praying longer harder, more intensely. We forsake the virtue of knowing ourselves—and our limitations—and cling instead to our fictional superselves.
This was an important "takeaway" for me from the book, because in years past I have gone to one extreme or another (which is my nature) during Lent. Some years I have rebelled against the whole endeavor, and other years I aimed too high. This has been my best experience of Lent in the thirty years since I've been Orthodox. Undoubtedly one reason is that I quit drinking six months ago, so this is my first alcohol-free Lent. But also, I've approached the season with a kindness towards myself and others that has permeated my Lenten practices—fasting, prayer, and almsgiving. So, when I read in Chapter 6 about what Nicole calls "counter-statement," I embraced her approach of using short phrases from the Psalms or short prayers throughout the day to "counter" the temptations life sends our way.  As she says:
There is also an aspect of counter-statement that is lively—even sassy. These prayers are quick, punchy, and purposefully confrontational. They carry an energy all their own, helping to reignite the vigor despondency all but stifles.
Sassy prayers. I like that. It reminds me of the little quote I have taped to the lamp beside my computer that says, "Be the kind of woman that when your feet hit the floor each morning the devil says "Oh crap, she's up!"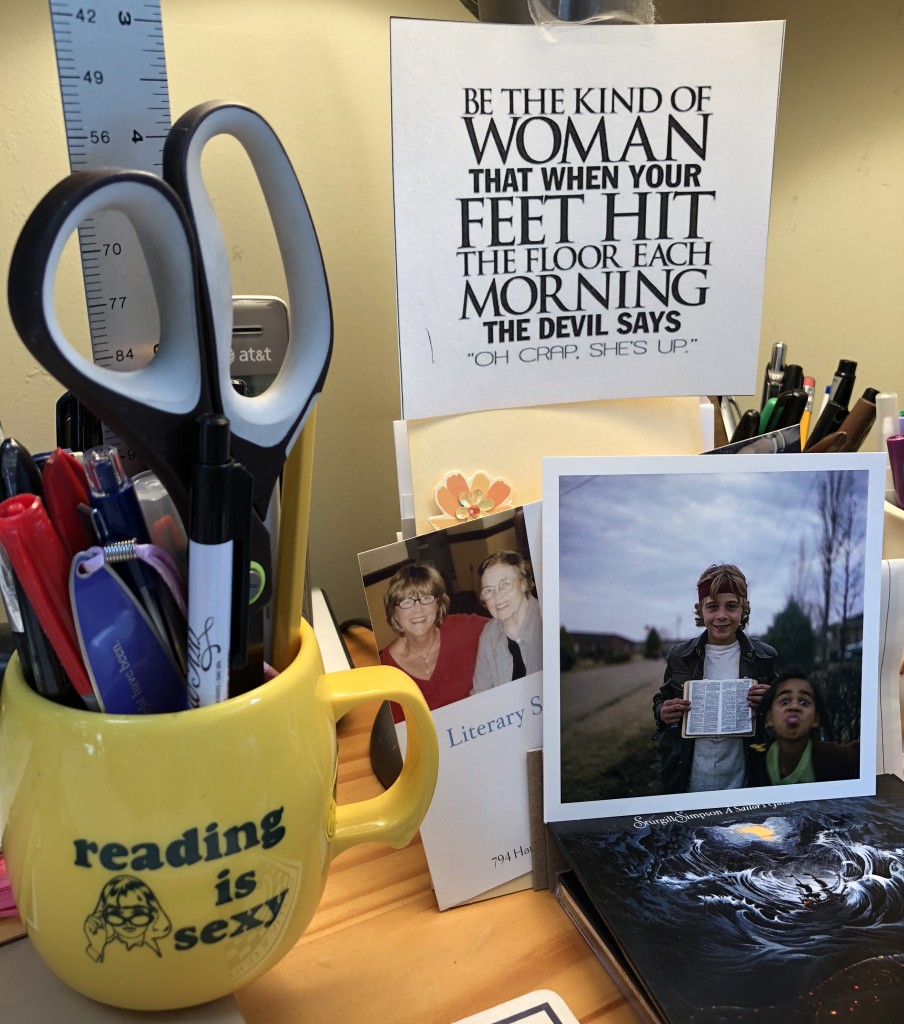 I see these sassy prayers as a wonderful tool for what Nicole addresses in Chapter 7, "Stepping Stones Back to the Present," where she talks about shifting toward "everyday strategies to mitigate despondency's stranglehold on our lives." This is the chapter where earlier she addressed humility, patience and perseverance, gratitude, confession and community, and labor and leisure, all of which I commented on in previous posts. This final week she surprised me by including humor as the final stepping stone. As she says,
The virtue of humor is likely among the last items one would expect to find in a book on despondency—which is why I've saved it, literally, for the end of this book…. humor helps us recover the vitality despondency robs us of.
And within the topic of humor, she addresses laughter:
Simultaneously, laughter causes an upsurge of energy within us. Riding on the wings of laughter, our soul can jump up through the cracks of our defenses and grab hold of ideas we would otherwise reject or overlook…. Adopting a more playful attitude toward ourselves and our shortcomings pulls us out of despondent thinking more swiftly than any other approach. It's not a permanent solution, of course, but even a few seconds' smile is enough to get our foot in the door of our own mind and start to redirect it toward the heart.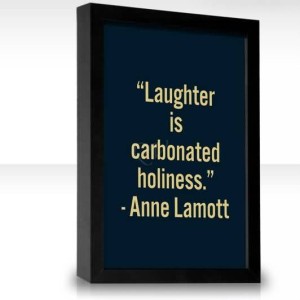 Anne Lamott calls laughter "carbonated holiness."
I have a dear friend who has Lewy Body Dementia. She's younger than me, but the disease has already taken away her ability to perform many of life's everyday functions. She used to have the best sense of humor of most anyone I know, and I miss her laugh. So each time I visit her, I make a point of finding something humorous to say. And once she starts laughing, her whole countenance changes—from the dark, scary, negative images that the disease is pouring into her mind, back to the funny woman I once knew. I try to help her find some happiness, if only for a few minutes.
It might seem strange to be talking about humor and laughter during the last week of Lent and just a week before we enter Holy Week. (Or for my Catholic and Episcopal friends, as you enter Holy Week today.) But I think Nicole makes a good case for its proper use in our spiritual lives, as well as for our mental health. As she says at the conclusion of this chapter:
Wise humor chisels a crack in despondency just wide enough for our souls to slip through, get some fresh air, and see the bigger picture.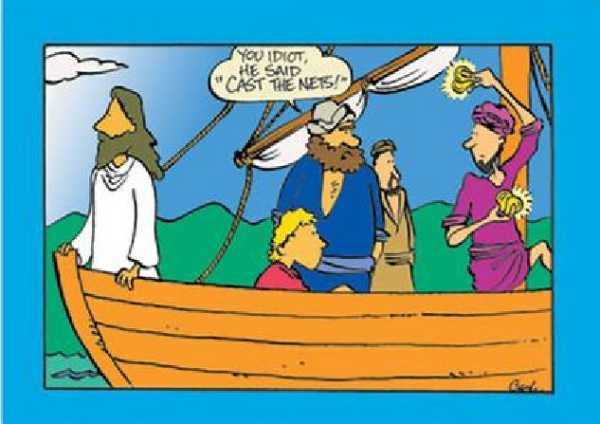 In the final chapter of the book, ""Re-presenting Reality," Nicole brings us back to the focus, to the reason for all the talk about despondency to begin with. We are preparing to enter into the celebration of Pascha, of Christ's resurrection:
. . . not to commemorate the Resurrection, as though it were (only) a historical event, but to re-present it—to make Christ present among us as a living fact…. Likewise, we live in the present only inasmuch as we abide in His presence.
This is why so many of our Paschal hymns use the present tense, with phrases like, "Today is the day of resurrection," and "He is risen!" The Orthodox celebration of Christ's death and resurrection aren't just remembrances. We enter into His suffering, and then into the joy of His resurrection in the services of Holy Week and Pascha. As Nicole says:
. . . let us have the courage to profess with St. Paul that today is the day of salvation—not two thousand years ago, not happily ever after in heaven, not when we finally manage to get ourselves sorted out, but today. . . . This is what we lose when we retreat into the slow, apathetic death of despondency. And this—all of this—is what we stand to regain when we return toward home and let the scales fall from our eyes.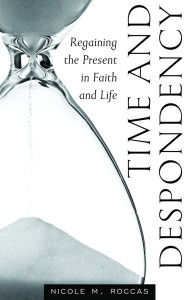 This is my third in a Lenten series in which I'm reflecting on Nicole Roccas's book Time and Despondency: Regaining the Present in Faith and Life. If you missed my first two entries, here they are:
As I continue to follow along in Nicole's Lenten reading guide, this morning I read the sections she suggested for Week 3 of Lent, in which we are moving towards the second Sunday of Great Lent, the Sunday of the Elevation of the Cross.
The first section I read this morning was chapter 3, "What is the Present Moment?" Her words in this chapter fit well with the "homework" Father Philip Rogers, our pastor at St. John Orthodox Church here in Memphis, gave us during his homily yesterday—to spend five minutes in complete silence every day during Lent (and maybe to let that practice continue beyond Lent, as the other spiritual practices we have awakened in our lives should also continue). This dovetails nicely into the other books I'm (re)reading during Lent this year: Living Prayer and Meditations on a Theme, both by Metropolitan Anthony Bloom. I discovered Met. Bloom's books many years ago, but I like to revisit them to help re-center myself in prayer and silence—two things that aren't organic for me, but require a lot of effort. In this chapter, Nicole says:
Why is it so crucial to "be present" in the way St. Theophan and the neptic Fathers admonish? Because the present moment is the only time in which we can encounter the Resurrection and Christ Himself. We cannot meet Him in the past or future; the only time we have is now.
This might seem obvious, and yet, as she points out later in this chapter, we tend to live in the past and the future:
Perhaps the first step of despondency—the first departure from the present moment—is numbing ourselves to care and all the pain it can bring. Counterintuitive though it may seem, fostering regret and anxiety toward past and future are part of that numbing process, because they extract us from the arena of caring and deposit us in the cesspool of rumination, where the mind can manipulate its own reality.
I have experienced this constantly throughout my life—this "cesspool of rumination"—where I let my mind take me to past regrets, to past hurts so that I hold onto them and undo the forgiveness I worked so hard to give at some point, or to anxiety about the future, to the point where I obsess over things as immediate as the success of my literary career or as (possibly) far off as failing health, especially with my family history of Alzheimer's. So what help does Nicole offer us to counter these tendencies, which lead us down the path of ongoing despondency?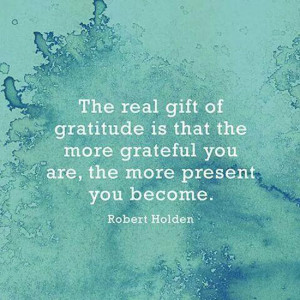 In chapter 7, "Stepping Stones Back to the Present," the section we read this week is about GRATITUDE. She shares the story of a man who struggled with depression and was giving a talk on mental health and faith:
Just before a major depression struck, he would notice that he had stopped giving thanks for ordinary things in life…. A cessation of gratitude was the most consistent forewarning that another storm was on the horizon and he needed to change course.
I have a close friend who always seems to be thankful, even in the midst of her struggles. We talk on the phone frequently, and I'm always impressed with how often she injects thanksgiving into our conversations, reminding me that Christ's love is with us, especially in our struggles.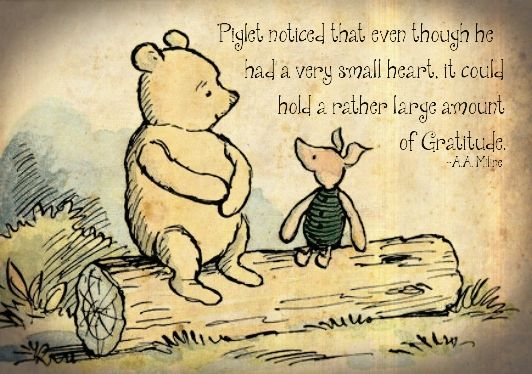 So, this morning, I combined Father Phillip's "homework"—to sit silently for five minutes—with Nicole's suggestions about giving thanks. As I sat quietly, I interrupted my silence only to name things I was thankful for: Our oldest son's visit with us from New Orleans this weekend. Almost six months without a drink (I'll blog about that on Thursday). A new friend I've recently made and the joy of that mutually encouraging relationship. A special lunch with our fifteen-year-old Goddaughter and how precious she is and how wonderful our relationship with her is. Some good reviews of my latest book. The loveliness of our home. The growing love in my marriage of almost 48 years.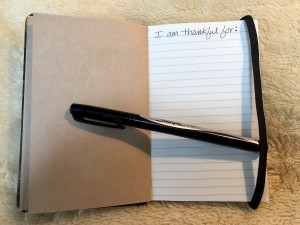 At the end of this section in Time & Despondency, Nicole offers several "Stepping Stones of Thanksgiving." I'm not going to list them here, but when she asks in the reading guide, "What is the one way you'd like to try exercising gratitude this week, based on the readings?" my reply is to follow her third stepping stone:  "Thankswriting." This seems like an obvious choice for a writer, doesn't it? I will keep a small journal (just found one in a drawer in my office) on my bedside table, and every night I will list one or two items that I am thankful for that day. It lifts my spirits to just think about doing this simple act of being present, of living in the moment, and accessing its power against despondency! Join me?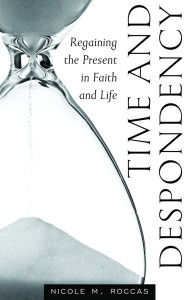 Following up on last Monday's post, "#Lent2018: To Re-spond or De-spond?"… this week I'm continuing my reading in Nicole Roccas' book Time and Despondency: Regaining the Present in Faith and Life, and also working with the Lenten reading guide she developed to go with the book.
In Week 1, Roccas encouraged us to find ways to exercise humility. In her "stepping stones for the journey" at the end of the selection, she asked the reader, "What is one way you'd like to try exercising humility this week, based on the readings?" My answer was, "by being honest with myself and others when I fail, especially in the areas of fasting and disordered eating." I had the opportunity to confess a big fall this weekend, when my husband returned home from a trip around midnight Saturday night and I had experienced an eating binge and purge. But instead of hiding it and letting the failure and secret cause me to despond, I responded to God's love and forgiveness by confessing it and forgiving myself. As a result, I was able to move on without despairing.
In Week 2, Roccas asks us to read sections of Chapter 2 and 3, as well as a section of Chapter 7, "Patience and Perseverance." Here are two nuggets from that section that spoke to me:
Patience is a direct counterattack against the restlessness of despondency, which hastens us to the next task before we've completed what we started…. We have to be patient with despondency itself. Our first instinct, when the heavy stone of apathy settles in our stomach, is to drop what we're doing and "fix" whatever has broken with us—we'll stop folding the laundry or working and seek out the newest blog post, prayer, or experience that will put an end to the feelings we are having.
I've experienced that so many times, especially recently while working on the first draft of a new book, a task that is extremely difficult and sometimes tedious for me. Saturday afternoon I had spent just over an hour on this draft when the restlessness hit me. It was just such hard work, and there were much more fun things available—especially binge-watching Netflix and binge-eating, two activities which seem to feed off each other at times.
Because the second week of Lent includes the commemoration of Saint Gregory of Palamas, Roccas included a quote from his Treatise on the Spiritual Life in this section of the study guide. Here's part of that quote:
A human being who does not endure courageously the unpleasant burdens of temptations will never produce fruit worthy of the divine winepress and eternal harvest….
Keeping my butt in the chair and my hands on the keyboard to continue drafting the new book was, at that juncture, my best defense against the "unpleasant burdens of temptations" (Netflix and food binges), but I caved. How could I have won that battle, and what can I do differently next time, because there will definitely be many next times?
Roccas addresses this in her section on "Stepping Stones of Patience":
Get to know your cell(s). She is referring to the small space occupied by monks and nuns who live in monasteries, for the lay person, a cell can be a place where we work, live, serve others, etc. As Roccas says:
What is your cell, the space in your life you are responsible to occupy? You probably have many of them, according to different commitments or times of day: the work cell, the cleaning cell, the writing cell, the evening commute cell.
For me, the work cell is the same as the writing cell. And it's where I should have stayed when I ditched it for the TV and food binge Saturday afternoon and evening. How could I have found the strength to stay put?
Stay put . . . for two minutes. When you feel like fleeing your respective cell, agree to stay put for a short period of time—two, five, or ten minutes to start with…. Say to yourself, "I will keep working on the current task for ten minutes and then check my email,"…. What we're trying to combat is the impulsivity and mindlessness that bully us into despondent idleness.
I experience this same impulsivity when I'm on the elliptical, which faces a big screen TV in my office. My goal is to work out for 20-30 minutes. I turn on a one-hour TV show that I've recorded, so that works out to be 40 minutes of viewing without the commercials. I get on the machine and start exercising and watching. But often I don't even make it to 20 minutes until I'm bored and stop exercising, walk the few feet over to my comfy yellow chair, sit down and continue watching the show without exercising! I feel like Roccas has given me a weapon against this idleness that I can use both while writing and exercising. If I can talk myself into working for two more minutes, or five, or ten, maybe that will breed encouragement and I'll work even longer. I tried this on Sunday afternoon and it really helped. (P.S. Last week I started working out with a personal trainer at a gym near our house two days a week on the weight machines. At least this part of my exercise routine isn't self-directed!)

The third thing Roccas says in this section is:
Do more things that require patience…. Read a section of a book, poem, or psalm aloud, slowly, not letting yourself skip over any of the words. Alternately take a walk but move at a snail's pace or just stand still and look around.
 My version of this activity today was to sit in my other comfy chair (in the living room) and slowly read aloud a passage from Hebrews that Roccas quotes at the top of this page of her study guide. And then I just sat there quietly for about five to ten minutes, which is a lot longer than it sounds when you're not doing anything—not reading, not sleeping, not watching TV. Try it and you'll see.
So, for her "Stepping Stones for the Journey" question at the end of this week's study guide, Roccas asks the reader:
What is one way you'd like to try exercising patience this week, based on the readings?
My answer:
I will try to keep working on my new book for a few minutes longer before stopping to get online or doing something else that's easier and more fun. And I will try to keep working out on the elliptical for a few minutes longer before getting off to sit in my chair and watch TV. By God's grace.
Thanks, always, for reading. Stay tuned as the Lenten journey continues, and please leave a comment here or on my Facebook thread.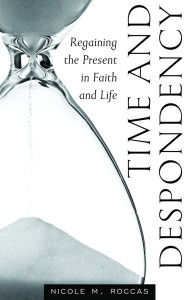 Two weeks ago I mentioned a book I'm reading, Time and Despondency: Regaining the Present in Faith and Life, by Nicole M. Roccas. As I continue reading, I'm impressed with the timeliness of reading this book during Great Lent, which begins today for Orthodox Christians. Yes, today is "Clean Monday," and the journey to Pascha (Orthodox Easter) actually began last night with Forgiveness Vespers in Orthodox churches all over the world. (For reminders about Clean Monday, check out my post from 2016, "Gifts From the Sea on Clean Monday," and from my old blog, ten years ago: "Forgiveness Sunday and Kites on Clean Monday.")
This morning as I continue reading Nicole's book, Time and Despondency, I'm especially struck by the crucial place despondency plays in our Lenten journey. From her chapter, "Time and Despondency":
TO RESPOND OR DESPOND?

As pointed out earlier, acedia—the Greek term for despondency favored by the theologians of late antiquity—connotes the absence of care. In regard to time, however, despondency also manifests itself as a lack of responsiveness. Actualized time consists of re-sponding, unfulfilled time of de-sponding. Both words—respond and despond—contain the Latin verb spondere: 'to pledge, promise, or guarantee.' To re-spond literally means to make a fresh promise. When we respond to God's love, we are essentially re-promising, re-giving ourselves—offering back to God what was given to us….

On the other hand, to de-spond means to lower or cancel a promise. It implies an absence of, or movement downward from, promise. And when we move away from response, when we descend from the opportunity to offer ourselves back to God—who is substance and fullness—our only option is emptiness. Death.
I read these words several times this morning, asking the Holy Spirit to enlighten the eyes of my heart so that I could see what God was trying to say to me on this, the first day of Great Lent. I often dread Lent, rather than looking forward to this season with its greater number of (longer) church services and its stricter fasting program. But this year I feel a shimmer of hope—and the possibility of responding to the gifts God has for me during this season, rather than desponding, as I often do.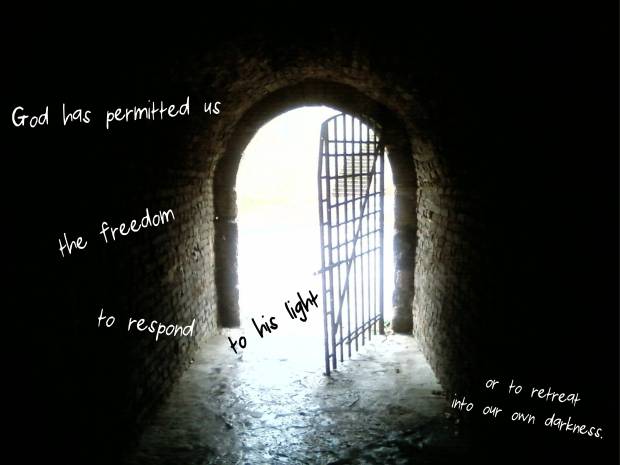 Having recently met with my father confessor for help with this next leg of my spiritual journey, I was given advice for embracing the fast in ways that encourage me to respond, rather than to despond. And as my husband—an Orthodox priest—blessed our home yesterday afternoon with prayers and the sprinkling of holy water on the walls in every room of our house while my Goddaughter Katherine, visiting from Gulfport, and I walked with him throughout the house chanting the verses for the house blessing, I felt my soul responding to this annual tradition with hope. Yes, I have hope that this next year, and especially this Lenten season, will be filled with blessings as I learn to respond to God's love in ways that will affect my relationship with others and my struggles with my personal demons.
And so I say bring on the fast and the longer, more frequent church services with the darker vestments and minor key music. This year I hope to respond to all of this with love, and not with despair. May God bless.
P.S. After posting a link to this on Facebook yesterday, my friend Erin commented about Nicole's Lenten Reading Guide she just published to go with the book! Here's a link to it.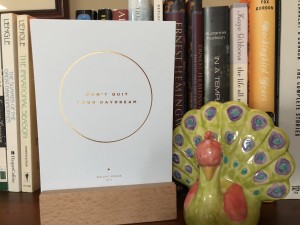 I'm still enjoying the quotes and stand my daughter-in-law See Cushman gave me for Christmas. Recently I selected this quote for the stand (which is right next to a peacock I painted at a shop in Denver a couple of years ago with my daughter, daughter-in-law, and three oldest granddaughters) and I walk past it whenever I leave through our back door: 
Don't Quit Your Daydream
I Googled the phrase this morning, and discovered:
A Facebook page with inspirational podcasts,
A Nashville Film Festival winner,
And various other sites that use the phrase.

And today's quote from A Woman's Book of Inspiration, which was a Christmas gift from my daughter Beth Cushman Davis:
The secret of joy in work is contained in one word—excellence. To know how to do something well is to enjoy it.—Pearl S. Buck
As I continue with the first draft of a new book, I'll be keeping both of these inspirational quotes in mind. They also remind me of the two amazing young women who shared them with me. Beth and See are both inspirations to me, not only because they are the mothers of my four fabulous granddaughters, or because they are beautiful and have successful careers, but because they understand the importance of drawing inspiration from other women as we move forward with our lives. I love you both!
Previous posts on these quotes:
Bright Ideas and Inspirational Quotes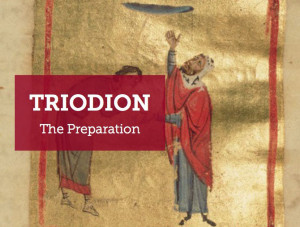 It's been a couple of weeks since I blogged about my current (and life-long) struggle with disordered eating. (If you missed it, it's here: "Courage and Hunger.")
Since that post, I've made a spiritual shift that I'd like to share today. In the Orthodox Church, we are in a pre-Lenten period of the three weeks leading up to Lent known as the Triodion. The three Sundays in this time period, and the fourth Sunday, the day before Lent begins, are outlined here:
Sunday of the Publican and Pharisee
Sunday of the Prodigal Son
Sunday of the Last Judgment
Sunday of Forgiveness
Many people take advantage of the Church's intensified calendar (more services, longer services, stricter fasting guidelines, encouragement to give alms, special retreats and speakers, etc.) as a time to jump-start their spiritual lives. Taking a spiritual inventory, going to Confession, and working on "pet passions" that plague you are common activities during this time. I got a head-start this year, with a productive meeting with my pastor last week, and the healing sacrament of confession.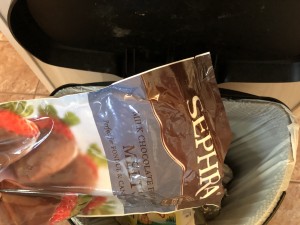 One of the main things I went to my father confessor for help with is my ongoing struggle with the disordered eating I mentioned above, which has intensified since I quit drinking back in September. I've actually gained back seven of the fifteen pounds I worked so hard to lose last year. (I wrote about this struggle about a month ago, here: "120 Days.") I shared with him my frustration that I couldn't apply the same effort (and God's grace!) that I use every day to not drink alcohol to disciplining myself regarding the junk foods that seem to have me in their grip. He offered me some encouragement—both spiritual and practical advice—and I've been praying about it a bit more. Somehow, today, I decided to throw away the rest of the fondue chocolates in the bag in my pantry and not buy any more. And at the grocery store the other day, I made the same decision regarding the kettle-cooked potato chips. I know the struggle isn't over, but somehow making these decisions feels like a hopeful beginning.
In the area of spiritual food, Father encouraged me to "tithe my reading" this year, especially during Lent. I told him that I read almost 50 books in 2017, but only two were spiritual. Mostly I read memoir, literary fiction, and psychology/mental health books. So, 10% of 50 = 5, so I plan to read at least five spiritual books this year. I mentioned that I love Anthony Bloom's books on prayer, and he agreed that they are a great place to start. I went to my "spiritual" book shelves and quickly found Living Prayer and Meditations on a Theme, both of which I read over twenty years ago.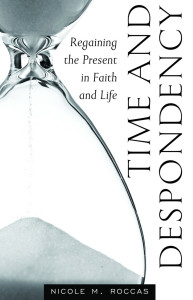 And then I remembered that I had just gotten a new book, Time and Despondency: Regaining the Present in Faith and Life, by Nicole M. Roccas, which was just released last month. Nicole actually spoke at our women's retreat at St. John Orthodox Church her in Memphis last year, but I was out of town and missed her talks. (She also has some wonderful podcasts, available here, on Ancient Faith Radio.) We've become friends on Facebook, and when I discovered her book I ordered it immediately. I started reading it today, and when I opened it, I found a quote on the page before her Acknowledgments by Anthony Bloom… and later quotes by Kathleen Norris. I knew right away we would be kindred spirits.
In the introduction, Nicole says:
I saw my despondency for what it truly was: a condition that robbed my entire self—body, soul, and spirit—of the freedom to dwell with Christ in love.
I immediately thought about Annie Grace's book, This Naked Mind, which helped me quit drinking, because Grace talks about finding FREEDOM, although her approach isn't spiritual. But truth is truth, and I believe God led me to read This Naked Mind as much as He has led me to Nicole's book.
You might be wondering what despondency/depression has to do with disordered eating (or maybe you're not wondering… maybe you already get it)… but for me, much of my junk-food addiction and binging have to do with depression. Nicole addresses this several places in the first chapter of her book:
Despondency has an infinite array of disguises and symptoms. Among the most universal signs is inner restlessness…. For still others, despondency begins as an inclination toward sleep, eating, distraction, or worry.
I probably have some degree of (undiagnosed) ADD… I'm always looking for some excitement in my life, and I get bored easily, which is a quick slide into depression. As Nicole says:
… we manipulate even necessary activities like sleeping and eating—normally peaceful and life-giving—to serve our apathy. They become desperate efforts to soak up the boredom leaking out of every orifice of life.
I've only just begun reading this book, but I look forward to continuing, and then to re-reading Bloom's books on prayer. Oh, and to actually praying more. Even before we enter Great Lent. Stay tuned… I'm sure I'll be writing more about this journey.
In my first post of 2018, "Don't Look Back," I shared two more wonderful quotes from the Bright Ideas quotes and A Woman's Book of Inspiration, two wonderful Christmas gifts from my daughter and daughter-in-law. I'd like to share two more today. (I shared my first quotes selections on December 28, "Bright Ideas and Inspirational Quotes.")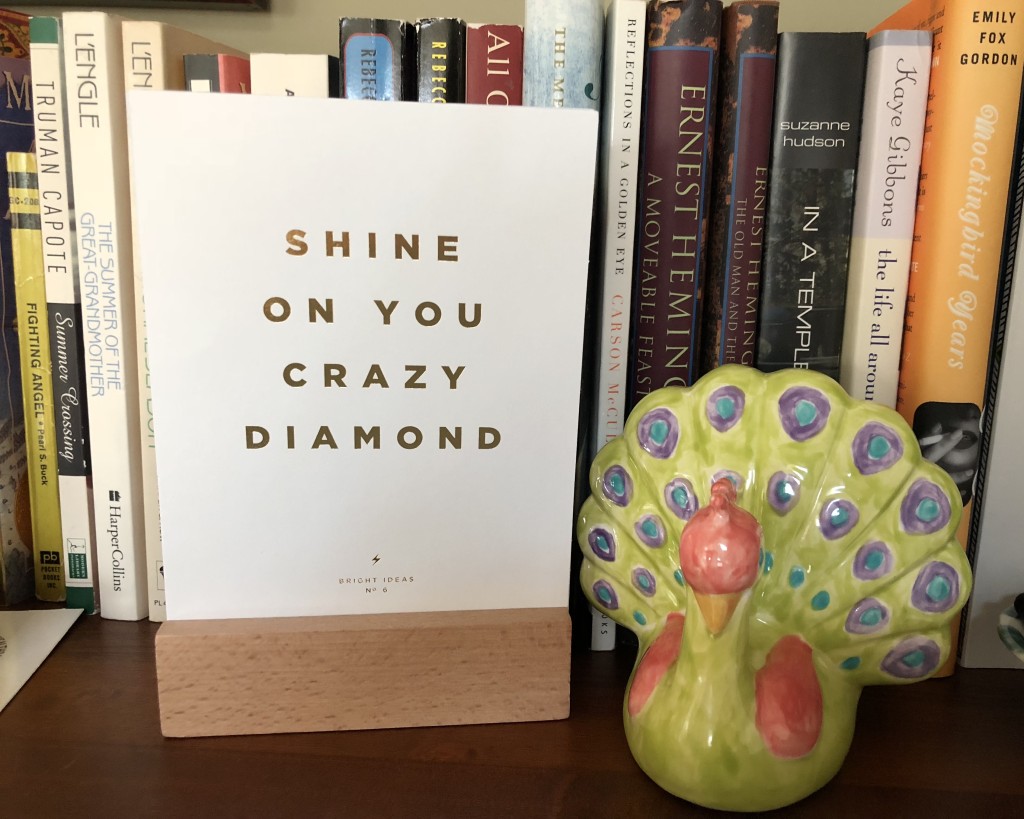 And from A Woman's Book of Inspiration:
"Women have to summon up courage to fulfill dormant dreams."–Alice Walker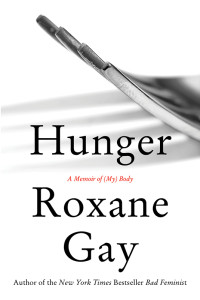 One woman who has certainly summoned up a tremendous amount of courage in her personal life and in the literary world is Roxane Gay. I just finished reading her memoir HUNGER yesterday… my seond book to read in 2018. (If you're not familiar with Gay, some of her other books, short fiction, and essays are listed here.) The author Ann Patchett sums up how I feel about the book:
It turns out that when a wrenching past is confronted with wisdom and bravery, the outcome can be compassion and enlightenment—both for the reader who has lived through this kind of unimaginable pain and for the reader who knows nothing of it. Roxane Gay shows us how to be decent to ourselves, and decent to one another. HUNGER is an amazing achievement in more ways than I can count.
If you're a regular reader of my blog you know that since I quit drinking (on September 8, 2017) I've struggled more than ever with food issues, which is why I picked up Gay's book. It's not a "how-to" or a "I did it!" book. At all. But it's so candid and full of compassion… and courage. Gay was raped as a young girl, and this is a testimony to the way that experience has shaped her life. Like Robert Goolrick's powerful memoir, THE END OF THE WORLD AS WE KNOW IT, it's a tragic but beautifully written description of what childhood sexual abuse does to a person. I did a guest blog post for Writer's Digest in 2011 about Goolrick's book and its affect on me and my writing here:
Writing Memoir: Art vs. Confessional
My essay, "Eat, Drink, Repeat: One Woman's Three-Day Search for Everything," was published in the anthology THE SHOE BURNIN': STORIES OF SOUTHERN SOUL in 2013. It's really a look inside my own disordered eating. I think Roxane Gay would understand. As would Robert Goolrick. Here's an excerpt from Gay's book that reminded me of what I felt writing my essay:
When I am eating a meal, I have no sense of portion control. I am a completist. If the food is on my plate, I must finish it…. At first it feels good, savoring each bite, the world falling away. I forget aout my stresses, my sadness. All I care about are the flavors in my mouth, the extraordinary pleasure of the act of eating. I start to feel full but I ignore that fullness and then that sense of fullness goes away and all I feel is sick, but still, I eat. When there is nothing left, I no longer feel comfort. What I feel is guilt and uncontrollable self-loathing, and oftentimes, I find something else to eat, to soothe those feelings and, strangely, to punish myself, to make myself feel sicker so that the next time, I might remember how low I feel when I overindulge. I never remember. This is to say, I know what it means to hunger without being hungry.
And so as I continue my personal and writing journey in 2018, I'm inspired by Gay's courage, and by her art. And by Alice Walker's inspirational words.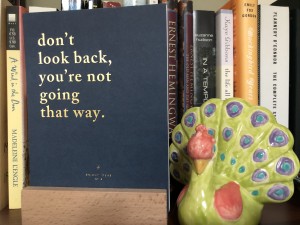 This morning I'm sharing another card from the Bright Ideas quote cards my daughter-in-law See Cushman put in my Christmas stocking this year… and another wonderful quote from the book A Woman's Book of Inspiration that my daughter Beth Cushman Davis gave me. Here's the quote from A Woman's Book:
The future belongs to those who believe in the beauty of their dreams.—Eleanor Roosevelt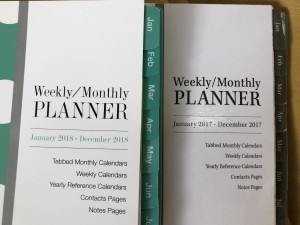 It felt really good to set aside my 2017 desk calendar this morning, as I've been using both that one and the 2018 calendar for several months now. How much simpler to only have to keep up with one year for a while! January looks promising, with three events scheduled for my novel CHERRY BOMB—in Mississippi, Texas, and back home in Memphis. Also a fun weekend in Little Rock, co-hosting a wedding shower for my friend Daphne's daughter, Hallie. Somehow, in between those engagements, I hope to get started on my next book, as I had set January as the time I would begin a new project. 2017 was such a banner year for me, with three books published…. But I can't just look back and rest on those achievements. I hope to continue to believe in the beauty of my dreams.
HAPPY NEW YEAR!