Our kids aren't visiting for Thanksgiving this year so we're going to have a non-traditional celebration. We're going out for lunch with friends who are also without their kids this year… to one of my favorite restaurants in Memphis—FLIGHT. It's downtown, about 5 minutes from our house, has valet parking, wonderful atmosphere, and delicious food. Afterwards the four of us will come back to our house for my homemade hot fudge pie with ice cream, and play Qwirkle. (Great fun—if you haven't played it, add it to your Christmas gift list!)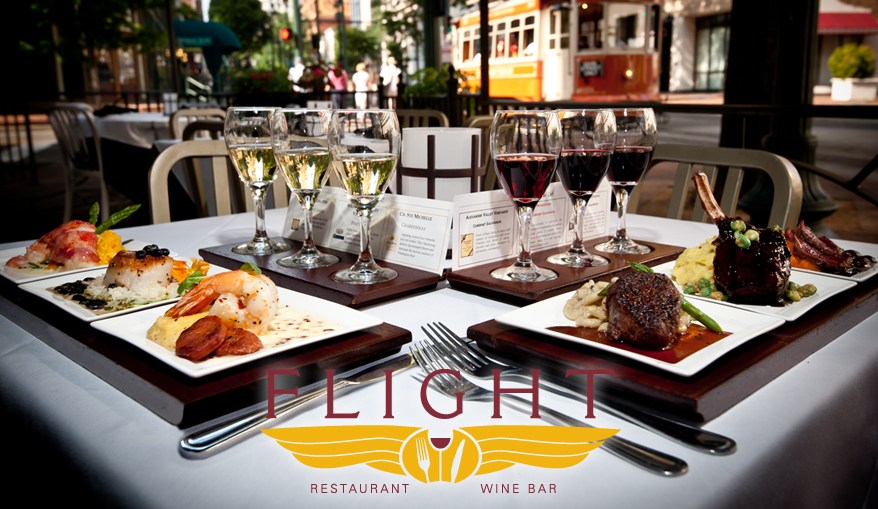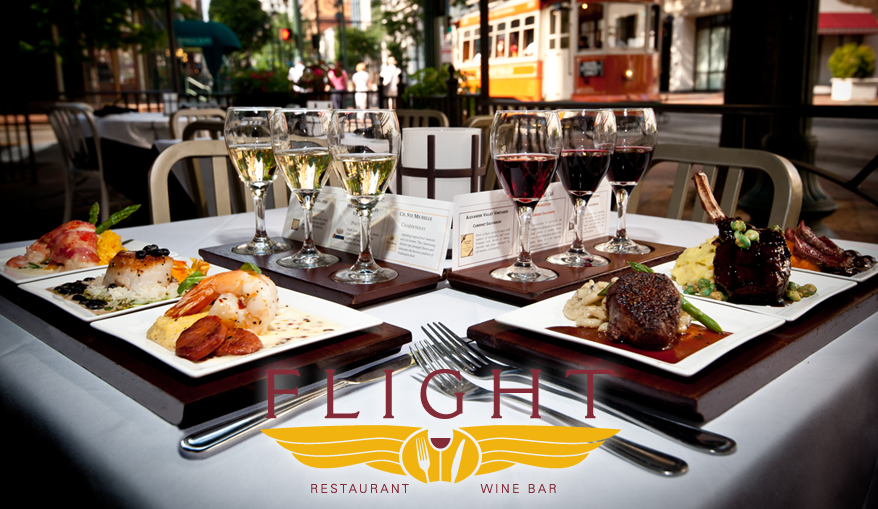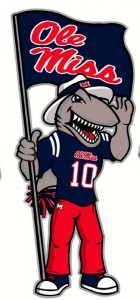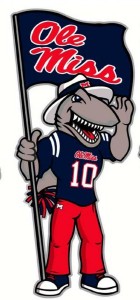 We'll spend the remains of the day watching the "Egg Bowl" on TV. Go, Landsharks!
I just read through my Thanksgiving posts from the past few years, and also reminisced about my favorite Thanksgivings at my Aunt Barbara Jo and Uncle Dan's home in Jackson, Mississippi. Barbara Jo's famous cornbread dressing recipe is in one of the posts from 2014, below.
Thanksgiving and Gluttony (2016)
Dealing With a Weight-Loss Plateau (2015)
The Best Thanksgiving Ever! (2014)
The Best Cornbread Dressing Ever! (2014)
Skipping Thanksgiving (2013)
Thankful People (2011)
Grandchildren, Godchildren, and Thanksgiving (2010)
Thanksgiving (2009)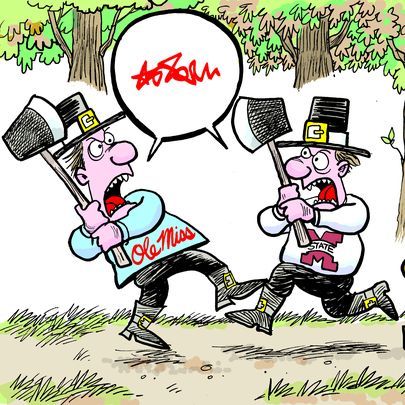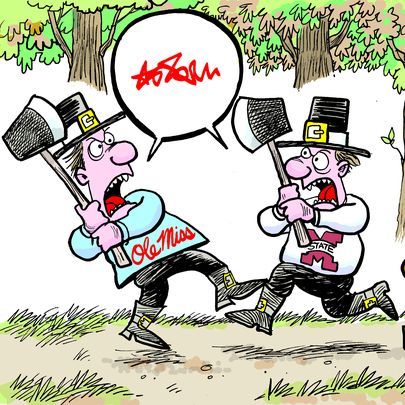 I'll close with a few words about gratitude from a fellow Mississippi author:
"Gratitude is a quality similar to electricity: it must be produced and discharged and used up in order to exist at all." – William Faulkner
I didn't blog on Monday because I was having too much fun here in New Orleans. What a great city… especially in mid November when the highs are in the low to mid 70s and the humidity uncharacteristically low. I'm here with my husband, who is speaking at the American Heart Association's 2016 Scientific Sessions. This is a huge meeting—Scientific Sessions attracts nearly 18,000 professional attendees, with a global presence from more than 100 countries. In addition, 2 million medical professionals participate virtually in lectures and discussions about basic, translational, clinical and population science. Bill has spoken twice during the five-day meeting. But he has found time to join me on an amazing culinary pilgrimage.
Friday night when we arrived we went to visit our friends Tom and Ellen Prewitt at their Bywater apartment in the Rice Mill Lofts for drinks on the rooftop. Then we went downstairs to Mariza – a wonderful Italian restaurant on the ground floor of their building. Fabulous atmosphere and food, and great to be with our Memphis-NOLA friends. (Tom and Ellen live around the corner from us in Memphis when they're not at their NOLA location.)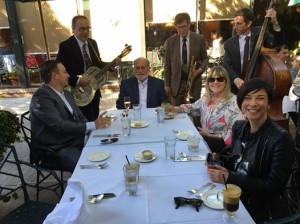 Commander's Palace is my favorite restaurant/experience in NOLA, hands down. We went for jazz brunch on Saturday with our son, Jonathan, and two of his (and our) friends, Nicole Marquez and Joe Gravier. Commander's never fails to offer the best service, atmosphere, cocktails, and food. It didn't hurt that we got a table on the patio and it was 72 degrees and sunny! Nicole was able to get the jazz group to play about six requests—she has that affect on people! Saturday night we ventured to Patois with Dr. Larry Fine, Bill's friend from Washington, D.C., also in town for the AHA meeting. Another wonderful place, great atmosphere and food!

Galatoire's was also great fun—on Sunday night, again with Jon. First he joined us at our hotel to watch the Saints vs. Broncos game, while Bill worked on his AHA presentations on his laptop. We cheered for the Saints since we were in town with our NOLA son, but when the Broncos won, we knew our Denver kids were celebrating. Galatoire's was really our only visit to the French Quarter this trip, and Bourbon Street was hopping. The Saints fans didn't seem to let their loss keep them from having a good time!
On Monday I had a great visit with my friend Emma Connolly, who moved to NOLA from Memphis a couple of years ago to open a shop, Uptown Needle and CraftWorks, on Magazine Street. I love Emma and Robert's house in uptown. Emma is one of the contributors to the anthology I edited, A Second Blooming: Becoming the Women We Are Meant to Be (coming in March 2017).  We visited Octavia Books to introduce ourselves and leave a press release for the book, hoping to give a reading/signing there in the spring. Wonderful bookstore—and of course I had to buy something. Two things, actually. A Christmas gift that I won't describe here in case the receiver is reading, and the novel The Muralist by B. A. Shapiro, which I've been wanting to read. We had delicious crepes at Toast, just down the street from the bookstore.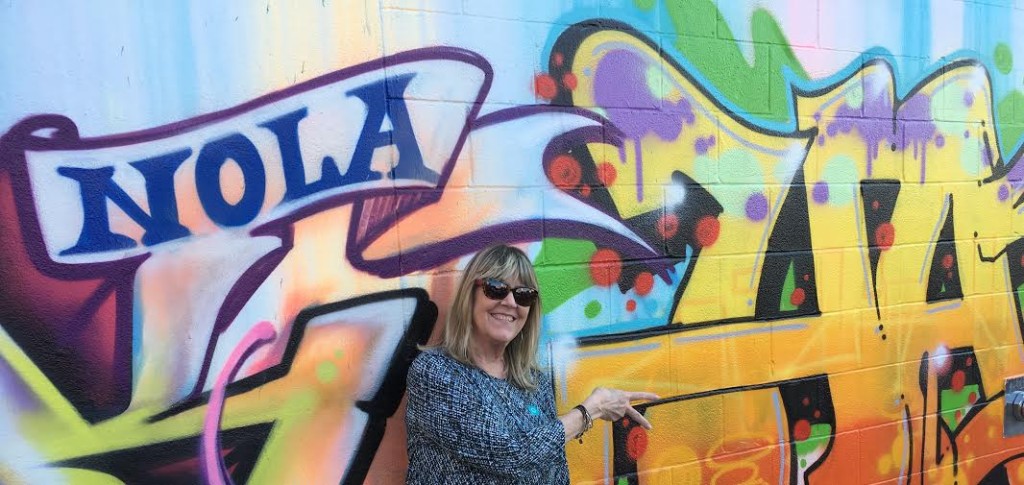 Next I stopped at the Ogden Museum of Southern Art to see my friend Maude Schuyler Clay's photography exhibit, Mississippi History. I already had Maude's wonderful book, which included many of the photos on exhibit, but there was something special about seeing the prints in person at the exhibit. She captures the souls of her subjects in such a beautiful, haunting way.
Outside the museum I was happy to discover this wall of graffiti done by NOLA graf writers.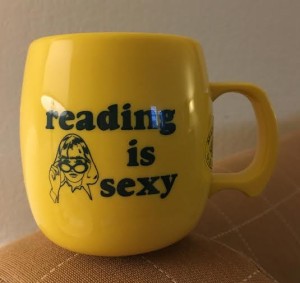 And then I stopped into the coffee/gift shop at the Contemporary Art Center, just across the street from the Ogden. There is so much art in this city! I treated myself to a new coffee mug as a reminder of my visit
Monday night Jonathan joined us again, this time for dinner at Emeril's, which is only a block from our hotel. I had never been, and again the atmosphere, service, and food did not disappoint.
On Tuesday I ventured out again (it's pretty easy to drive around New Orleans, by the way) to the Paris Parker Salon on Prytania for a shampoo and blow out (and picked up a few Christmas gifts—it's an Aveda salon). "Andrea" did my hair when I was here back in June, and it was fun feeling like one of her "regulars." (She also does the head chef at Comander's Palace's hair, which I've never seen, but his food is great!)  Next I drove out to City Park to stroll around the lakes and enjoy the breeze and the ducks and geese. NOMA (New Orleans Museum of Art) is in the Park, so I spent about an hour there, appreciating their permanent collection but loving their abstract exhibits, with works by Picasso, Modigliani, Miro, and others. I discovered New Orleans abstract artist Will Henry Stevens (1881-1949). Like Kandinsky, Stevens viewed painting as an almost spiritual experience, a way of connecting people to a universal truth.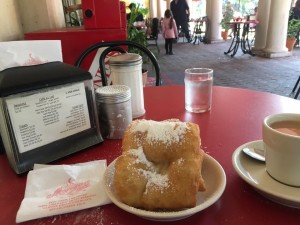 I ended my visit to City Park at Morning Call, where I ate all three beignets covered in powdered sugar with my coffee while enjoying a nice breeze on the patio.
Next I found my way back to Magazine Street to drop by Uptown Needle and CraftWorks and browse a few more shops. (Yes, more Christmas gifts, and a couple of happies for myself.)
Then at three o'clock, when the porch opens at The Columns Hotel on St. Charles Avenue, I was there, enjoying a Streetcar Spritzer while reading a book Emma loaned me—Writers on Writing, edited by Robert Pack and Jay Parini. I was interested in this book, published twenty-five years ago, because I'm editing a similar collection with exclusively Southern contributors (coming out in 2018). I especially enjoyed the Foreword, and essays by Richard Ford and Gail Godwin. Pack and Parini say, in the Foreword, "… the essays all
reveal an underlying commitment to writing as a craft, something that can be passed on from generation to generation of writers, and to the notion of literature as a place where values are tested, where ideas are bodied forth, where the only limits are those enforced by the limits of a writer's own imagination: limits that, by the paradox of art, make the production possible." Reading those words got me excited about writing an introduction for my Southern writers anthology!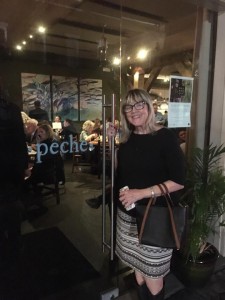 Tuesday night Bill and I had reservations at Peche, which we always enjoy when we're in NOLA. (Peche has won at least two James Beard awards.) One of the owner/chefs, Ryan Prewitt, is Tom Prewitt's son. (We had dinner with Tom and Ellen on Friday, remember?) I love how connected our visit has been. So, we arrive at Peche (a short walk from our hotel) just before 8 p.m. on a Tuesday night in November, and the bar crowd is flowing out into the street and every table is full. We always enjoy the whole fish, but we especially loved the oysters on the hall shell.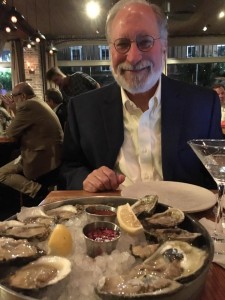 We decided to try six Louisiana oysters and six from Alabama. I liked the 'Bama oysters the best, but they were all delicious! It was November 15… the 47th anniversary of our engagement! Why November 15? It was the night Ole Miss beat Tennessee 38-0 in Jackson, Mississippi. "Archie Who?" (Romantic, right?)

Today is our last day here. After I finish this post, I'm heading over to the Outlet Collection at Riverwalk (a few blocks from our hotel) to do a little more Christmas shopping. Tonight will be our only evening meal that we didn't plan ahead of time. Our friends Emma and Robert recommended Mandina's on Canal Street. They don't take reservations, so I think we'll show up and see what happens. Tomorrow we'll drive home to Memphis, stopping at the cemetery in Jackson to visit Mom and Dad, my brother Mike, and my Goddaughter Mary Allison. I know they aren't really there—but I always feel closer to them when I visit their graves. This has really been a wonderful vacation, even for Bill, who has mixed business with pleasure in his usual seamless way. Thanks for reading—I hope you enjoyed my little travelogue, and can find your way to some of these great places the next time you visit New Orleans!
This will be quick because I've been away from the house since 9:30 a.m. (and just got home at 3) and have lots of work to do on novel revisions…. But just for fun, here's what we've done so far this Columbus Day: (federal holiday so my hubby is home)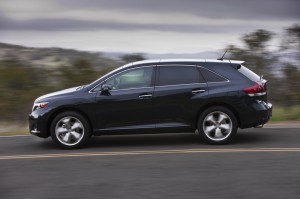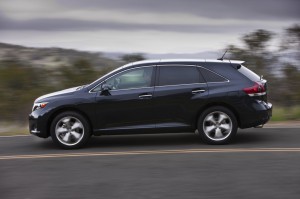 Cars
We just bought my 2014 Toyota Venza, which we had been leasing for three years. Paperwork took almost 2 hours… kind of like being in a lawyer's office with so many forms and copies! But it's done now, and I still love my car. Toyota discontinued the Venza, which is crazy, so I guess I just bought a collector's item.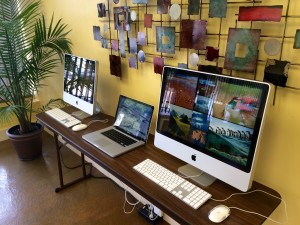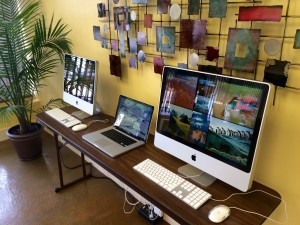 Computers
We both have Macs and we both have issues with them. I've had mine since 2009 and Bill got his in 2011. The folks at the Apple Store (which is a half hour or more away and hard to get an appointment and sometimes you still have to wait) told me about Computerlab of Memphis when I went in a few weeks ago. We LOVE the owners, Jeremy Winsett and Laurie Jenkins. It' a small mom and pop business run by really smart and friendly people. We both got the help we need and they didn't make us feel stupid. Check them out at 685 N. Mendenhall Road if you live in or near Memphis.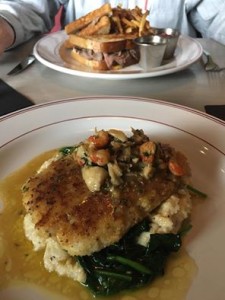 Cousine
Char! My favorite restaurant in Jackson, Mississippi just opened a second venue in Memphis. Today was actually their opening day, and we went there for a delicious lunch. We had a great visit with the owner, Ben Brock (from Jackson) and the decor, service, and food were great! Check them out at 413 S. Highland, in the new "Highland Row" building, just south of Central.
Home now and back to work on novel revisions. And then I've got two manuscripts to critique for tomorrow night's writing group. However you're spending it, Happy Columbus Day!