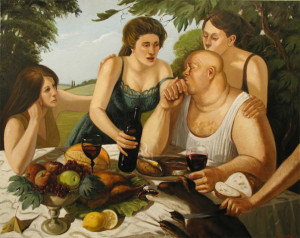 Thanksgiving—a favorite American holiday—lands on the calendar every year just a week or so after the Orthodox Nativity Fast begins (November 15). While most of the world, and certainly most people in the West, are preparing to feast on their favorite recipes for turkey, dressing, casseroles, and pies, Orthodox Christians are trying to balance that tradition with a very different one that comes to us from our Church. While it's not as strict as the fast we keep during Great Lent (before Pascha/Easter), it still involves quite a few days with no meat or dairy, and even a number of days with no seafood or alcoholic beverages. This tradition flies in the face of the festivities most people are enjoying during these weeks leading up to Christmas. I always struggle with this culture clash.
But this year, I'm a little more ready to embrace the fast—or at least to try for some moderation. Why? I've been overcome for several months now with an old enemy of the flesh—gluttony.
The Church Fathers have a lot to say about this vice, which St. John Climacus calls "the door of passions" in The Ladder of Divine Ascent. If marijuana is the "gateway drug" to more harmful pursuits, over-eating can open that same door to excesses in other areas of our lives. An overly full belly can lead to sloth (who doesn't want a nap after stuffing ourselves?), depression, alcohol abuse, and to the abuse of other pleasures which aren't in and of themselves "evil."
A few more words from the Church Fathers:
The great attraction of gluttony is not necessarily concerned with large quantities of food, but in the temptation to have just a 'little taste.' But if the wish for a taste succeeds in making you a slave to gluttony, the Evil One can then give you up utterly to destruction. For, just as water that irrigates many furrows makes those furrows fertile, so also the vice of gluttony, proceeding from your heart, irrigates all of your senses, raising a whole jungle of evils within you, making your soul a lair of wild beasts. (St. Basil the Great, On Renunciation of the World)
For me gluttony isn't so much about eating huge amounts of food—although binging is a problem at times—but mostly about craving certain foods or drinks. I can really relate to these words from Abba Dorotheus:
There are two kinds of gluttony. One is when a man seeks food that pleases him and does not always want to eat very much, but wishes to eat only what pleases his palate. Another is when a man is overcome by a tendency to eat much …. He only wants to eat and eat, nor minding what the food may be, only caring to fill his belly. (St. Abba Dorotheus, Directions on Spiritual Training)
I get "stuck" on certain foods at times, and am strongly attracted to eating at nice restaurants with white table cloths and good china… or at certain bars and drinking out of just the right glasses. This type of gluttony is known as "gourmandizing." My recent visit to New Orleans offered many opportunities for this activity.
So I went to Confession Saturday night and talked with my priest about gluttony. It's a complicated issue for someone like me who struggles with eating disorders, and who more often than not cares more about being skinny and looking good (and even about my health)  than being godly and doing the right thing for spiritual reasons. He was very understanding and non-judgmental. I appreciated his words of advice, but mostly I felt the spiritual power of the sacrament strengthening me for the pilgrimage ahead. I want to enter into the Nativity Fast, but also enjoy the culture's festivities. As is often the case, it comes back to moderation.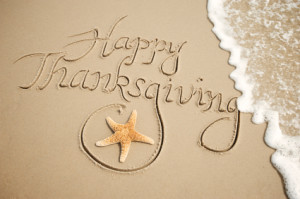 Bill and I are off to Seagrove Beach on Wednesday, where we will spend Thanksgiving alone at my favorite place on earth. We'll walk for miles along the edge of the ocean, burning up calories and soaking in the salty spray and the sunshine—it's supposed to be in the 70s while we're there. And we'll enjoy fresh gulf fish at our favorite seafood restaurants. I think it will be easier than cooking all those rich Thanksgiving dishes, although I love doing that when our children and grandchildren come for the holiday. And yes, I'll miss the traditional celebration, but I think this venue will offer a good opportunity for a healthy mix of feasting and fasting.
If you're entertaining family this Thanksgiving, I hope that your time together will be rich with love, laughter, and favorite foods that feed not only your appetites but also your souls.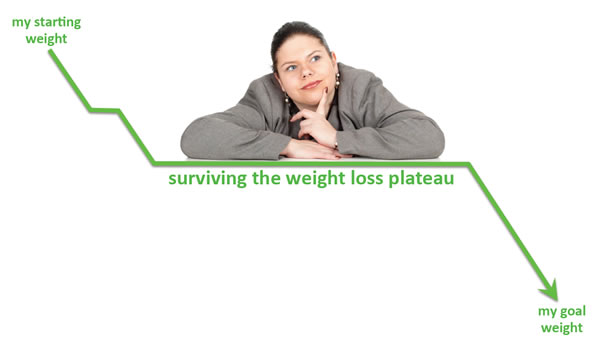 It's been almost three months since I started this diet. (See "Counting Calories" from August 31.) The good news? I've lost 12 pounds. And I'm learning things about myself every day as I continue this 1000-calorie discipline I've chosen.
The not-as-good news? I've hit a weight-loss plateau. Without going over my calorie budget more than one or two days (and then only 200 calories over) I can't seem to keep those pounds coming off. Thankfully, I haven't let it send me into a serious funk, which always leads to binge eating or drinking. But I'm ready to see those scales move again.
So today I did a little research, and the article I found most helpful was "Getting Past a Weight-Loss Plateau" from Mayo Clinic. It seems that I'm burning muscle along with fat… muscle that keeps my metabolism going. What do they recommend?
To lose more weight, you need to either increase your physical activity or decrease the calories you eat. Using the same approach that worked initially may maintain your weight loss, but it won't lead to more weight loss.
Not what I wanted to hear. The article went on to say that they don't recommend going lower than 1200 calories, which is what I'm actually eating, since I subtract 200 calories for every 20 minutes I spend on the elliptical machine. Here's what Mayo says about that:
Rev up your workout. Increase the amount of time you exercise by 15 to 30 minutes and possibly the intensity of your exercise to burn more calories. Adding exercises such as weightlifting to increase your muscle mass will help you burn more calories.
So, as I'm approaching the 3-month mark in my diet, my plan is to work out on the elliptical for 40 minutes/day rather than 20. Just long enough to watch a one-hour TV show without commercials. I see a Law & Order SVU marathon coming on!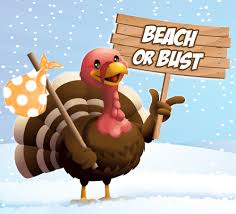 Only problem is we're headed to the beach for Thanksgiving… no elliptical machine in our condo. So my alternate plan is to walk for one hour/day on the beach. And enjoy fresh seafood instead of cornbread dressing and desserts. It helps that I'm not cooking all my favorite dishes this year. Have a great week everyone!
I was too busy enjoying our family to do a post on Friday… and even today I'm only going to share some photos. What a joy to have all my kids and grands together for a few days! After a big feast on Thanksgiving Day, we spent Friday watching the ducks at the Peabody, lunch at the Rendezvous, and then hanging outdoor Christmas lights. ENJOY….