Cover for A Second Blooming is, well, BLOOMING!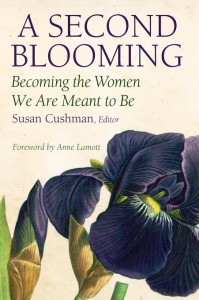 I am so excited to share the cover for my second book to be published in 2017—A Second Blooming: Becoming the Women We Are Meant to Be (Mercer University Press, March 2017). This is an anthology I edited, with essays by twenty wonderful authors and a foreword from Anne Lamott. Can't wait to see it!
Isn't it beautiful?
If it feels like I'm bombing you with book news, just wait until 2017! I can't help myself… JOY JOY JOY!
And here's the entry for the Mercer University Press spring/summer catalog. Watch for a listing of events where I'll be reading/signing next spring. If you can't make it to an event, please ask your local indie booksellers to order the book for you! (Of course you can get it online if you must.)