MEDIA
---
BOOK REVIEWS, INTERVIEWS, ARTICLES
Susan's interview for CHERRY BOMB on WZKR Super Talk radio in Meridian, Mississippi on November 29, 2017
Susan's author page on Mississippi Writers and Musicians
Interview on Mississippi Writers' Pathways: "Susan Cushman: Prolific and Courageous and Transparent"
REVIEWS for Cherry Bomb (a novel):
Review of CHERRY BOMB on Claire Fullerton's blog: "CHERRY BOMB" March 4, 2018
Review on the Southern Literary Review by Niles Reddick (September 26, 2017)
 "…reads like the work of a master…. It deserves a literary prize."

AMAZON REVIEWS: (14 of 16 reviews so far are 5 STARS)

"Perfect YA Reading" (5 STARS) March 4, 2018
"Compassionate, Real, and Heartbreaking" (5 STARS)
"This is a beautifully written book that is both real and redemptive" (5 STARS)
"Rich story of redemption and expression" (4 STARS) This also appeared in the Jackson, Mississippi Clarion Ledger on August 7, 2017
"Great debut novel" (5 STARS)
"I loved it" (5 STARS)
"From the darkest childhood in a cult…." (5 STARS)
There are 17 ratings and 11 reviews on Goodreads (16 are 5 STAR ratings.)
REVIEWS for Tangles and Plaques: A Mother and Daughter Face Alzheimer's:
Oxford (MS) HottyToddy.com, March 1, 2017:
"Writing to Remember: An Author's Depiction of Her Mother's Alzheimer's"
Jackson (MS) Clarion Ledger, March 2, 2017:
"Jackson native writes about mother with Alzheimer's"
Oxford, (MS) Daily Mississippian, March 3, 2017:
"Blogger and author Susan Cushman brings 'Tangles and Plaques' to Square Books"
5 STAR REVIEWS on AMAZON:
"Personal Look at Alzheimer's and Caregiving"
REVIEWS FOR A Second Blooming: Becoming the Women We Are Meant To Be:
Nashville (TN) Chapter 16, March 23, 2017:
"Giving Birth to Ourselves: Memphis' Susan Cushman has curated a collection of essays by women, for women"

Memphis (TN) Commercial Appeal, March 26, 2017:
"In 'A Second Blooming' Susan Cushman gathers women's voices"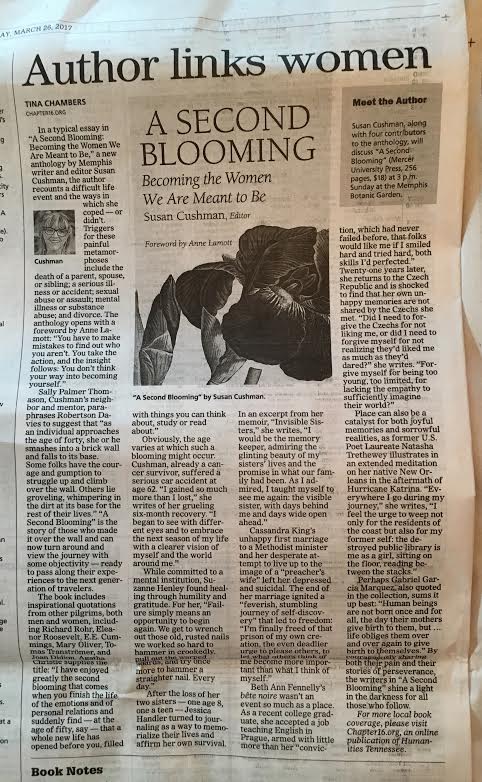 November 5, 2013:
Article/interview by Jessica Jones in Gulf Coast Newspapers, "Making the Most Out of
about my upcoming talk at the Penster's Writing Group in Fairhope, Alabama.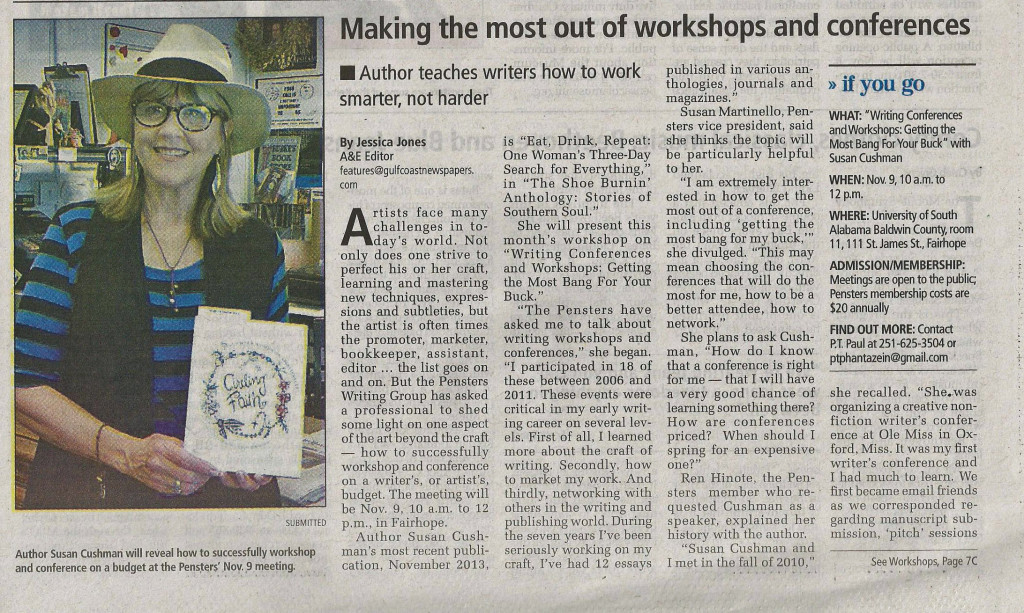 July 7, 2012:
Read my guest editorial in the Memphis Commercial Appeal.
Award-winning Religion Editor, David Waters, invited me to be a guest columnist for "Faith Matters."
You can read the column here: "Memphis woman writes about unusual journey from Southern Presbyterian to Eastern Orthodox"
You can also read the article at Faithinmemphis.com: "Cushman: Finding Balance in Orthodoxy."