Mental Health Monday: 53 Days 'til Christmas!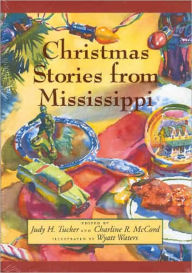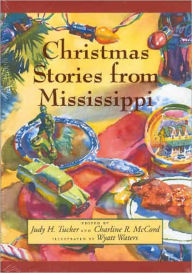 This morning I decided to treat myself to some early Christmas spirit. No, I'm not drinking a hot buttered rum or other such treat. I'm reading a wonderful book I purchased at a gift shop on the square in Oxford last week—Christmas Stories From Mississippi (University of Mississippi Press, 2001) edited by Judy H. Tucker and Charline R. McCord, and beautifully illustrated by Wyatt Waters. I plan to give the book as a gift… after I finish savoring its stories and art. This morning I read three of the stories: "A Worn Path" by Eudora Welty, an excerpt from Light in August by William Faulkner, and a delightfully humorous short story by Ellen Gilchrist, "Surviving the Holiday Season: One Woman's Crusade Against Christmas."
It's not that I need something to help me get into the Christmas spirit. My dining room table is full of Christmas gifts—over a dozen of them—ready to be wrapped and shipped off to family and friends who live out of state. One hundred custom-designed Christmas cards are sitting by my desk, the envelopes already embellished with Charlie Brown Christmas stamps, waiting to be addressed. Our airline reservations are made for our trip to Denver to spend Christmas with our grandchildren and their parents. I'm ahead of the game, which helps with the anxiety that often accompanies the season. It also helps that I'm not entertaining in our home for Christmas, so my decorations will be simple (no tree) and I'm not in charge of food. (I AM excited to have my Goddaughter who lives on the coast and her family of five spending a few days with us before Thanksgiving, so plans are underway for their visit.)
Every year about this time I hear mixed messages from friends who are either excited about the season or dreading it. I think it's easy to dread something when we let it get out of control—over spending, over eating, over scheduling. I'm actually glad to be on my 1000-calorie budget as the holidays approach. (Still holding at a loss of 10 ½ pounds so far.)
Ellen Gilchrist talks about her latest strategy to survive the season in her short story. She is focusing on listening to beautiful classical music and turning off the TV (bad) news. As she says:
Actually this is just my latest strategy in a lifelong attempt to escape the celebrations our culture has created to lighten up the winter solstice…. The best defense against the holidays is to remember what it is we are really doing: We are trying to lighten up the darkness of winter. That is why I am going to spend the next two months listening to music—to remind myself that the idea is to cheer people up.
I love this strategy. But if classical music doesn't do it for you (and it really isn't my cup of tea) find something else cheerful. For me, it might include playing Christmas music on the electronic keyboard my husband gave me for my birthday this past spring. And definitely taking time to read a good book by the fire. Still not convinced your holidays can be stress-free? Here's some more advice from Gilchrist:

The main thing I have learned is to stay flexible. I don't have to cook a turkey and make cornbread dressing. I can take everyone out to dinner or go to someone else's house. I can have a simple, elegant meal of vichyssoise and a soufflé. I can fast all day or go for a 20-mile walk or buy everyone watches that are little automobiles that can be taken off and raced across the table.
There's that sense of humor I love. If you need something to cheer you during the 53 days leading up to Christmas, get a copy of Christmas Stories from Mississippi. It also makes a great gift… I might have to buy some more!