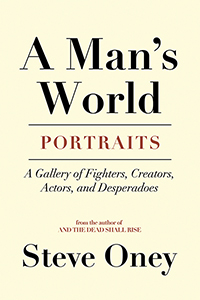 Last week I received a copy of the 2017 Spring/Summer catalog from Mercer University Press. Although I had already seen a PDF of the page with my anthology on it, it was so exciting to see it in this prestigious collection—on the third page!
The catalog leads with Steve Oney's A Man's World: Portraits—A Gallery of Fighters, Creators, Actors, and Desperadoes. Sounds like a great book:
A Man's World is a collection of 20 profiles of fascinating men by author and magazine writer Steve Oney, written over a 40-year period for various publications. As the catalog page says of Oney's book:
… he realized early that he was interested in how men face challenges and cope with success—and failure…. His agent, an ardent feminist, urged him to collect the best of his article in a book. "A Man's World" is the result.
Turn the page and you'll see a collection of essays by Stephen Cory, editor of The Georgia Review—Startled at the Big Sound: Essays Personal, Literary, and Cultural.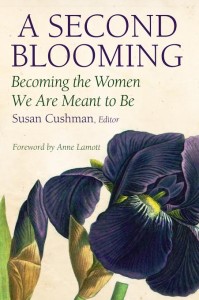 And then your eyes will land on page 3: A Second Blooming: Becoming the Women We Are Meant to Be:

"A Second Blooming" is a collection of essays by twenty-one authors who are emerging from the chrysalis they built for their younger selves and transforming into the women they are meant to be. They are not all elders, but all have embraced the second half of their lives with a generative spirit.
The catalog continues with more wonderful books from Mercer University Press coming out this spring and summer. Click here to see the catalog… I'm sure you'll find something you'll want to buy!