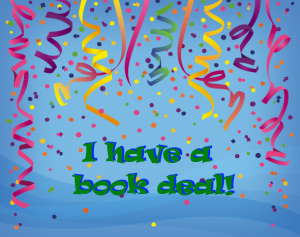 In lieu of my usual "Faith on Friday" post, I'd like to share some great news:
I've got a book deal! Wait—it's not for my novel (that's still being read again by an agent and her staff)—it's for an anthology I'm editing:
A Second Blooming: Becoming the Women We're Meant to Be
It has found the perfect home at Mercer University Press and its pub date is March, 2017.
A Second Blooming is a collection of 18 new essays and 4 reprints of previously published material by 22 women authors who are all experiencing "second bloomings" in their lives.  The title comes from Agatha Christie:
I have enjoyed greatly the second blooming that comes when you finish the life of the emotions and of personal relations and suddenly find—at the age of fifty, say—that a whole new life has opened before you, filled with things you can think about, study or read about…. It is as if a fresh sap of ideas and thoughts was rising in you.
Here are two more inspirational quotes that are fueling the collection:
I have heard it said that there are two times in your life when you stand a chance, in the face of whatever social forces struggle to get you in their grip, of becoming someone new, of creating your own personal universe through the sheer power of imagination and persistence: one is adolescence and the other is middle age. Maybe this is hogwash. Maybe it's profound truth. I certainly make no claim to know. What I do know is that very near my forty-third birthday, it dawned on me to look at the diaries I began when I was young. (p. 7)—Margaret Sartor, Miss American Pie
I want to be recycled endlessly, and flower again
and yet again unexpectedly, bloom into
a surprising color for an old woman, ripe
with wrinkled youth and vigorous beauty,
with twinkling eyes in deep sockets,
making them wonder
just how I do it.—Victoria Millar
I'm still in the process of negotiating reprint permissions from a couple of publishers, and I've only received two of the eighteen new essays to edit, but I can already tell this is going to be a fabulous book. And thanks so much to Marc Jolley at Mercer University Press for believing in this project! At one point when I was choosing between two publishers, Marc said that even if he didn't get to publish this book he would buy it for his wife because he loved the premise. Stay tuned for updates!