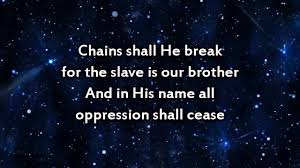 A couple of weeks ago I did a post about a favorite Christmas hymn, "O Come, O Come, Emmanuel." This morning I woke up thinking about another favorite, "O Holy Night."
O Holy Night wasn't traditionally sung in the Presbyterian church of my childhood. It was saved for special solos and performances outside the regular church service. At least in my experience. But my favorite memory of this hymn is from Christmas gatherings (and also Thanksgiving gatherings) at my aunt and uncle's house in Jackson, Mississippi, in the 1950s through the 1980s. Aunt Barbara Jo was the "glue" in our extended family. Ten years younger than her older brother—my father—Barbara Jo was always more like an older sister to me. She loved family and she loved having us all in her home. Uncle Dan was a military man with a career in the Mississippi National Guard. But he had a softer side, and the most beautiful tenor voice I've ever heard. My father was also a tenor. When my Aunt Joy was visiting from Texas, she would play the piano (by ear) and we'd all gather around and sing Christmas carols. At some point everyone would get quiet and we'd know it was time for O Holy Night. As Joy played, my father and Uncle Dan sang the most beautiful duet, always moving me to tears.
So, this morning I did a little research, learning something of the song's history. It was written in 1847. In light of our country's (and the world's) current political unrest, I found it interesting that the history of this beloved Christmas song is also filled with politics and war. Here's more of the story, from a post by Tsh Oxenreider at (in)courage:
A parish priest in a small French town commissioned a local poet and wine commissionaire, Placide Cappeau de Roquemaure, to write a poem for the village's Christmas Eve mass. Cappeau read through the birth of Christ in the gospel of Luke en route to Paris, and finished the poem O Holy Night by the time he reached the city.

Cappeau turned to his friend, Adolphe Charles Adams, to compose the music to the poem, and three weeks later, the song was sung in the village on Christmas Eve. Initially, Cantique de Noel (the song's French name) was widely loved by the Church in France, but when leaders learned that Cappeau was a socialist and Adams a Jew, the song was uniformly denounced as unfit for church services. But the common French people loved it so much, they continued to sing it.

The song came to the U.S. via John Sullival Dwight, an abolitionist during the Civil War. Moved by the line in the third verse, "Chains shall he break, for the slave is our brother, and in His Name all oppression shall cease," he published it in his magazine and quickly found favor in the north during the war.

Even though it was banned in France, the song was still popular among the people. On Christmas Eve in 1871, in the midst of fierce fighting between France and Germany during the Franco-Prussian War, a unarmed French soldier jumped out of the trenches, walked into the battlefield, and started singing, "Minuit, Chretiens, c'est l'heure solennelle ou L'Homme Dieu descendit jusqu'a nous," the song's first line in French.

After singing all three verses, a German solider emerged and started singing, "Vom Himmel noch, da komm' ich her. Ich bring' euch gute neue Mar, Der guten Mar bring' ich so viel, Davon ich sing'n und sagen will," the beginning of a popular hymn by Martin Luther.

Fighting stopped for the next 24 hours in honor of Christmas Day. Soon after, the French Church re-embraced O Holy Night.
My wish these days leading up to Christmas is that we would embrace one another, and that the fighting would stop.
Click here to enjoy Jordan Smith's wonderful tenor voice in this arrangement of O Holy Night.