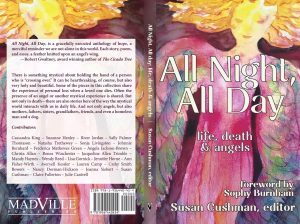 For previous posts on the contributors, see these authors who were all featured in the first section of the book, "Mystics and Messengers."
And from the second section of the book, "Angels Watching Over Me."
From the third section of the book, "All in the Family: Mothers, Fathers, Sisters, and Grandfathers."
Next up?
Cathy Smith Bowers
Cathy Smith Bowers, North Carolina Poet Laureate 2010-2012, was born and grew up in Lancaster, S.C. She was educated at USC-L, Winthrop University, Oxford, and the Haden Institute. Bowers' poems have appeared widely in publications such as The Atlantic Monthly, The Georgia Review, Poetry, The Southern Review, The Kenyon Review, and Ploughshares. In 2017 she was inducted into the South Carolina Author' Hall of Fame. She now teaches in the Queens University low-residency MFA program and in the Haden Institute Spiritual Direction and Dream Leadership program. Her most recent book is The Abiding Image: Inspiration and Guidance for Beginning Writers, Readers, and Teachers of Poetry. Read an interview with Cathy at Southern Review of Books.
This is my fourth anthology to edit, and the first time I've invited authors to contribute poetry, and I'm so glad I did! I included two of Cathy's poems in this collection, including "A Hundred Cigarettes." But it's a second poem of hers that I want to quote from here, to give you a taste of her beautiful writing.
"Late Email from Your Daughter Concerning You, My Friend"
It hangs dead center

on my living room wall,

the painting I could not

go home without. One

of a sequence summoned

from your dreams. God-

head of a woman bursting

forth from the Tree of Life,

its fiery limbs curving up

and out and around

like the furls of a fiddle-

head fern . . .
So now if you've read this far you are probably going crazy to hear the rest of the poem, right? Another good reason to buy the book and discover the riches my little teasers only give a short taste of. . . .