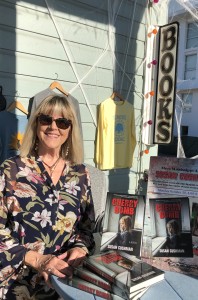 Good morning from Seagrove Beach, Florida… my favorite place on earth! My husband and I are here in the middle of my Alabama/Florida books tour for CHERRY BOMB, as well as a little fall vacation time. The high today is 77 and it's sunny all week. Yesterday I signed copies of CHERRY BOMB on the front porch at Sundog Books in Seaside, and tomorrow I'll be signing at The Hidden Lantern in Rosemary Beach. Thursday we'll head over to Fairhope, Alabama, for my reading at 2 p.m. at Page and Palette, and an after-party thrown by my friend Ren Hinote. Meanwhile we're enjoying walks on the beach and lots of good seafood. (We also had a great time at a "choose your own cover" event at the Capitol Oyster Bar in Montgomery, Alabama, on Saturday afternoon, with music, great oysters and shrimp, and customers got to choose one of our books with the price of their cover charge for the event.)
My friend from Little Rock—Joanna Seibert—is "blogging a book," and invited me to contribute two guest posts on her blog as part of her project. Joanna was inducted in to the Arkansas Hall of Fame in August. She asked me to start with a quote, add an image, and write a short reflection on the quote. She also asked if I would write about praying with icons, which I did. I hope you enjoy both of these posts:
MORE ICONS: SANCTIFYING THE SENSE OF SIGHT
I'll close with a few pics. I have to go now… the beach is calling!