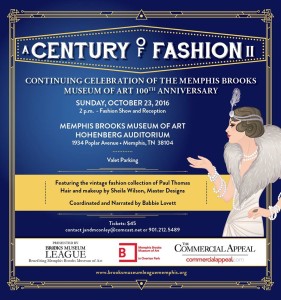 I live about 15 minutes from a wonderful place—The Memphis Brooks Museum of Art. Sometimes I go there alone, to take my time, wandering slowly through the galleries where the permanent collection always reveals something new and the temporary exhibitions are as refreshing as the chef's special at a favorite restaurant. But yesterday I was invited to go there with a new friend who just moved in across the street from me. Judy had two tickets to the museum's fundraiser, "A Century of Fashion: Part II."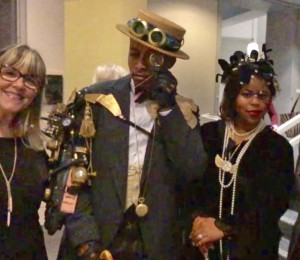 As we walked in the front door, there wasn't really time to gaze at any art, as my friend introduced me to her fellow members of the museum's league. And even as we made our way to the auditorium where the fashion show would be held, there were models wandering around the galleries, like this wonderful young couple, Terel and Chrisla Key, who are from my hometown, Jackson, Mississippi.
As the show progressed, I found myself envying the models (and their figures, including many who are older than me) and thinking back about how I've always loved to dress up. From the dresses my grandmother made me for piano recitals and school plays in elementary school, to high school and college formals, and the "flower child" wedding gown and hat I chose for my 1970 wedding. (The bridesmaids wore dotted swiss bell-bottomed pants and tunics. It was a hippie fashion show for sure.) Even now, I enjoy shopping at small boutiques so much ore than chain stores and big department stores, although the larger shops to seem to accommodate my fuller figure these days.
One thing I loved about this show at the Brooks was the way the "women of a certain age" carried themselves in those elegant vintage dresses and high heels. And the furs! Growing up in Mississippi, I was always amazed at how many women (like my father's mother and my own mother) wore fur in the few weeks of winter when it was cold enough. Two of my neighbors—Olivia Lewis and Carolyn Springfield-Harvey, were among the six or eight fur models at the show, and they truly were elegant.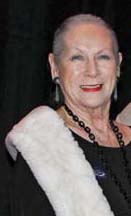 The woman who organized and moderated the show, Babbie Lovett, is in her eighties. She wore her gray hair pulled straight back into a long, skinny ponytail, which glistened against her elegant black gown. She hardly looked at a note as she took us on a journey through the history of fashion for the past hundred years, in honor of the museum's 100th anniversary in 2016. Her passion was evident as she described each decade and the things that informed fashion year by year, and then each outfit with beautiful prose. At times I found myself looking at her instead of the models on stage, wondering what my life would be like in twenty years. Would I still love clothes and enjoy them as part of the beauty of art in our culture? I wanted to be her when I grow up.
Whenever I visit New York City I always look forward to seeing the current exhibit at the Costume Institute at the Metropolitan Museum of Art. Near the end of 2017 MoMa (The Museum of Modern Art), also in NYC, will open a new exhibit titled "Items: Is Fashion Modern." The exhibit will feature 99 garments and accessories that have had a strong impact on history and society in the 20th and 21st centuries, and even today. I love that these museums consider clothing—whether costumes, haute couture, or ready-to-wear—to be a form of art.
Memphian Paul Thomas, curator of the new Orange Mound Art Gallery, helped produce the show. I loved seeing so many volunteers and independent contractors at the Brooks Museum this weekend participate as hostesses, flower arrangers, caterers, organizers, promoters, and models. The spirit was festive, and I left with my mood lifted and my love for all things beautiful rewarded. And yes, maybe I even wiggled my hips a little more as I walked out of the museum, although I was wearing cowboy boots instead of heels (which hurt my injured feet). I found myself holding my shoulders back and my chin up, while checking my posture along with my reflection in the glass when I exited the building. I found myself thinking about Madeleine L'Engle's words (maybe she was quoting Jean Rhys), "We all feed the lake."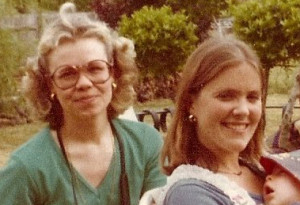 Today is my friend, Deb's birthday. I offered to take her to lunch, but she asked if I would ride with her to Oxford (Mississippi) to visit her mother. It was a gorgeous, unusually cool and breezy day, so I was thrilled to be dropped off at the square to shop while she visited with her mom for a while. Later I met them at the University Club for lunch, where two more of her mom's friends joined us. Delicious food and stimulating conversation with these lovely ladies.
So, instead of writing about "Faith on Friday" (although today is the Feast of the Procession of the Cross and the first day of the Dormition fast which leads up to the Feast of the Dormition of Mary, the Mother of God) I'm just sharing a few happy moments involving other "F" words:
FRIENDS: Deb and I have been friends for 45 years. We lived right across the hall from each other in Brown dorm at Ole Miss during our freshman year (1969-1970.) The above photo was taken in 1978 (that's my oldest son, Jonathan, in my arms). I treasure our friendship which has endured all these years.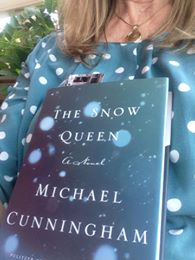 FICTION: I picked up an autographed copy of Michael Cunningham's "darkly luminous" new novel, The Snow Queen, at Square Books today. Since Cunningham's novel, The Hours, is a favorite (and was inspirational while I was drafting Cherry Bomb) I'm curious about his latest book. I'll keep you posted.
(And no, I didn't buy the book to match my blouse! But what a fun coincidence.) I enjoyed some time reading up on the balcony at Square Books, where memories of the original Yoknapatawpha Writers Group sessions filled me with happiness.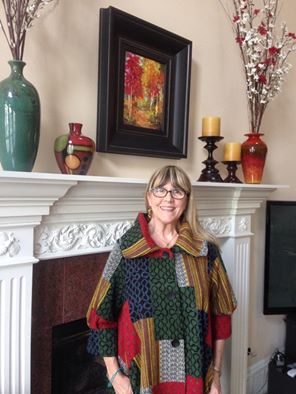 FASHION: Shopping at Neilson's Department Store on the square is another favorite activity… and I always find something artsy and different and lovely. Today I found this amazing sweater-coat by Damee NYC. A perfect weight for Southern falls and winters, and it's machine washable!
So thankful for this lovely day and all the ways it fed my soul.