After such a banner year (publishing 3 books in 2017) I'm excited to say that my fourth book will be out in May of 2018:
Southern Writers on Writing, an anthology I edited, coming from University Press of Mississippi.
With a foreword by Alan Lightman (a Memphis native known mostly for his brilliant science writing) and essays by twenty-six southern authors (13 women and 13 men), this is a collection the literary world has been waiting for. Last week I read this wonderful guest post on Jane Friedman's blog, "How and Why to Edit an Anthology," by Margot Kahn, which was encouraging, as I've had such a positive experience putting together this collection.

Just got the official COVER to share! Thanks to Oxford (Mississippi) photographer Ed Croom for this wonderful image. Ed read the essays in the collection first, and drew inspiration from them for his photo shoot at Rowan Oak, the historic home of William Faulkner. You can read more about the photograph in my Author's Note when the book comes out!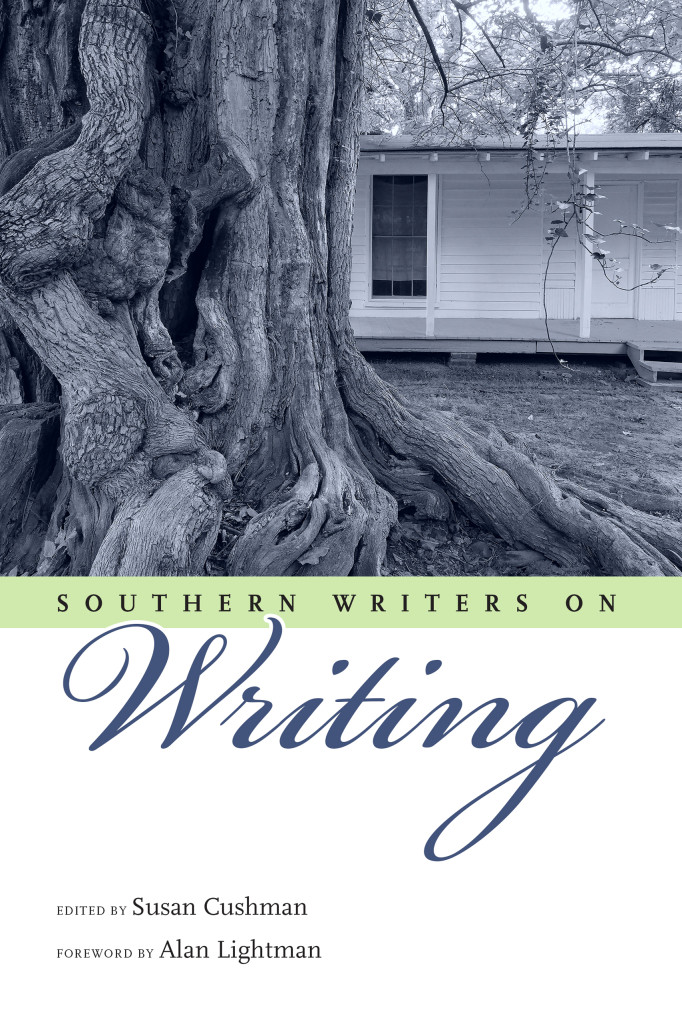 A few weeks ago I got a comment on my blog that said something like, "It's great to see older people blogging." Needless to say, I didn't allow it to be published on my site. Instead I allowed myself to be slightly offended—why did this person think I am old? Does he know I'm only 65? Does he think 65 is old? Has he seen my picture and thinks I'm a curmudgeonly grandmother-type? Hmmph!
And then yesterday I read Barbara Cawthorne Crafton's "Almost-Daily eMo" from The Geranium Farm. Although the piece was talking about an image of the Mother of God and Christ with angels, St. Francis was in the corner of the picture, and she focused on his appearance. From that she morphed into why she was having a new picture made of herself, and why we care what someone looks like—or why we want to know what someone looks like.
We really want to know what people look like. Radio announcers—you have a vision of them in your imagination, and it can be disconcerting meeting them in person. Some people only SOUND tall, dark and handsome.

Authors, too: we think we know who they are because we have read their words. We picture them in our minds, and when we see photographs of them, we're slightly shocked. She sounds so sexy and gorgeous. How can she look like my grandmother?

One answer to this, of course, is that you may have seriously underestimated your grandmother. And the other is that the mind itself is beautiful, and far more potent in its beauty than anything the body can summon. Young people receive this news with minimal interest, but older folks are counting on it.
 Yes, I want to be considered sexy and gorgeous, and I think that my grandmother (my mother's mother) was beautiful, and my mother—who died at 88 this past May—was gorgeous, even as a great-grandmother. I paid good money for a professional photographer to capture my best look for my author photo (which I use as a profile photo on Facebook) and I carefully screen and crop any photos before posting them. I guess I'm pretty vain, but growing up as a woman in the South teaches us to always put our best face forward. (I love the title of Southern author Shellie Rushing Tomlinson's book, Suck In Your Stomach and Put Some Color On!)
There's nothing wrong with caring about our physical appearance, so long as we care more about what's on the inside. And so long as we spend as much time and energy cultivating generative lives—reaching out to others and being active in our creative lives—as we spend on our physical bodies. I think this becomes more prominent in our thinking as we get older, which is one reason I decided to put together the anthology I edited, A Second Blooming: Becoming the Women We Are Meant to Be (coming from Mercer University Press in March, 2017).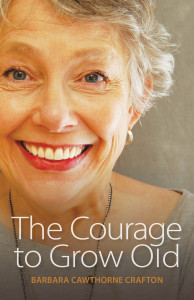 Now that I've discovered Crafton's Almost-Daily eMos, I've become a fan of her writing. I just ordered her book, The Courage to Grow Old (Moorehouse Publishing, 2014). As I consider what she might have to share, I glance over at the books on the turntable beside my "reading chair," and I remember discovering—about this time two years ago—Nicholas Delbanco's wonderful book, Lastingness: The Art of Old Age. And then I re-read my blog post about the book, "Tribal Elders and a Hopeful Genre," and I'm delighted to see my progress since then! I was still plugging away on my novel (a six-year work in progress for which I now have a contract pending… more on that soon!) and I hadn't even conceived of Tangles and Plaques or A Second Blooming, my two books coming out in January and March of 2017! I wrote about my sadness at not having achieved my goal of publishing a book by age 60… and now I'll have two books by 65. Just barely, as I'll turn 66 on March 8.
If it sounds like I'm rambling now, that's because I am. What started as a post about physical appearance has morphed into an emotional outpouring from my "old" soul. So, if the reader who commented that he was glad to see older folks blogging is still reading my blog, please forgive me for not publishing your comment. Send me another comment, and I'll try to be less defensive. Today this old blogger is feeling thankful to be doing what I love. Thanks for reading!
For hump-day of my birthday week I took a day trip to Oxford (Mississippi) to attend a presentation by two talented women: the poet Ann Fisher-Wirth and the photographer Maude Schuyler Clay. You can read more about "Mississippi: A Collaborative Project" here. The presentation was at the Gammill Gallery at the Center for Southern Studies (Barnard Observatory) where the exhibit will be up for several more weeks.
Ann was a speaker at a writing workshop I attended several years ago, and I've enjoyed keeping up with her and her poetry ever since.  You can read a post I did after one of her readings here:
I recently purchased a large "coffee table" book of Maude's work—Mississippi History—and I own several books of Ann's poetry, so I was excited to see/hear their collaboration. Sadly, the slide projector wasn't working at the venue, so we couldn't view Maude's photos as Ann read her work, but we were able to view the exhibit in the adjacent room after the presentation.
During the Q&A I asked Ann whether she considered her poems in this collection to be ekphrastic (poetry written about a prior text or work of art). I first learned about ekphrastic poem about six years ago at a workshop led by Scott Cairns. His definition at the time was this:
Ekphrastic poetry should give voice to an artifact… making meaning with narrative about something the piece of art might be saying.

Ann said it was more than that, because it wasn't just a reflection on a piece of art (in this case a photograph) but it was more of a fictional story-telling exercise. For each photograph, she made up characters that could be (but weren't) in the photograph, or got inside an imaginary viewer's head and reflected from other points of view. It's really kind of genre-bending what she and Maude have done together, and I love it. They're hoping someone will publish the collaboration as a book some day.
Listening to Ann read and looking at Maude's photographs inspired me to view art in a different way. And yes, maybe I'll try my hand at a little genre-bending poetry the next time I see something that inspires me—a photograph, a painting, a sketch, a statue, a building. We're going to Paris in May, so that should provide plenty of opportunities!
So thankful for the chance to get out of the rain (it was only cloudy in Oxford) and enjoy a delicious lunch at Bouré and some shopping on the Square. Found the perfect lightweight raincoat at Neilson's. It always inspires me just to be in that town so full of literature and art and beauty.
And a little walk down memory lane … I parked right in front of the Tri Delta house, where I was a member 45-46 years ago! I watched a few girls come and go from the house (it was lunch time) and if it had been a Thursday, I might would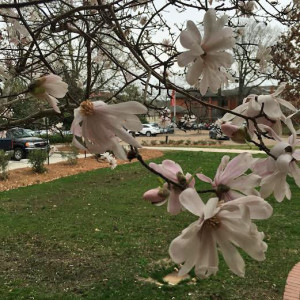 have dropped in and asked if they still served grill cheese sandwiches and tomato soup on Thursdays! (Or was it Tuesdays?)
Even with the clouds, the campus was showing signs of spring and it was 73 degrees. What a great day.