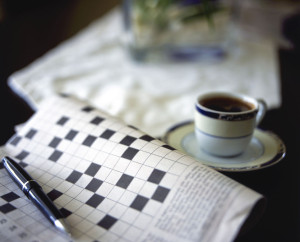 This morning I worked today's crossword puzzle (from the newspaper) at one sitting. I work these puzzles almost daily. I also play Scrabble regularly with my husband (Pass 'n Play on his iPad). I read somewhere that these activities can help stave off the ravages of Alzheimer's Disease.

Well, my mother and her mother both died with Alzheimer's, and they both worked the crossword puzzle DAILY until, well, until they couldn't. I don't care what the research says, it's not a magic bullet. So there have to be other motivations for working puzzles and playing games. How about fun?
The same article I linked to above included reading and writing as activities that help slow the processes of dementia. Reading. Writing. I've already read four books in 2017 and I write (or edit) daily.
I'm doing my part. Did I mention praying? I do that as well.
So, my daughter and her family are spending a few days with us (from Denver) so this will be short…. Have a great weekend, everyone, and if you're doing crossword puzzles to prevent dementia, just keep on keeping on and have fun!