(Virtual) Event Hosted by Lemuria Books, Jackson, Mississippi
July 1 @ 5:30 pm

-

6:30 pm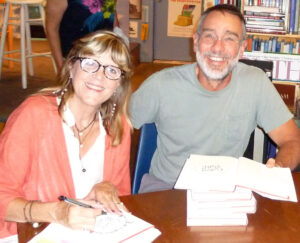 I'm always thrilled to be hosted for an event by Lemuria Books in m home town of Jackson, Mississippi. This one on July 1 will be virtual, so I'm sad not to be there in person. BUT . . . I am so happy to be joined by Ralph Eubanks to discuss JOHN AND MARY MARGARET, and Ralph's books which were an inspiration to me, especially his memoir EVER IS A LONG TIME: A JOURNEY INTO MISSISSIPPI'S DARK PAST.  Ralph is a native of Mississippi, and a visiting professor at the University of Mississippi, where much of my novel is set.
Looking back at events I've done at Lemuria for most of my books, I always smile when remembering my firsts event there, in 2012, for CIRCLING FAITH: SOUTHERN WOMEN ON SPIRITUALITY. This is an anthology to which I contributed an essay, and I absolutely love this book. In the photo I'm signing extra copies for Lemuria owner, John Evans.
I have signed bookplates and will also stop by the store before the event to sign actual copies, so please order your copies from Lemuria and register to watch our virtual event on July 1.