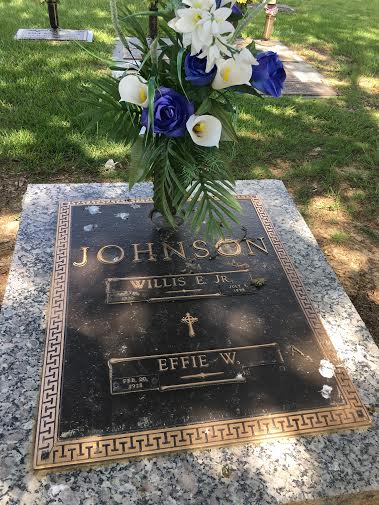 I ended my post on July 4, "A Time to Grieve," I by saying I was no longer grieving (the death of my mother on May 22.) I was wrong. It's not that I lied; I just didn't recognize grief. Nor did I expect it, as I've said before, because of the less than perfect relationship I had with my mother, and because I really "lost her" to Alzheimer's several years ago.
My grief morphed from sadness into depression this summer. There were days when I couldn't motivate myself to write or call a friend or do anything but sit in my recliner chair and watch re-runs of "Law and Order." I had a couple of health issues going on—a summer cold and a pulled muscle in my lower back—but they wouldn't have been enough alone to plunge me into a depression. I looked at my elliptical machine as I watched TV, but couldn't motivate myself to exercise. I ate junk. I drank too much. I gained back some of the weight I had worked so hard to lose. The oppressive summer heat wasn't helping.
How did I come to recognize this as grief? Lee Smith talked about it in her memoir, Dimestore, which I wrote about here on Wednesday. Here's what she said:
"In 2003 I had done a lot of historical research but had barely begun a novel named On Agate Hill when Josh [her son] died. My grief—and rage—were indescribable; 'oceanic,' to use one doctor's terminology. He told me that there are basically two physiological reactions to grief. Some people sleep a lot gain weight, become depressed and lethargic." (p. 178)
Although this wasn't Lee Smith's reaction to grief—she had the opposite experience of being unable to sleep and eat and function and lost thirty pounds—her words here rang true to my experience this summer, during the two and a half months since my mother died.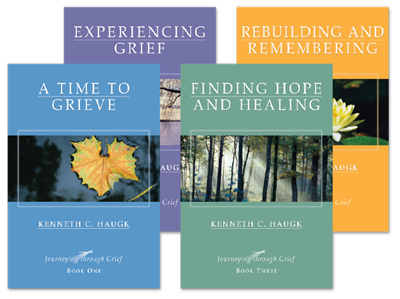 On Wednesday I received a timely gift in the mail. Experiencing Grief is Book Two of Kenneth C. Haugk's series, Journeying Through Grief. I wrote about Book One in my July post. In Book Two he talks about what often happens weeks or even months (sometimes years) after the loss of a loved one. After we've done everything that needs to be done (like yesterday, when I closed out the joint bank account I had with my mother for over ten years, to manage her finances) and we can make room in our psyches for the emotions we might have been repressing in order to function. Haugk writes about how grief affects your entire self—psychologically or emotionally, socially, spiritually, mentally, and even physically. It's the physical aspect that is hitting me now:
Grief gets physical. It can affect your eating habits, so you might lose or gain weight. It can make it difficult to sleep or to stay awake. Grief can cause shortness of breath, frequent sighing or dizzy spells. You can experience tightness in the chest or throat, headaches, gastrointestinal pain, or sexual problems. Grief can lower your resistance to diseases.
Wow. Thankfully I haven't been experiencing all of those symptoms, but several have been with me this summer. So what does Haugk suggest for helping one get through grief? Among his many suggestions in this book is one I did yesterday, when I drove down to Jackson and visited my mother's grave for the first time since her funeral on May 24:
Talking to the loved one who died. Many people have told me that they found it helpful to talk to their loved one who died. They were afraid to admit it at first until they learned other people do this, too.  You could carry on a conversation with your loved one at the person's grave, while doing the dishes, in the car, or simply by talking to his or her photograph.
For years after my father died (in 1998) my mother talked to his photograph. And she visited his grave frequently, taking a bottle of water and paper towels to clean off the tombstone and new silk flowers to replace the old ones as they faded in the hot Mississippi sun. I pictured her doing this yesterday, as I talked with Mom, Dad, Mike (my brother) and Mary Allison (my Goddaughter), whose graves are within a few feet of each other on a beautiful little hill near a comforting shade tree with a memorial bench underneath—the perfect place for talking with the dead.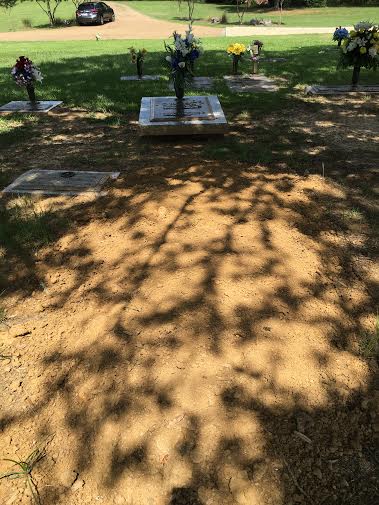 If you're hoping I'll share those conversations here, forgive me, but even for a "confessional writer" like me, some things remain private. All I can say is that I felt God's peace and love in my heart and on my face, as a merciful little breeze broke through the intense heat. It was 11 a.m. and I had just driven into town. The drought they've been experiencing in Jackson meant that Mom's grave hadn't had time to "settle" yet, so it remained an unsightly pile of dirt, with the gravestone she shares with Dad sitting to the side until it can be replaced. Maybe by my next visit to Jackson, my hometown where I still have friends and relatives. Which leads me to another helpful point in Haugk's book, "Secondary Losses":
Part of what makes grief so difficult is that the death of a loved one is inevitably accompanied by other losses in your life…. These are commonly called secondary losses—part of your life that turn up missing or changed because your loved one is no longer here…. Many of those losses are very obvious and emerge right away, while others might not surface until later. Here are examples of some subtle yet significant secondary losses: [I'll just share one here.]

A woman told me that months after her mother died she realized she was also grieving the loss of her hometown. 'My mother was the last tie to where I grew up, so I had no 'home' to return to. It was as if I also lost my origin, my childhood.'
I was feeling some of this myself as I planned my trip to Jackson this week, my first since I was here in May for mother's hospitalization, death, and burial. I've been making monthly trips from Memphis to visit Mom in the nursing home for eight and a half years. And before that, I visited her in assisted living every two weeks for over three years. My trips to Jackson were an integral part of my life, and it just hit me this week that I no longer have a "reason" to drive down here every month. I found myself scrambling to make plans to have lunch on Thursday and Friday with friends of my parents. And then to have drinks last night with an old high school friend—one I hadn't seen in several years. What a healing time that was, as my old friend and I talked about our mothers, our spouses, our children, our lives back in high school as compared to now, in this seminal year when we both turn sixty-five. I felt my spirits lifted by those shared experiences, and we plan to get together again on my next visit to my hometown.
My next visit. See? I won't be abandoning Jackson, as much as I told people for years that I couldn't wait to leave it and have never missed it. There are lots of wonderful things about this city, including the items pointed out in the article in Southern Living: "5 Things You're Missing in Jackson, Mississippi". I'm also missing my niece, Aubrey Leigh, and her husband and two sons, my great nephews who live in Jackson, so I'll be back to visit them soon.
I'm leaving Jackson after lunch today with a close friend of my parents, but I won't be headed back to Memphis yet. I'm driving down to Gulfport to spend the weekend with a dear Goddaughter and her family.  Katherine lost her mother to cancer at a young age, so her children are growing up without one of their grandmothers in their lives, something many of us take for granted. I have Godchildren (who used to live in Memphis) spread out from North Carolina to Mississippi to Alabama to Pennsylvania to Washington (state) now, and of course two children and four granddaughters in Colorado and a son in Louisiana, so travel is an integral part of my life. Fortunately, I love to travel, since it feels like bits of my heart are spread out all over the country. Next up? Denver next weekend, for two granddaughters' birthday parties! And hopefully, I'll be farther along in my journey through grief, healthy enough to shower those children with love from their mother and grandmother.