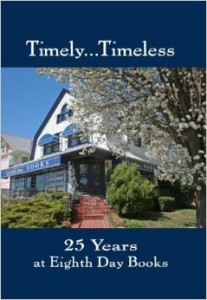 About a month ago I wrote about a festscrift (which was a brand new word for me) to Phyllis Tickle. In case you missed that post, a festscrift is a collection of essays honoring someone. The collection I'm writing about today—Timely … Timeless: 25 Years at Eighth Day Books—honors a bookstore rather than a person. And today's post is a reflection on one of the essays included in the collection.
Eighth Day Books is one of our country's great independent bookstores. It opened in 1988 in Wichita, Kansas. I visited 8th Day a couple of times in the past, and I can contest to its wonderful atmosphere, informed and welcoming staff, and terrific selection of books. In 2013 the bookstore celebrated its 25th anniversary by publishing a wonderful collection of essays by folks like the poet, Scott Cairns, award-winning children's author Clare Vanderpool and 28 others. But it's Carolyn Ballinger's essay that captured my heart and best speaks to the spiritual side of Eighth Day Books.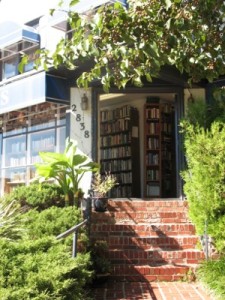 Ballinger's essay is titled, "A haven of peace in a world addicted to sensory overload."
She compares the atmosphere at Eighth Day Books to the wardrobe entrance to Narnia, "where you can sense that you are standing in a holy place, on the threshold of something beyond earthly knowledge."
Wow. I wonder how many bookstores have been called a holy place? She continues:
Eighth Day Books is an example of sanctification by the gathering of people who are dedicated to growth into God's will—people who have turned themselves over to the working of the Holy Spirit in their daily lives, who are quietly, steadfastly allied with God in the process of holy creation.
It's interesting that she writes these words about the customers. The visitors to this holy place. But she also includes the folks who work there:
Warren (the owner) and his staff will spend all the time in the world helping you find what you are looking for, even if you don't know what that is. You can sit quietly and read, or study, or think, thus allowing yourself to enter into the intangible, which at Eighth Day seems nearby and easily accessible.
Okay, I think those statements are true about many wonderful independent bookstores throughout the country. I know they are true about Burke's Books in Memphis, Lemuria in Jackson (Mississippi) and Square Books in Oxford (Mississippi). But here's where Eighth Day presents a different, decidedly spiritual presence, at least in the mind and heart of Carolyn Ballinger:
Eighth Day is a haven of peace in a world addicted to sensory overload. The powers of evil are very much at work today, keeping us distracted and numb, giving us the illusion that we are multitasking when really we are only living in 'fast forward,' a state which prevents us from thinking or listening with care to other people…. The name Eighth Day means (among other things) a time and a place to rest. It is a time and a place to enter more fully into being, to immerse yourself into whatever things are true and honest, good and pure and beautiful.
Think on these things. (And thanks for the book, Hannah!)