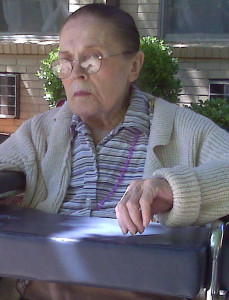 In January of 2013 my mother spent 2 weeks in the hospital (in Jackson, Mississippi) and I was there with her for 8 of those days. It was touch and go, but she pulled through, (and I had a difficult decision to make regarding the insertion of a peg tube for feeding) and when she returned to Lakeland Nursing Home, her reception was warm and her caregivers seemed genuinely glad to see her. And she recognized them, when she no longer knows who I am. All that to say I've been pleased with her care at Lakeland these past 5-6 years. But yesterday's incident gives me pause….
The phone call came from Lakeland just as I was having coffee with a friend here in Memphis. My friend had just asked how Mom was doing, and specifically was I still pleased with her care and is she doing okay with the feeding tube. (Mom no longer takes food or drink orally.) The irony is that the phone call was a nurse at Lakeland telling me that they were sending Mom to the ER because (1) her feeding tube site was infected and leaking and (2) her bowels were impacted.
I suppose that number (1) could happen even with the best of care, but I'm concerned that they were charting the number (2) situation. No pun intended. Anyway, I have a cousin who is a pulmonary physician in Jackson and he checked in on Mom yesterday afternoon to asses the situation. After 4 hours in the ER, they admitted her and did a procedure to repair the feeding tube site. When I spoke with the nurse on her floor last night she said they were doing a culture on the wound site and were treating her with antibiotics. She would be in the hospital for a few days… at least until the infection clears up and the impaction clears. I told the nurse that I had been pleased with Mom's care at the nursing home all these years, and she just said, "Well, they should have been charting her bowel movements and adjusting her intake." Her tone wasn't as judgmental as that sounds, but I'll definitely be talking with the head nurse at Lakeland today.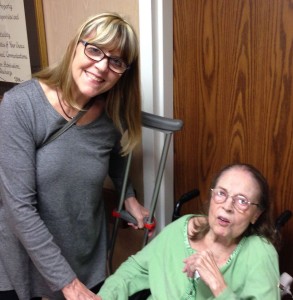 I'm heading down to Jackson this morning to be with Mom for a couple of days. Hopefully she'll heal up and be discharged while I'm there. I say hopefully, but last night I was thinking aloud (to my husband) that it would be fine with me if Jesus decides it's time for Effie to come home to Him and Papaw (my father, who died in 1998) and Mike (my brother who died in 2007). My husband is an Orthodox priest (and also a physician) and his reply was, "as God wills." This is the Orthodox stand on end-of-life issues. It's not black and white, but it's more about accepting suffering than avoiding it, which is often a difficult pill to swallow. I wrote some about this in January of 2013, "Love in the Intergenerational Ruins."

So, how am I praying for Mom? I'm asking God to have mercy on her. Her quality of life sucks right now, in my opinion. But she's almost always smiling at everyone at the nursing home and endures the indignities of having all her bodily needs met by strangers with quite a bit of grace most of the time. And really, her caregivers are less strangers to her than I am at this point. So I try to pray for them to be compassionate and kind to her, and that she won't be in pain. Thankfully she doesn't usually seem agitated, so maybe the Alzheimers isn't stealing her peace as it steals her mind. She always smiles when I sing hymns to her or recite or read the Psalms to her. That's my plan for this trip. Please keep both of us in your prayers today and in the coming days.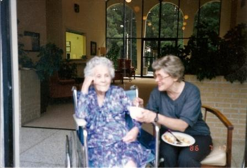 For some reason I love this photograph, of my mother when she was 58 years old, visiting HER mother at Lakeland Nursing Home. Mamaw was 86 and died the same year this photo was taken. She also had Alzheimer's.
P.S. I'm writing this at 9 p.m. Friday night… after a conversation with the head nurse at Lakeland Nursing Home, I discovered that they have been diligent in caring for Mom, but some things just happen when you're 86 and have Alzheimer's. Mom was discharged from the hospital this afternoon and is back at Lakeland. I'll check back in with her tomorrow morning before returning to Memphis. Although I still believe her quality of life sucks, she's decided to rally for now. Or Jesus decided that. Or both.