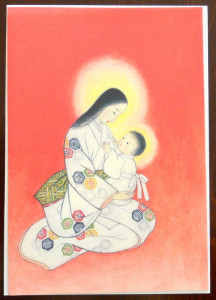 We're in the Atlanta airport waiting for our connecting flight to Denver. I was going to skip blogging today until I realized that I've got a bit of time here. And then I was thinking of writing about Elvis and the Mother of God—who are commemorated on August 14 and 15—but then I realized that I did that last year. And yet the Mother of God is on my heart today.
For the past two weeks Orthodox Christians have been observing the "Dormition Fast" and praying Paraclesis Prayers to the Mother of God three nights a week—or at least that's how it plays out at St. John Orthodox Church in Memphis. These two weeks lead up to the Feast of the Dormition (death/passing to Heaven) of the Mother of God on August 15, a celebration we will miss as we will be preparing to travel back home from Denver that morning. Anyway, many times during those prayer services we chant the line, "Most Holy Theotokos, Save Us!"
These are words that sometimes cause non-Orthodox Christians to stumble a bit. Well, except for Catholics. Growing up in the Presbyterian Church I heard very little about Mary, other than at Christmas when she seemed to receive a place of honor. But Orthodox Christians look to her for help, as this verse of the Paraclesis says: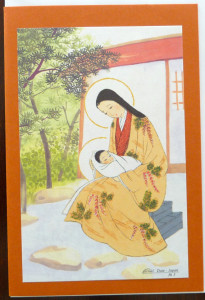 "After God do all of us for refuge flee unto thee." After God. Not equal with God. We don't worship Mary, but as "Theotokos," which means God-bearer, we venerate her, we love her, and cry out to her with love and praise but also for help in time of need. Especially as a mother and grandmother and Godmother, I find myself turning to her to intercede for my children and grandchildren and Godchildren. It is as natural to me now as saying, "Lord have mercy."
If you'd like to read something more theological about this, here are two (among many) good articles, both by Orthodox priests:
"Why the Orthodox Honor Mary" by Father Stephen Freeman, and
"Most Holy Theotokos, Save Us!" by Father John Breck.
As we fly to Denver today to celebrate two of our four granddaughters' birthdays and enjoy being with two of our four children and their families, I'll be thanking the Mother of God for keeping them safe and healthy, and for the joy and blessing of having them in my life. These Asian images of the Mother of God and Christ are for you, Jason, Beth, Grace, Anna, Beth, Gabby and Izzy.
Most Holy Mother of God, save us!