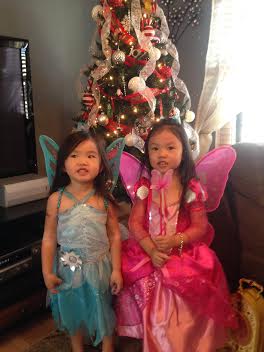 Happy Feast of Saint Stephen, the first martyr of the Church! It's also my Godson, Jackson Stephen Autrey's Name Day, his father, Jared Stephen Autrey's Name Day, and my Goddaughter, Stacy Autrey's Birthday, so I'm sending Name Day and Birthday greetings to all of them back in Nashville. If my father was still living, he and Mom would be celebrating their 65th wedding anniversary today.
On the second day of Christmas, I'm enjoying a morning with my two turtle doves, Grace and Anna, who are wearing their fairy costumes and painting their nails at the breakfast table. (Check out the princess engineers with their new train set at the end of this post.)
Some folks say the two turtle doves stand both for the two testaments in the Bible (Old and New), but also, according to some traditions, the two turtle doves offered at Jesus' dedication in the Temple when he was twelve (Lev. 12:8; Luke 2:24).
How are you going to celebrate the second day of Christmas?
You could watch the movie, "On the Second Day of Christmas."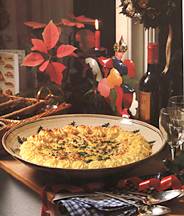 If you're trying to think of ways to use your leftover turkey or ham, you might want to try making Saint Stephen's Pie… I've never done it, but it looks yummy.

You could celebrate Saint Stephen's Day by giving to the poor, like Good King Wenceslas who looked out on the Feast of Stephen and saw a poor man gathering wood and gave him drink and food:
In his master's steps he trod, where the snow lay dinted;
Heat was in the very sod which the saint had printed.
Therefore, Christian men, be sure, wealth or rank possessing,
You who now will bless the poor shall yourselves find blessing.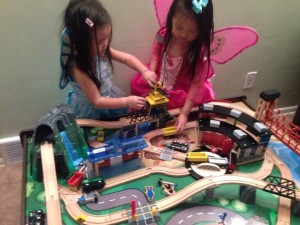 We're celebrating the day by spending our last morning with our children and grandchildren here in Denver before flying home to Memphis this afternoon. It's been a wonderful six days with our son, Jason, and his family, and our daughter, Beth, and her family. What a blessing to have spent this wonderful holiday with all of them!

Happy Second Day of Christmas!