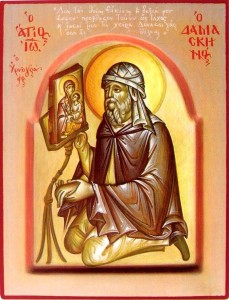 Today is the feast day of Saint John of Damascus, who championed the use of icons in Orthodox worship. I won't retell his story here, but you can read it in my blog post from December of 2007, "The Books of the Illiterate." I love this saint for many reasons, but especially because of his defense of the holy images.
Just got home from my eight-day trip last night so I don't have much time to write today—unpacking, laundry, mail, phone calls, etc. beckon me. If you're interested in reading something I wrote about icons, I recommend this:
"Icons Will Save the World" published in First Things in December of 2007. Here's an excerpt:
Saint John of Damascus called sacred images "the books of the illiterate," and asserted that icons sanctify the sense of sight for those who gaze upon them.

Suppose I have few books, or little leisure for reading, but walk into the spiritual hospital—that is to say, a church—with my soul choking from the prickles of thorny thoughts, and thus afflicted I see before me the brilliance of the icon. I am refreshed as if in a verdant meadow, and thus my soul is led to glorify God. I marvel at the martyr's endurance, at the crown he won, and, inflamed with burning zeal, I fall down to worship God through His martyr, and so receive salvation.—Saint John of Damascus

If this description of a first-millennium saint's experience seems too removed from our contemporary life, I wonder if that's because we have lost the concept of the Church as a spiritual hospital? Or because, in our fast-paced lives, we have forgotten how to slow down and let the beauty of God's house touch and heal our fragmented psyches?
What a great weekend we have to continue the season of the Nativity Fast and prepare for Christmas. Saint John of Damascus (and Saint Barbara, the great martyr) are commemorated today, and Sunday is the Feast day of Saint Nicholas of Myra. Saturday night at St. John Orthodox Church in Memphis we'll have Vespers and then the teenagers will put on their annual production of "Nicholas and the Secret Gifts." Everyone is encouraged to bring (new unwrapped) toys, which we'll take to the Memphis Inter Faith Association for their Christmas store for needy families. Here's a post from five years ago which has links to more information about Saint Nicholas: "Saint Nicholas and Santa Claus."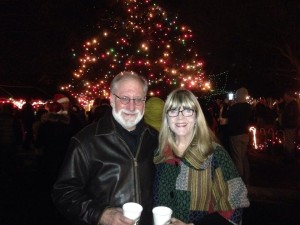 And how fun that on Sunday night we'll have the annual Christmas parade here in Harbor Town (our neighborhood) which ends up right in front of our house for the lighting of the big tree in "Christmas Tree Park." Here's a picture from last year's lighting. 'Til the season, everyone! Saints preserve us!