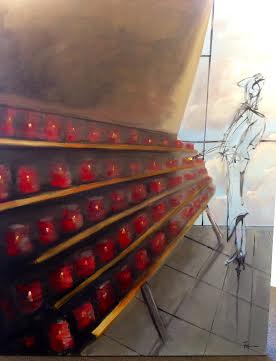 Short post… I'm in Atlanta with Nina Gaby, editor of Dumped: Stories of Women Unfriending Women, for reading/signing events at bookstores in Athens and Atlanta. So much fun! (Look for pictures on Facebook, and couple at the end of this post.)
Meanwhile, my childhood friend we're staying with in Buckhead, Jan Connors, took Nina and me to some wonderful art galleries in Buckhead this morning, especially Reinike Gallery and Bill Lowe Gallery. Terrific soul food. Met an artist who had just brought some new pieces in at Reinike – Patricia Fabian, who talked about her "energy deposits" and Emersen and transcendentalism and I fell in love with this one painting of hers, "Guardian." The woman, who looks like a sketch of a fashion model, is lighting a vigil candle in a chapel…. it reminded me of two strong parts of myself and my life.
Patricia was born in Jersey City and raised in the inner city. This was the time of Woodstock, the Civil Rights Movement, and JFK.  She grew up wanting to be a writer.  She kept diaries, journals and wrote poetry and short stories. I felt an immediately connection with her.
So that's all for now. It's almost midnight in Atlanta and I'm going to bed now! Love to all…. enjoy the pictures!