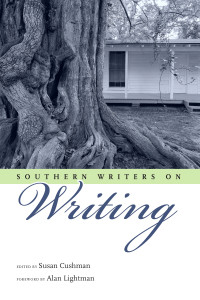 I am beyond thrilled with the first two reviews for SOUTHERN WRITERS ON WRITING!
Ed Tarkington's review at Chapter 16, "Against Professional Southerners" also appeared in the Memphis Commercial Appeal on Sunday, April 29. Opening with quotes by Walker Percy and Flannery O'Connor, and later with nods to other legends like Faulkner and Welty, Tarkington praises various authors who contributed to the collection for their contemporary take on the age old question, "Why has the South produced so many good writers." Tarkington also praises the anthology for its' "accounting of the legacy of slavery and Jim Crow in shaping the Southern canon and deferring the dreams of African-American writers…." Four of those African-American writers have essays in the collection. And of course he acknowledges the importance of humor and front-porch storytelling to southern literature, and there's plenty of that in the collection.
Also out Sunday, in the Jackson, Mississippi Clarion Ledger, is Jim Ewing's review, "Southern writers share their secrets in 'Writing'." There's no online link to the article, but Jim gave me permission to reprint it in its entirety, so here it is. Thanks so much, Jim!
A REVIEW OF
Southern Writers on Writing
Susan Cushman, editor
University Press of Mississippi
194 pages
Southern writers share their secrets in 'Writing'
By Jim Ewing
Special to the Mississippi Clarion Ledger
USA TODAY NETWORK
What makes a writer a writer? Or a Southern writer, especially?
Is it that one writes and, hence, is a writer? Or lives in the South or writes about the South?
In "Southern Writers on Writing," edited by Susan Cushman, the answers to these questions might not be as easy as they seem.
Thirteen women and thirteen men struggle to answer the question of their calling, and their responses show a nuanced look at why, and how, these authors came to be called Southern writers.
They include such well-known authors as Michael Ferris Smith, Jim Dees, W. Ralph Eubanks, Harrison Scott Key, Cassandra King, and Julie Cantrell. They quote as mentors such luminaries as Rick Bragg, Willie Morris, Barry Hannah, Shelby Foote, Ellen Douglas, and Walker Percy.
But, still, the answers prove elusive. Dees says it requires "insane courage" to "take the plunge" and commit one's innermost thoughts to an uncaring, or uncertain, universe.
Joe Formichella says: "The truth is that you write because you can't not write."
Patti Callahan Henry, among other reasons, says: "I write because the stories inside have to go somewhere, so why not on paper?"
Some of these writers are from the South, others just came to be here. Like Sonja Livingston, who found Southern writers "crept up" on her, seeming familiar, drawing her to the region and lifestyle. Most of all, the way Southern writers write is alluring, unleashing inner secrets, she explains, "set out like colorful laundry flapping on a line, (that) I'd learned to keep folded and tucked away."
Cantrell, who hails from Louisiana, confides that Southern writing taps all the senses. "When we set a story here, we not only deliver a cast of colorful characters, we share their sinful secrets while serving a mouth-watering meal…. The South offers a fantasy, a place where time slows and anxieties melt away like the ice in a glass of sugar cane rum."
"The South is nothing less than a sanctuary for a story," she adds. "It is the porch swing, the rocking chair, the barstool, the back pew."
Being a Southern writer, writes Katherine Clark, is an opportunity and a burden, especially when you consider that you're entering literary territory with nationally and internationally known explorers, such as William Faulkner, Flannery O'Conner, Eudora Welty, Tennessee Williams, James Agee, Harper Lee, and so many others.
But, as John M. Floyd points out, "Within several miles of my hometown lived men and women who were known only as Jabbo, Biddie, Pep, WeeWee, Buster, Puddin', Doo-spat, Ham, Big 'un, Nannie, Bobo, Snooky, and Button. How could folks with those kind of names be anything but interesting?"
"Writing" is fascinating reading, and, of course, enthrallingly written as can be expected by writers writing about writing. But it's also an encouragement for those who have thought about writing, but haven't done it, thinking there's some kind of secret to it.
If there is an "inside secret" to Southerners wanting to write, maybe that's plain, as well.
The South, writes Jennifer Horne, writes itself every day, offering up "a hunter's stew of history and hope and horror."
It's all around us.
As Floyd points out: "In my travels I've been inside bookstores all across the nation, and I have yet to see a section labeled 'Northern Fiction.' Maybe that, in itself, is revealing."
* * *
Jim Ewing, a former writer and editor at the Clarion Ledger, is the author of seven books including his latest, Redefining Manhood: A Guide for Men and Those Who Love Them.
I'll close with a link to my interview in the May/June issue of Oxford Magazine, which just hit the shelves in and around Oxford, Mississippi. Thanks so much to Alec Harvey for the interview.
And I'm off and running for "launch week," as Southern Writers on Writers releases on Tuesday, May 1. I'm so honored to have events in (1) my university town, (2) my home town, and (3) my second home town (since 1988):

May 1 – 5 p.m. – Square Books/Oxford, MS – with Jim Dees, Michael Farris Smith, and Ralph Eubanks
May 2 – 5 p.m. – Lemuria/Jackson, MS – with John Floyd and Jim Dees
May 5 – 1 p.m. – Novel books/Memphis, TN – with Corey Mesler, Niles Reddick, Sally Palmer Thomason, and Claude Wilkinson
Check out my EVENTS PAGE for more events in coming months! Thanks for reading, y'all!