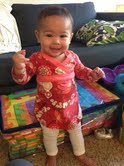 Every now and then I find myself with no time for blogging…. I'm in Denver with my kids and grands. So, my usual Mental Health Monday and Writing on Wednesday posts are cancelled this week.

Although I must say that being with my babies definitely improves my mental health. And the Denver sunshine doesn't hurt!

This morning I went with my daughter to take Gabby for her nine-month check up, and a follow up on some cold/allergy issues she has. I really like her pediatrician. After the height (90 percentile) and weight (75 percentile) measurements and his routine exam, he asked Beth lots of questions about her development at this point. Clapping? check. Waving? check. Rolling over? Really? We moved right along to pulling up to standing alone and walking with assistance. She's advanced, of course. But here's the part I liked best. He told Beth that the best thing she can do for Gabby's development is to READ to her. He said to read her a book before naps and bedtime. Every day. I wanted to high-five him!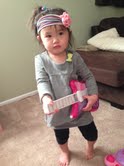 Gabby's about to wake up from her nap, so I'll close with a few photos of all three girls. Gabby (9 months) showing off her standing skills,  Anna (2 1/2) and Grace (3 1/2) playing rock star. I'll try to download the videos to Facebook. If I don't get a post done on Friday, you'll understand why, right?
(P.S. Still having difficulties with my blog… although I can now download photos, they are too small, and when I stretch them, they're kind of fuzzy. hmmmm always some technology to muddle through….)