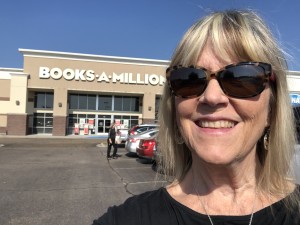 I wasn't excited when my publisher asked me to drive 300 miles to a Books-A-Million store in Hattiesburg, Mississippi, to sign copies of CHERRY BOMB for three hours on Saturday. I've done lots of readings at independent bookstores all over the South, which I always enjoy. Readers come to not only meet the author and potentially purchase a signed copy, but also to hear a reading and participate in a Q & A. At the BAM (Books-A-Million) store, I was just supposed to sit at a table in the front of the store and greet customers and tell them about my book, hoping they will buy a copy. And also to wander around the store giving out fliers and encouraging customers to buy my book. Could I do that without seeming creepy?
First I did a little research. Turns out BAM is celebrating its 100th anniversary this year! Founded in 1917 in Florence, Alabama, Books-A-Million, Inc. has grown to become the premier book retailing chain in the Southeastern United States, and the second largest book retailer in the nation. Based in Birmingham, Alabama, the company currently operates more than 260 stores in 32 states and the District of Columbia. BAM also has an internet development and services company, NetCentral, in Nashville, Tennessee.
Next, I talked with another Dogwood Press author, John Floyd (from Brandon, Mississippi), about his experience signing books at BAM stores, which he's done many times, promoting and selling his short story anthologies. He gave me a few tips, and when I arrived at the Hattiesburg store on Saturday, the store manager, Erika, immediately started telling me about John Floyd's success there! I was both encouraged and nervous—he's a hard act to follow. (He's also over 6 feet tall, handsome, and charming, and since more women than men buy books, he's got a distinct advantage!)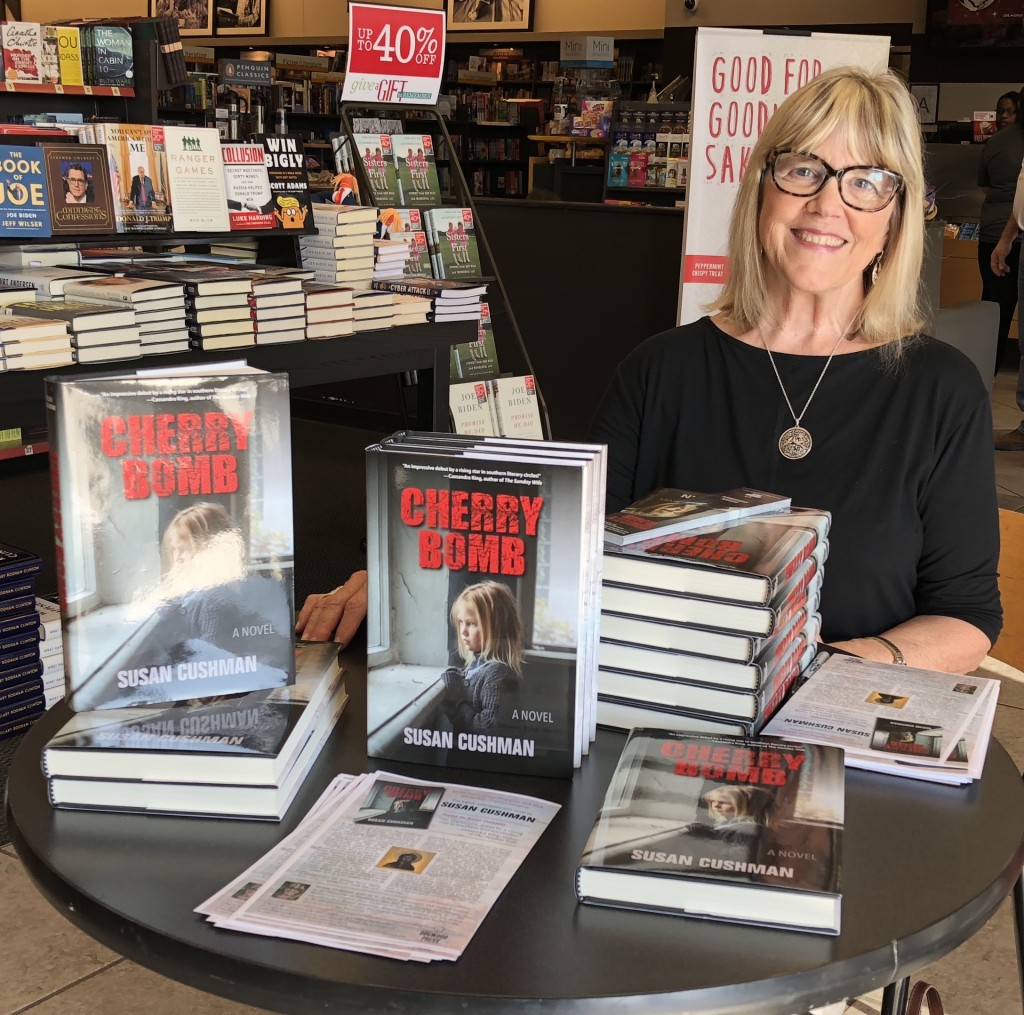 It was a beautiful day in south Mississippi, and lots of shoppers were in the store, which felt very festive. I got set up at my table and immediately a woman bought three copies to give as Christmas gifts! I was amazed and grateful. I asked if they were in a book club together and she said no, but they all love to read. My next customer, "Johnathan," was a very articulate young Baylor University graduate who works for a newspaper in Laurel, Mississippi. Johnathan is writing a "historic fantasy" novel, and we enjoyed talking shop for a while before I signed his copy of CHERRY BOMB. When there was a lull in customers stopping by my table, I wandered around the store handing out fliers and then went back to my table. One woman who read the flier while shopping came back up to my table to get a copy. She's flying to Australia and needed something to read on the plane. Perfect. A cute young nurse who lives in Laurel bought a copy next. Turns out she's also an artist and was interested in all the art in the novel.
It's easy to "profile" people as they walk in the store—I found myself sizing people up and deciding which ones might be interested in my book. But I learned on Saturday that people surprise you. It's not just sophisticated, artistic, spiritual women who are interested in CHERRY BOMB, and not just people of a certain age. The book appeals to everyone from young adults to baby boomers, and even to men. One 50-something man in jeans and a plaid flannel shirt and baseball cap said the book was "just up his alley" and was excited to have me sign a copy. The afternoon flew by quickly, and my final customer—a woman in her sixties—grabbed a copy as I was walking out the door. I learned a lot about people from south Mississippi on Saturday. And people in general. And yes, about myself.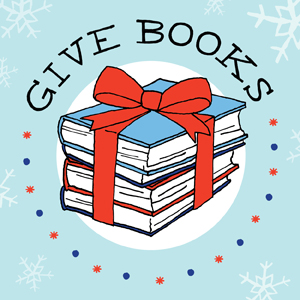 So now I'm actually looking to driving down to the BAM store in Meridian, Mississippi, this coming Saturday. I actually know two people in Meridian, and both are coming by to see me, so that will be fun. These stores are gold mines in towns like Hattiesburg and Meridian that don't have independent book stores. And on the 16th I'll be signing copies at the BAM store in Southaven, Mississippi, which is much closer to home. Stay tuned for more stories! And happy holiday shopping!!!