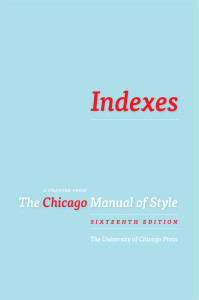 I'm working on my fourth book, another anthology I'm editing: Southern Writers on Writing. The manuscript has been through the peer review process and I've responded to their reports. While waiting on the galleys, I'm working on something I've never done before. The University Press of Mississippi requires an INDEX for all of their books. You can pay someone else to do this for you, but I decided to tackle it myself. Not just to save money, but to gain the experience. And to search through the book in a different way, looking for important references that readers might look for.
First I asked the good people at the Press for guidance, and they directed me to the Chicago Manual of Style's Chapter on Indexes. I had recently purchased the Sixteenth Edition of the manual, not realizing that I could access it online. I actually like having a hard copy of it to reference from time to time.
Next, I looked at two other books published by U Press of Mississippi in the past year or two, to get a feel for the types of people, places, and other terms that the authors included in their indexes. Then I started a Word document, with a new paragraph for each letter of the alphabet. Like this:
A
B
C
Etc.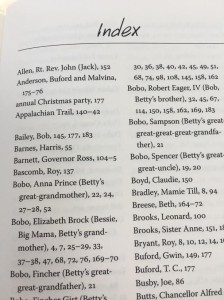 Next I started going through the manuscript, page by page, and selecting words that I felt were significant enough to be included in the index, and placing them under the correct letter, noting that names are listed like this: last name (comma) first name.
It's actually kind of fun, seeing all the references to important people, places, and things in southern literature, and just in the lives of the authors who contributed the 26 essays that make up the anthology.
Once it's complete, I'll wait until I get the galleys to fill in the page numbers. Hopefully that will be easy enough, doing a search for each word. Although this author says he'll never do it again, although he saved several hundred dollars by not hiring a professional indexer. (My friend who published last year with U Press of Mississippi tells me she had no problem doing her own index.)

This may not sound very creative, but in a way it is, and it's not a bad way to spend Memorial Day when you don't have (a) a swimming pool or (b) travel plans. When I need a break from the manuscript and from sitting at my computer, I'm cleaning out my closet. Again, not much fun but one of those tasks that feels great when you're done. Kind of like creating an index, right?
Happy Memorial Day, everyone!