Forgive my absence… I took a week off from the blog while on vacation with my family… first time in two years with all the children and grandchildren! (May do a post on that on Friday, we'll see.)
So, a couple of months ago I did a post about my experience at my church on the Sunday of the Prodigal Son. And I can't find it right now, but I think I did another post about my strong reaction to what felt like negativism and fundamentalism on a previous Sunday. I haven't participated in the Sacrament of the Eucharist in several months. Until yesterday morning.

Maybe it was Memphis. Maybe it was moonlit summer nights (at the beach)….. but it sure felt right. You see, the priest who gave the homily (sermon) yesterday talked about Memphis. He talked about the signs you see all over town that say, "Believe Memphis." He talked about how every city—like Memphis—has its problems. We've got poverty and crime and other negative things. But campaigns like "Believe Memphis" help our city in so many ways. It inspires hope. (The thing with feathers that perches on the soul.)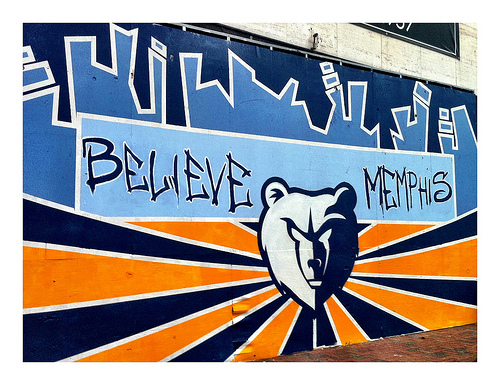 And it's not just about the Grizzlies, although that's specifically what the slogan refers to. Whether or not the Grizzlies beat the Spurs tonight and continue in the NBA playoffs, the atmosphere in the city is already improved just by having so many folks rally around a common, upbeat cause. Win or lose, we are all better for having hope, and for finding things to be positive about in our city.
The homily struck a loud note for me yesterday morning. I've been wanting to leave Memphis for several years. But we'll probably be staying around for a while, so I need to find positive things to focus on rather than negative. The example from the Church fathers that Father Nikolai gave in his homily is the bee vs. the fly.
You know how flies always look for stinky things? They seek out the garbage, even when there's beauty all around. Well, the bee does just the opposite. Even if there's garbage all around, the bee will seek out the honey—the sweet nectar of beautiful flowers. My friend, David Twombly, was also impressed with these words Sunday morning, and he posted a link to this short article on Facebook after church on Sunday:
"Flies and Bees—Advice from Elder Paisios."
I know this isn't very earth-shaking, but somehow Father Nikolai's words broke through some yucky layers in my soul and softened the plaques that were forming there. I found myself experiencing joy and hope, rather than depression and despair. I realized that I was letting go of some negative things that I tend to focus on too much. And when it was time to go forward to receive communion—the Body and Blood of Jesus—I found myself drawn to the cup for the first time in a couple of months.  There was light shining into some of the dark crevices and it felt like grace. And the Holy Mysteries tasted like honey.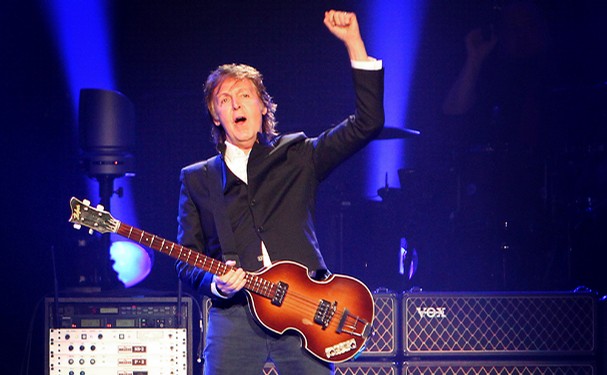 After Sunday morning's feast of grace, last night's epic Paul McCartney concert took me right back to church. And one of the things Sir Paul reminded us of was the specialness of Memphis—in this case he was referring to the music:

"The memories from when we kids, hearing the music coming out of here… it was so influential," he said. "Don't think we would've done it without Memphis — that's the truth."
So for three hours, we stood (again, like being in church) and danced and sang and clapped and cheered and our hearts soared. And I found myself going from song to song—like the honeybee—finding healing nectar in the lyrics:
Life is very short, and there's no time
For fussing and fighting, my friend… we can work it out….

All the lonely people… where do they all come from?

Baby, I'm amazed at the way you love me all the time….

Hey, Jude, don't make it bad

Take a sad song and make it better….
And finally:

When I find myself in times of trouble,

Mother Mary comes to me

Speaking words of wisdom

Let it be.

And in my hour of darkness

She is standing right in front of me

Speaking words of wisdom

Let it be.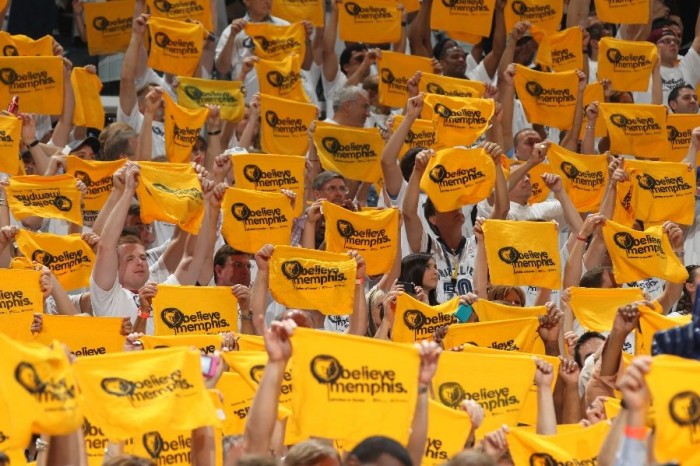 As we exited the Fed Ex Forum with the sold-out crowd of over 18,000 people last night, I pictured the event that would take place in that same arena less than 24 hours later—tonight's play-off game between the Grizzlies and the Spurs. The same seats that occupied fans of Sir Paul last night will be packed with fans cheering on our home team tonight, waving their growl towels proudly in the air. Another opportunity to believe, Memphis.