Someone posted a rant on Facebook the other day about how upsetting it was to see folks putting up Christmas trees before Thanksgiving. And of course there's the big buzz about Black Friday creeping over into Thanksgiving day, forcing employees to work on the holiday and enticing families to leave their happy homes and enter the fray a day earlier than in the past. While I'm not sure these events are related—beginning Christmas preparations before Thanksgiving hardly seems the same as retail shopping on Thanksgiving Day—they both seem to hint at an underlying, perhaps national angst that many suffer this time of year. Which is sad, since Thanksgiving and Christmas are supposed to be times of joy, of celebrating family and for some, pious religious commemorations. So, what's with the angst?

Last year I wrote a post on Christmas Eve (from our son's home in Denver) called "A Winter Dialogue." It was inspired by a poem with the same name by Joseph Robert Mills, in which Mills describes in a lovely scene the need we all have to be touched. As I read it again this morning, it struck me to endeavor to touch those around me with compassion and joy as much as possible this holiday season.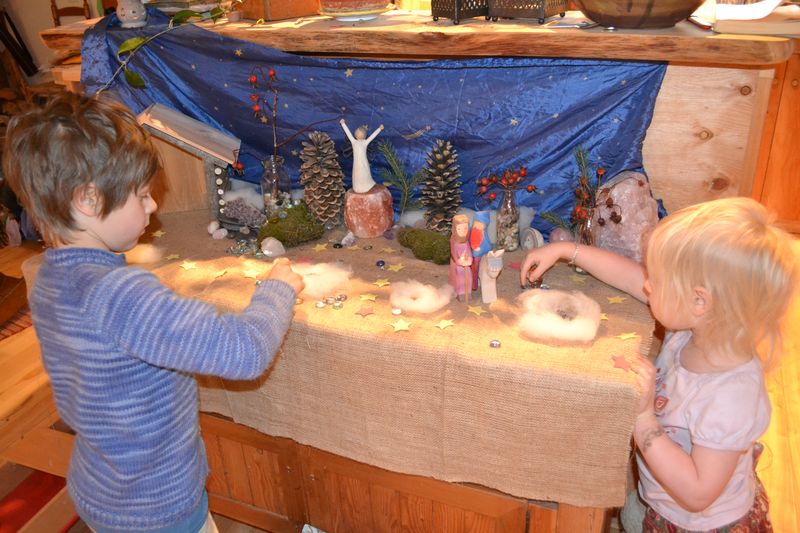 Looking at the calendar this morning, I realized that Christmas is only a month away—30 days to be exact. Those who commemorate the Nativity of Christ on December 25 are probably already counting down the days in various traditional ways in their homes and churches. I remember the fun of opening the windows on Advent calendars each day. (Here's a cute homemade calendar.) And I loved moving Mary and Joseph one step closer to the manger in our nativity scene each day. And then moving the three wise men closer each day to Theophany.

So, where am I in this year's Christmas preparations, as the countdown begins?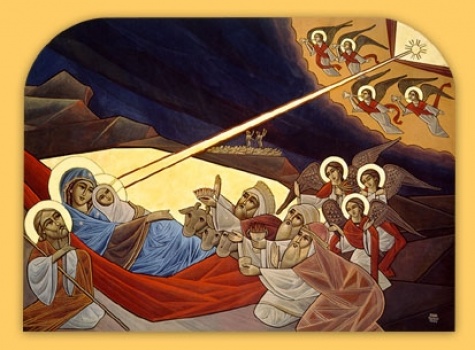 CARDS: I had a great time creating our Christmas cards again this year. And yes, all 125 of them are ready to put in the mail. It's one of my favorite traditions, and no matter how busy I am, it's one I will continue as long as I'm able. This year I designed our card using a Coptic icon on the front and an excerpt from a poem by my friend, the Orthodox poet, Scott Cairns, on the back. Scott's poetry inspires me frequently, but especially during the Nativity Season. (I also used part of a Coptic icon to design the custom-made stamps I ordered online.)
GIFTS: I've bought about 95% of our Christmas gifts, many online purchases that could be shipped directly to Denver, where I'll wrap them when we arrive a few days before Christmas. Others await wrapping and mailing or delivering here in Memphis over the next few weeks. I don't have many stocking stuffers yet, but I enjoy browsing for those in stores where I can listen to Christmas music playing and enjoy the decorations. I'm a big fan of small businesses—especially bookstores—so lots of my gifting comes from such places. Please remember Small Business Saturday if you plan to shop this weekend!
DECORATIONS: Since we're traveling to Denver for Christmas, I'm not going to put up a tree this year. I'm also still recovering from my wreck and surgeries, so I have to pace myself with physical activities. I'm going to do a few simple, holiday touches in the den—including some new pre-lit willow branches with berries for our mantle—and try to enjoy the scent and glimmer of candles frequently as we spend the next few weeks preparing our hearts for Christ to be born in them again. Maybe I'll put out our collection of Saint Nicholas figurines on December 6.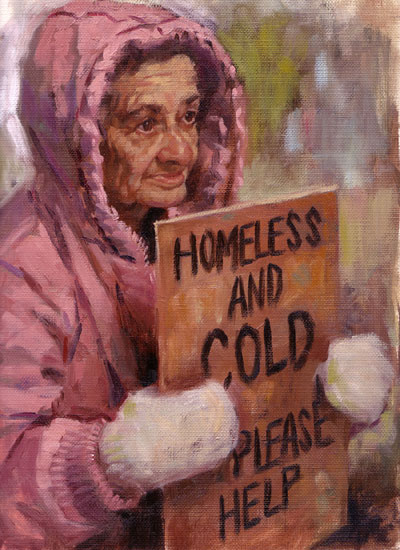 ALMSGIVING: Oh! That reminds me, I need to pick up some toys to take to church on December 5. We celebrate Saint Nicholas Vespers and the teens put on a play, and we collect toys for MIFA's (Memphis Inter Face Association) annual Christmas store for impoverished families. It was fun participating in our Thanksgiving baskets last week, and I hope the families we served will have more reasons to give thanks as they enjoy the turkeys and other goodies we delivered to them this weekend. We might get some sleet in Memphis today, and as I'm snuggled inside my warm house, I'm remembering the joy of giving out blankets to people on the street a couple of years ago. Maybe I'll pick up a few blankets and put them in the back of my car, since I drive through downtown Memphis almost daily, often right past folks who are in wheelchairs, or huddled up against buildings trying to get warm. Our parish is again putting together close to 150 bags of necessity items to give to the homeless this year. I love what Trinity Methodist Church, in my old neighborhood in midtown, is doing to help give the homeless a warm place to spend the night. Read about them and other churches that are part of the Room in the Inn program. And here's one more almsgiving opportunity I recently participated in, with a quick click of the mouse and without leaving the house. Please help Danielle Troup get a handicap van for college!
MUSIC and ART: Last  year about this time I did a post called, "Fighting the Holiday Blue with Music, Art, Food, Friends and Writing." As I read it again today, I realize that I really want to get out and hear some live music and see some good art between now and Christmas. Any suggestions, Memphians?
I hope you enjoy the next 30 days of preparation for Christmas… and aren't too exhausted to enjoy the celebration that BEGINS on December 25 and continues for twelve days and beyond! I'd love to hear about your preparations and traditions.