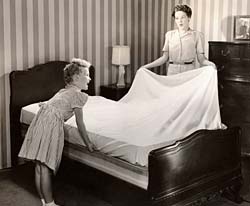 We have a king-size bed with six personal pillows and five decorative ones. We sleep under two light-weight blankets, and we have a "fancy" bedspread. It takes a bit of time to make the bed up correctly, so most days all we do is straighten the top sheet and blankets a bit. We leave the bedspread on the bench at the foot of the bed, and the five decorative pillows in a pile on the floor in the corner of the room. We make the bed whenever we have company, which is probably about twice a month. (And our housekeeper makes the bed after washing the linens once a week.) Are we just being lazy? What does this say about us as people? I was curious so I did a little research. Here's what I found.

Back in September there was a flurry of articles about DUST MITES and how it's better NOT to make your bed every day. The Today Show even covered it. You can read a couple of them here, at: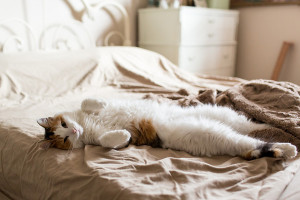 I took solace in thinking I was doing something healthy—letting those dust mites air out before slamming them with our bodies again. But then I read about a different aspect of bed-making.
Psychology Today says bed makers are happier and more productive.
And WebMD says people who make their beds sleep better.
So I'm asking my readers:
How often do you make your bed? Does it bother you to leave it unmade? Do you feel the room's appearance affects your attitude, emotions, or productivity? I'd love to hear from you!