Four days at the beach is a gift, but also somewhat of a tease. It often takes several days to unwind from "city life" when one arrives at a paradise like Seagrove Beach, Florida. In the years 2011-2013 I was blessed to spend one month each year in my own little "writing retreat" alone at this beach. When you know you have several weeks to do everything you want to do—explore, relax, walk, read, write, eat, drink, shop, sleep, sunbathe—you lean into the experience slowly, with no need to hurry to fit everything in. When spending one week here, I can sometimes acclimate in a day or two. But this time I knew I needed to seize the moments as they came.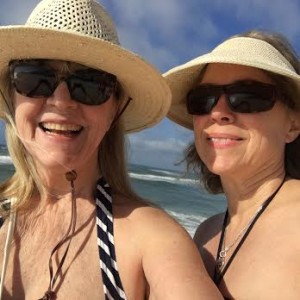 Sharing this experience with a best friend helps. We both seem to cherish the specialness of the trip, beginning with the eight-hour drive with its opportunities for non-stop conversation or relaxed silence, both rich with blessing. We make room for the other person's wishes—another hour at the beach or drive into Rosemary or Seaside for lunch? Church on Sunday morning or not? We opted for the lovely service at the Apostles by-the-Sea Anglican/Episcopal Church that meets in the town hall at Rosemary Beach yesterday morning.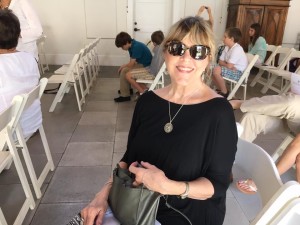 The rector gave a wonderful sermon, and the people were welcoming. I couldn't help looking around at everyone during the service and imagining what their lives were like, living in this paradise. On the Western calendar, it was the fifth Sunday of Lent. This congregation, like all of Western Christendom, is preparing for Palm Sunday and Easter, while we in the Eastern Orthodox Church are just beginning Great Lent today, with "Clean Monday." I almost envied their place in this annual cycle.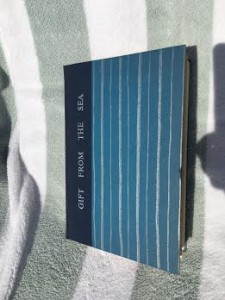 I always bring books with me to the beach. Ironically, one of the first things I read, today, in one of those books—Gift From the Sea by Anne Morrow Lindbergh—was this:
The beach is not the place to work, to read, write, or think…. one carries down the faded straw bag, lumpy with books…. The books remain unread….

She goes on to describe what she considers to be the gifts she receives from her times at the beach, and how receiving those gifts sometimes means having a receptivity that might be hindered by too much "busyness" like reading and writing and thinking. And yet the book unfurls with wisdom that must have come with some degree of thinking, and at some point she had to put pencil to paper in order for us to have her words with us today.
As my friend and I walked for an hour along the shore Sunday afternoon, listening to the sound of the large waves crashing at our feet (the red flag was out) she commented on how the tide coming in and pulling back out works on her psyche, and I agreed. It has a healing affect. Lindbergh talks about this in her book:
Perhaps this is the most important thing for me to take back from beach-living: simply the memory that each cycle of the tide is valid; each cycle of the wave is valid; each cycle of a relationship is valid.
I love what Lindbergh says about women's lives, remembering as I read that she was writing this in 1955. And yet much of it is timeless:
With a new awareness, both painful and humorous, I begin to understand why the saints were rarely married women. I am convinced it has nothing inherently to do, as I once supposed, with chastity or children. It has to do primarily with distractions. The bearing, rearing, feeding and educating of children; the running of a house with its thousand details; human relationships with their myriad pulls–woman's normal occupations in general run counter to creative life, or contemplative life, or saintly life. The problem is not merely one of Woman and Career, Woman and the Home, Woman and Independence. It is more basically: how to remain whole in the midst of the distractions of life; how to remain balanced, no matter what centrifugal forces tend to pull one off center; how to remain strong, no matter what shocks come in at the periphery and tend to crack the hub of the wheel.
How to remain whole in the midst of the distractions of life. Here I am at 65 without children at home or a nine-to-five job I must attend. I have stepped away from most of the volunteer activities that once filled much of my days. My focus during this cycle of my life has become more centered—on marriage, friendships, and writing. My children and grandchildren live in other states, and I only see them several times a year. They are not "distractions" but vital interludes into my routine during this season. I visit my mother in the nursing home once a month, also in another state, and am sometimes "distracted" by the paperwork involved in her care, but the pain of watching Alzheimer's take her away is a centrifugal force that I feel as strongly as the tide pulling the ocean's water away from my legs.
The problems of remaining balanced and strong, which Lindbergh also addresses, linger in my mind today. The book kept me up late into the night and early into this morning, as I experienced a rare sleepless night. Finally around 2 a.m. I walked outside and the stars and the moon on the beach took my breath away. I rarely see the stars living the city. And there it was again—the sound of the waves crashing and the tide pulling and pulling and pulling. I closed my eyes, took a deep breath, and exhaled slowly, allowing it to pull whatever it was that needed to leave my brain so that I could sleep. I'll close this post with the last words I read before returning to bed:
I want first of all… to be at peace with myself. I want a singleness of eye, a purity of intention, a central core to my life that will enable me to carry out these obligations and activities as well as I can. I want, in fact–to borrow from the language of the saints–to live "in grace" as much of the time as possible. I am not using this term in a strictly theological sense. By grace I mean an inner harmony, essentially spiritual, which can be translated into outward harmony. I am seeking perhaps what Socrates asked for in the prayer from the Phaedrus when he said, "May the outward and inward man be one." I would like to achieve a state of inner spiritual grace from which I could function and give as I was meant to in the eye of God.