I know it's a day late, but I was still in Denver with my kids and grandkids yesterday. Instead of spending the morning writing my usual Mental Health Monday post, I kicked back in my jammies with Pops and our son and his family. Lounging on their couches with our two and three-year-old granddaughters crawling around our laps, sometimes showing us games on their "tablets," or putting together a puzzle. Someone made a run for McDonalds when we got hungry for breakfast. That kind of magical morning that is rare when you live a thousand miles from your grandchildren.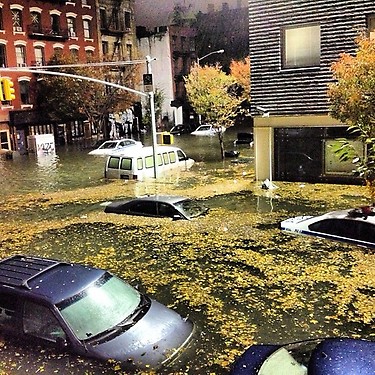 And then I guess I could have written my Mental Health Monday post on the flight home from Denver Monday afternoon, but I was too enthralled in a novel I'm reading. When I wasn't too distracted by thoughts of what was happening with the hurricane.

Arriving home after dark, unpacking, opening the mail. Somehow I still didn't have the energy to write, so we settled down in front of the television to watch the evening's episode of "The Voice." And then we watched some of the images of Hurricane Sandy on the weather channel. I went to sleep with those images in my mind.
On waking this morning, I still considered a post. But then I started looking at the pictures of Sandy again. I emailed a few friends who live in New York City to check on them. Did the grocery shopping and put on a pot of homemade soup for supper. And now, as I settle back at my computer for the afternoon, I find myself closing my eyes and remembering the wonderful time we had with our kids this weekend, and then the terrible suffering our friends are going through with this storm, and I realized I really don't have anything important to say. Except maybe thank you, God, for my home. For my family. For their homes and their safety. And please have mercy on all who are suffering with this terrible storm.
The storm even puts a different perspective on my eagerness to hear back from the literary agents who are reading my novel manuscript right now. Three of them are in New York City and one is in Washington, D.C. I imagine they are without power. Their offices are closed. They might be trapped in their homes. I hope they have enough food and water and warm blankets.
Maybe next Monday I'll be more reflective on all those issues which usually occupy my mind. Today, they just don't seem so important. Not compared with 50 homes burning in Queens due to the storm. And millions of people without power. We really have no idea how many lives have been lost, or what the extent of the damage is. The relative calm at the Denver Airport felt surreal yesterday compared to what we knew must be going on elsewhere. Like at LaGuardia, in New York City (below). The photo is from my friend, Rich Zakka, an airline pilot who recently moved from NYC to Connecticut, where his family is safe, and thankfully they have power and water today.