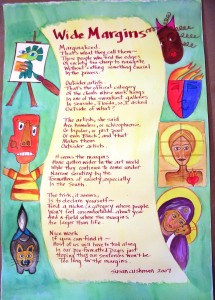 As I continue to read about aging (just finished Diane Keaton's wonderful new memoir, Let's Just Say It Wasn't Pretty, which I loved, especially her chapter, "Old is Gold." And I'm continuing to read and absorb Sally Thomason's amazing book, The Living Spirit of the Crone: Turning Aging Inside Out) I find myself looking for creative ways to embrace this seventh decade of my life. And to keep my brain active, since my mother has Alzheimer's and her mother also had it. As I mentioned recently, I'm trying to re-learn bridge, after a thirty-year hiatus. But I also want to bring art back into my life. I know that writing is art, but I'm talking about visual arts.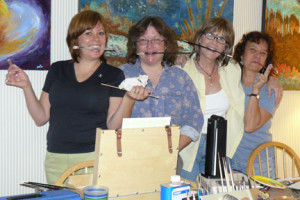 At a party we hosted recently, one of our guests (a fine arts major who now does counseling) commented on some of my icons on the wall in our dining room and a whimsical piece of illustrated poetry hanging in my office. He couldn't believe that I haven't painted in over ten years. With the exception of a few Sunday afternoons back in 2007 when my friend, Julie, invited me to join the "Mixed Bag Ladies."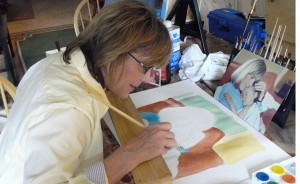 We gathered at her apartment on Sunday afternoons. One woman worked on a collection of small acrylic canvases to hang as a group. On another Sunday she was throwing pots. One person did realistic oil painting. And one woman was experimenting with finger painting with makeup! I brought a poem I had written and illustrated it with gouache (opaque water colors). Couldn't seem to get away from writing. But later I also started a painting of my daughter and me on her first morning after arriving from South Korea. That painting, which I started in September of 2007, is still unfinished….
"But I've been busy writing," I defended my "retirement" from painting. "I've published 13 essays and completed four book-length manuscripts since I quit painting." He wasn't having it. "You've got to get back to this." He made some other ego-boosting comments, but it wasn't his praise that peeked my interest. It was the concept of making art for relaxation. For the health of psyche and soul. I told him I'd think about it.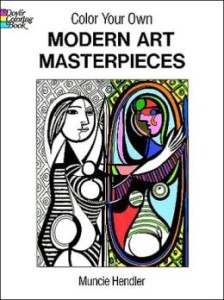 I am 63 years old and I like to color. I don't like to knit or crochet. Recently I bought this Modern Art Masterpieces coloring book and a nice set of colored pencils. I'll never be a master of abstract expressionism but I can enjoy watching these designs come to life as I color them in. I usually do this while I'm alone in the house, sitting in my chair that looks out onto our lovely courtyard where hummingbirds sometimes visit.

This morning I discovered another book, in the Isabella Catalog, Coloring Mandalas. Mandala-making is a sacred art found in many cultures and traditions. Coloring a mandala focuses the attention and nourishes the psyche and senses. It can be relaxing, but also healing. I'm going to order one of these coloring books today.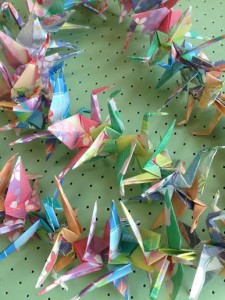 I'm also considering learning origami. For my 60th birthday, one of the wonderful hand-made gifts my daughter, Beth, gave me was this string of 60 origami cranes. (Here's a video showing how to make them.) Beth had been researching wedding traditions for her wedding, which was two months after my 60th birthday.
She discovered the Japanese tradition of making 1000 cranes for good luck for the bride and groom. We decided that was too much to take on since we were already making her save-the-dates, invitations, and table decorations ourselves. But I love my 60 cranes.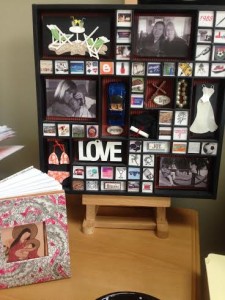 By the way, the other gift my daughter made for my 60th birthday is this amazing "shadow box" and its accompanying book which explains what each of the 60 handmade three-dimensional items represent. She made this and gave it to me two months before her wedding!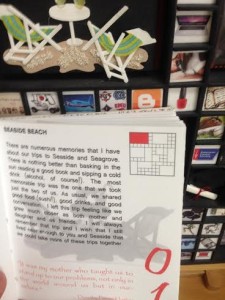 I just re-read the book explaining each square and now I'm all stopped up from crying. The first square is about our trips to the beach together… including a couple she and I made alone, just the two of us.

I kept my art desk, paints, brushes and canvases set up in my office in our last house. For two years. I never touched any of it. So when we moved into this new house, I relegated the art desk and supplies to an upstairs room which also houses lots of boxes of "storage" items. No windows. Not a very inviting space for creating art. It will be interesting to see whether or not I get back into those paints at some point. If I do, it will be for the joy of the doing, not in order to produce something. For now, my spirit is embracing coloring modern art and mandalas. And maybe learning origami. Just writing this makes me smile.