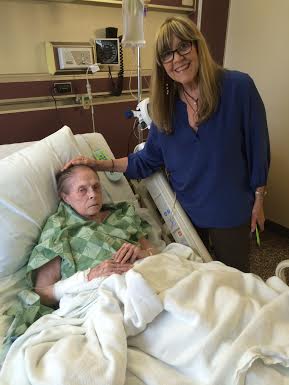 Note: Read through to the last line to get a last-minute update that brought (happy) tears to my eyes!
If you read my post this past Friday, you know that my 86-year-old mother was in the hospital in Jackson. By the time I got down there to be with her, they were about to discharge her back to the nursing home. They had treated her for the bowel impaction, started antibiotics for the infections around her PEG tube site, and prescribed steroids for her (life-long) asthma, which had gotten worse. She was less alert than she is when I visit her in the nursing home (familiar surroundings since 2009) and her situation saddened me greatly. I could only get her to smile by singing, "You are my sunshine." I almost didn't include this photo in today's post, but the expression on her face reflects the emptiness inside, and it's an important part of her story at this point.

About 24 hours after I returned to Memphis, my cousin (a pulmonary physician who is treating Mom when she's in the hospital) called with the news that the culture they did around her PEG site turned out to be a resistant strain of staph. She was readmitted to the hospital last night for a two-week course of IV antibiotics. Jimmy (my cousin) and I discussed her options. He is aware of her DNR status and advanced Alzheimer's and her wish for no heroic measures, and how spending two weeks in the hospital increases her confusion and agitation. One option would be to give her an initial dose of the antibiotics IV and then send her back to take the remaining doses orally. But that might not be good enough to prevent the staph from attacking her retinas and she could end up losing much of her eyesight. From a quality of life point of view, having Alzheimer's would be worsened by not being able to see. I agreed that the compassionate choice was the IV antibiotics in the hospital, although I'm sad that Mom has to go through this. I always try to put myself in her place when making these decisions, and I would not want to be blind once I had already lost so much mental capacity.
No one should have to be in the hospital without a caregiver and advocate there with them, if possible. But I'm having some medical issues myself and am waiting to hear from my own physician about possible tests I may need to have done, so I'm not up to driving back down and being with her right now. I have to trust her care to the medical professionals at the hospital—being so thankful for my cousin who will see his Aunt Effie daily and report back to me. This is a blessing I don't take for granted.
All of this has me so anxious I'm having trouble sleeping. I'm worried that I have cancer, although my symptoms could be lots of other things. I'm worried that Mom will suffer unnecessarily. I'm worried that she will die when I'm incapacitated and can't be there to take care of the arrangements. And I'm disappointed that I might have to cancel my week-long trip to Denver to be with my children and grandchildren next week, whom I haven't seen since May. Of course that can be rescheduled, but it's there, in with the multi-generational mix.
What am I doing to "handle" my physical and emotional reactions to all of this? Last night I went to Vespers at my church. Today is the Feast of the Nativity of the Theotokos—the Mother of God. It's Mary's birthday. I knew I couldn't go to the service this morning because I would be here waiting to hear back from my GI doctor's office (I left a message over 2 hours ago and am still waiting.) So I went to the Vespers for the feast last night. At times like this the love of the Mother of God can help. After the service, our pastor made a few announcements about members who are in the hospital or sick at home, and then he announced about my mother. Several parishioners came up to me and gave me a hug afterwards and I had a chance to talk with them about my struggles. The human element is often the way I feel God's arms around me, and I'm thankful for those hugs.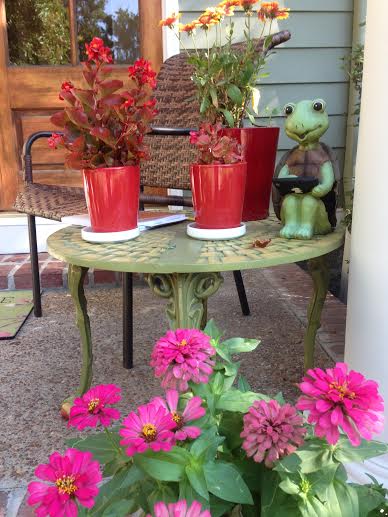 This morning as I was waiting for the doctor's office to return my call, I sat on my front porch and enjoyed the amazing "fall is coming" breeze and the beautiful flowers around me while continuing to read Sally Thomason's wonderful book, The Living Spirit of the Crone: Turning Aging Inside Out. I can see Sally's house from my porch and imagine her inside, having coffee and working on her next creative project. Or maybe she's gone to Yoga this morning. Sally turned 80 this year, but her mind and body both seem much younger than mine. I'm learning why as I read about the work she did on aging when she was my age.

Chapter Four: The Scientific Paradigm, addresses changes in the medical world and how they are affecting our view of aging. In 1904 the term gerontology was coined, followed by geriatrics in 1909. As Thomas says:

Aging became, and still is, one of many pathologies that science would conquer. The official slogan of the American Academy of Antiaging Medicine, a new medical sub-specialty a group of physicians and scientists founded in 1993, reads as follows: "Aging is not inevitable! The war on aging has begun!"
Lord have mercy! Aging has been seen as a disease, leading many elderly folks to relinquish the care of their health to medical professionals, losing their independence and often getting sicker as a result. A study by Dartmouth Medical School researchers shows that during the 1990s, many more Americans were classified as having hypertension, high cholesterol, diabetes or obesity because the definitions of those diseases were changed. As a result, not only were thousands of people put on medications earlier than many needed them, their minds were reset to consider themselves ill. As Thomason quoted in her book:
The medical profession's term for these people is "the worried well."
The worried well. That's how I feel much of the time. Since allopathic medicine defines aging as a pathology, it's hard not to feel that way! As Thomason says,
Scientific authority not only altered private beliefs and behavior, it shaped public policy.
So, how can I change my outlook? Thomason continues:
Aging is not a pathology—a compounding of chronic disease. Aging is a living process that must be understood from both inside (the body/mind/spirit) and outside (within a cultural context), with the realization that there is no clear dividing line between the two. The interworkings are ongoing and extraordinarily complex.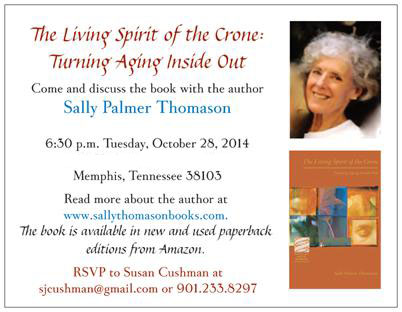 I won't try to share more in this blog post, but as I continue reading, I'll be back. If I'm not in a doctor's office tomorrow morning, Sally and I will be having coffee together and discussing this. And I can't wait to have her lead a gathering of women to discuss these topics in a "salon" setting in our home next month.
In the meanwhile, I'm going to try to withdraw from the war on aging and remove myself from the ranks of the worried well. I know this will take prayer, patience, and self-discipline to retrain my mind and my emotions to embrace a healthier view of aging, but that's my goal today. I'd love to hear from any of my readers who are traveling this path.
NEWS FLASH: Just as I was about to publish this post, I got a text from another hospitalist (and also one from cousin Jimmy) saying that Mom's infection isn't what they initially thought. It's a "skin containment," not a "super bug," and she's being released back to the nursing home today! I am so thankful! And… the hospitalist who texted me is the same one who treated Mom when she was in the hospital for two weeks in January of 2013… a lovely woman who actually taught aerobics with me at my parents' store, Phidippides Sports, in Jackson back in the 1980s! Mom is not alone there, and I'm weeping tears of relief and thankfulness right now.