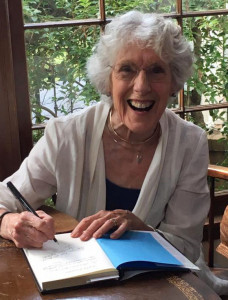 While waiting for the anthology I edited—A Second Blooming: Becoming the Women We Are Meant to Be—to come out from Mercer University Press (next spring), I find myself noticing "second bloomings" everywhere I look. In the email updates I receive from Richard Rohr, whose writings on the second half of life were part of the inspiration for my book. In the real lives of some of the contributors to the anthology as they continue to bloom, like 82-year-old Sally Palmer Thomason, whose book launch I attended last week, and Emma Connolly, whom I visited at her needle and craft shop in New Orleans recently, where she is happier than she's ever been. These women and many others are thriving in their second or third acts.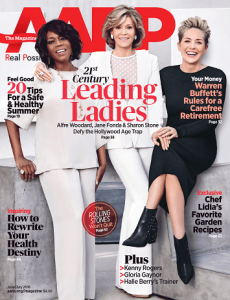 And then there are the celebrities. Watching the Tony Awards the other night, I couldn't help but find joy in the continued success of "women of a certain age." And then there's the cover story for the June/July issue of AARP the Magazine, "21st Century Leading Ladies," featuring Alfre Woodard (63), Jane Fonda (78), and Sharon Stone (58).
Fonda took some time off from acting to do a "life review," spending five years deciding what to do next, having retired from acting in 1991. Comparing life to the theater, she observed that "the final act is the one that can make sense of the first two."  She returned to acting in 2005 and hasn't stopped yet.
Woodard talks about her life as an actor in terms of how to use her talent: "What people are calling my gift is my ability to surrender what is there for absolutely everybody. What we call our talent. We surrender to different talents. And that's the decision." It's almost as if she's calling on all of us not to squander the talents we have that need to be shared, which is what so much of art is about—making the personal universal. I feel this pull in the very small universe of this blog and my own writing projects, but also in the choices I make about how to spend my personal time—reaching out to others,  nurturing my marriage, taking care of my health, loving being a grandmother.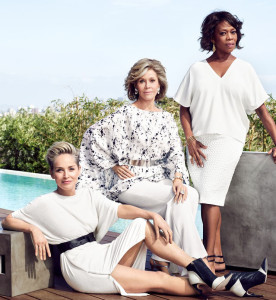 Stone, who is perhaps best known for her sexy role in Basic Instinct and her continued svelte body and good looks, survived a near-fatal massive stroke in 2001. She spent two years teaching herself to read again, and learning to walk without a limp and talk with stuttering. At 58, she says, "just being alive is pretty exciting." But my favorite quote from the article is her description of her professional life since her stroke: "I didn't have enough stamina to hit a home run. In the game of life, you just have to be able to hit single after single after single."
I don't think Stone meant that no one should try to hit one over the fence. In my own work, I've been striving for a home run with my novel for over five years, but I've recently begun to focus on my complete body of work (over fifteen published essays) instead of hanging all my hopes on having my novel published by one of the big houses. Stone's positive attitude has helped me look at those essays as my way of hitting singles. Even now, as I strive to find my "next big thing" to write, I wonder if I should quit obsessing over another novel and just write some more essays and see where it leads. I'll close with these final words of wisdom from Stone:
I've stopped questioning everything, and that gives me a lot more room to breathe. I think it's just getting comfortable in yourself—in everything, but certainly the work.