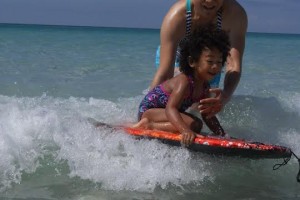 We're headed to my favorite place on earth Sunday—Seagrove Beach, Florida—for our (almost) annual family beach vacation. I'm so excited that all of our kids and grands will be there this year. Bill and I took a year off from this annual tradition last year, for our "bucket list" trip to Paris. But we did make it down for Thanksgiving last year (just the two of us). So, the last time we were there with any of our kids was in May of 2015, when our daughter Beth, her husband Kevin, and their three-year-old daughter Gabby joined us. Beth was pregnant with Izzy at the time. Here are some great pictures from that trip. So, this year there will be 7 adults and 4 kids, ages 7 ½, 6 ½, 5, and 20 months—Izzy's first beach trip! Can't wait! I always think about John Masefield's poem, "Sea Fever" when I'm getting ready for the beach:
I must go down to the sea again, to the lonely sea and the sky, And all I ask is a tall ship and a star to steer her by; And the wheel's kick and the wind's song and the white sail's shaking, And a grey mist on the sea's face, and a grey dawn breaking.
I love Kris Delmhorst's musical version of "Sea Fever" on her wonderful CD "Strange Conversation."  I'm listening to it now as I write this. Can't wait to be there!
I only remember one beach trip with my family when I was a little girl. Most of our family vacations involved following my dad around golf courses and watching him play in (and often win) tournaments. Swimming in the pools at the various country clubs where he played was fun, but it wasn't the ocean.
When our boys were 3 (Jason) and 6 (Jon) we took them to Destin for the first time. (Beth wasn't with us yet.) And then later we took Jason and Beth to Hilton Head, South Carolina one summer when Jon was in school at St. Andrews-Sewanee. And we took all three kids to Kiawa once. But it wasn't until November of 2006 that we went back to Florida with our grown son, Jon, to celebrate his graduation from flight school. This was our first trip to Seagrove Beach, Florida, which has become our favorite destination. I documented some of those earlier vacations in this post from 2010. We've been back with our kids and grands numerous times, and I spent three one-month writing retreats alone there, in 2011, 2012, and 2013. (It's where I gave birth to Cherry Bomb, my novel that's coming out in August.)
Our daughter Beth was married at Seagrove Beach in May of 2011. Next week we'll be staying at a house right next door to the wedding venue. Lots of great memories….
I'll close with a few photos. I might not be blogging from the beach next week… so please come back in May!