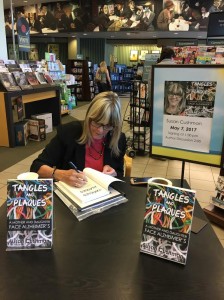 I have heard stories from best-selling authors about having only one or two people show up for a reading/signing at a bookstore. Or about sitting at a signing table at Books-a-Million or Barnes and Noble and having no one or only a couple of people even make eye contact or stop to ask about your book. Now I know what that feels like. I drove out to Collierville yesterday afternoon for a signing and reading for Tangles and Plaques: A Mother and Daughter Face Alzheimer's.
It wasn't the fault of the good people at Barnes and Noble at Carriage Crossing in Collierville, Tennessee. They did a great job of promoting the event:
Listing on the EVENT page of their web site for several weeks prior
Large sign on the front door for several days prior to the event
Nice signing table right inside the front door with another sign and copies of the book
Announcements over the PA system inside the store before the signing, and again before the reading/discussion session
Set up a dozen nice chairs in a sunny area by the windows, right next to the Starbucks Café inside the store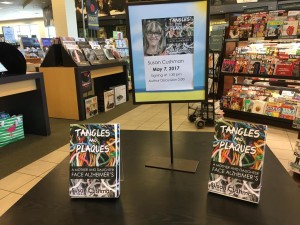 And so how many people showed up? ONE! Cheryl Wright Watkins, a writer friend who lives in the area, who had already bought the book at another event, came just to show moral support. If she hadn't been there, I wouldn't have had anyone to talk to for the thirty minutes I sat at the signing table and then the thirty minutes I waited for folks to show up for the reading/discussion. We had a great visit, enjoying our Starbucks drinks and catching up on our busy lives. And I was happy to see that this lovely bookstore seemed to be doing well, at least based on the foot traffic on a beautiful Sunday afternoon when people tend to be at outdoor events.
I knew it was a risk scheduling an event in Collierville, since I only know a couple of people who live in the area. But I thought I'd give it a try, and the booksellers who organized it for me were so encouraging. I'm sorry they now have so many books to return. Hopefully they'll keep a few in stock.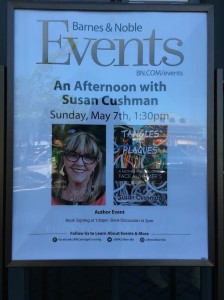 The experience was humbling and also gave me a great appreciation for all the other events I've participated in this spring with wonderful turnouts. Whenever anyone takes time from their busy life to go to a bookstore and meet an author and buy her book, it's a victory for the literary world.
Thanks so much to the wonderful booksellers at Barnes and Noble in Collierville for hosting me. I wish you much continued success!