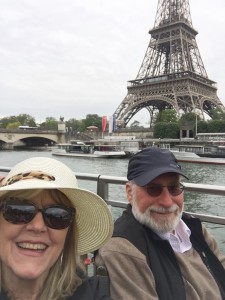 This is day 3 of our visit to Paris, the "City of Lights." I'm learning so much—didn't know that Paris was the first city with street lamps (17th century) which is why it's called the City of Lights. It's also the first city with a sewer system that really works.  So full of history, incredible architecture and natural beauty. It's the most popular destination in the world, with over 80 million people visiting it yearly.
Paris is only 1/15th the size of London, and yet it's also the city that invented people-watching, because it has 10-12 million people, making it the most densely populated city in Europe. Its 1860 boundaries are still in place, holding it to its geographic size for over a century.  Most of the outdoor cafes have the chairs turned towards the street, where you can sit side-by-side with your companion and watch the people go by. Like this fascinating guy on his bicycle in the Le Marais district, which we toured on Sunday.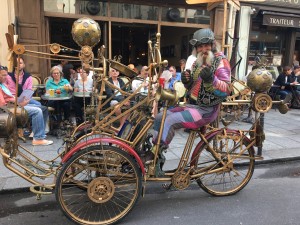 One of the first Celtic tribes who settled on what is now the Island of Notre Dame in between 300 and 400 BC (there's no evidence of this, but much speculation) was called "Paris." The first architectural evidence of civilization here are Roman artifacts from around 27 BC.
In the 1950s Paris—and especially Bercy Village, the area where we are staying—was the largest wine distribution center in the world. There are many interesting renovated wine warehouses that have been turned into shops and restaurants near our apartment. I'm enjoying the wine, but not on the scale of the early Parisians, who drank an average of 4-5 liters of wine a day in the 19th century.

Paris is a wheat-growing region with a reputation for excellent bread from quality wheat (which is higher in gluten than most wheat). Every year a "Best Baguette in Paris" award is given to a bakery, which then has the honor of supplying the French president with bread for the following year.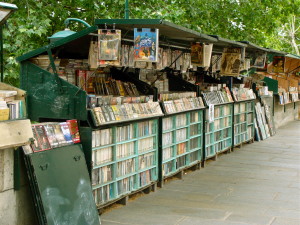 Our wonderful tour guide gave a terrific talk on the history of Paris yesterday, hence these gems I'm sharing today. He included lots of information about the political and academic life here, as well as why Paris became a haven for writers and artists seeking freedom of expression after the Enlightenment. The Beat Generation flocked here in the 1950s, but since the '70s lots of young people have chosen Berlin, since it's cheaper. Today we're touring the Latin Quarter, where lots of those young people lived fifty years ago, where they actually spoke Latin to each other! Today the University of Paris has over 250 thousand students on 20 campuses. I loved the book-sellers set up in kiosks along the Seine, known as bouquinistes.

This morning we toured the Latin Quarter and learned about the French Revolution. Fascinating walking tour (British guide was terrific) including the oldest café in Paris, stories about Danton and the radical Cordeliers, the guillotine and the death of Marat. And here's a hat Napoleon left as an offering at a café when he couldn't pay the Tab.

This is an "immersion" trip, so we stay in an apartment in a small district away from the center of Paris. Every day we have a short lecture before heading out on a tour, or a guided tour with lecture as we go. So far our daily guides have been great – one from the U.S. (who has lived in Paris since 1994) and one from England. Our group includes folks from Alabama, Tennessee and Iowa, and a terrific Parisian tour guide overseeing the whole trip. Kudos to AHI Travel for great organization.  We're enjoying everyone so much. My only complaint so far is that my feet are killing me, since we walk between 6 and 12 miles/day on concrete and cobblestone. But it's worth it! Off to Versailles tomorrow. I'm having problems downloading pictures on my blog, but More photos are on Facebook. Au revoir!