Ekphrastic Writing, Continued . . . .
Yesterday I had a short piece published at The Ekphrastic Review. You have to scroll down past a few other pieces to get to mine, or you can read it here. This month's prompt challenge is Frida Kahlo's painting, "The Dream." My response to the painting is either lyrical prose or a prose poem (what do you think?) titled, "He Waited For Her."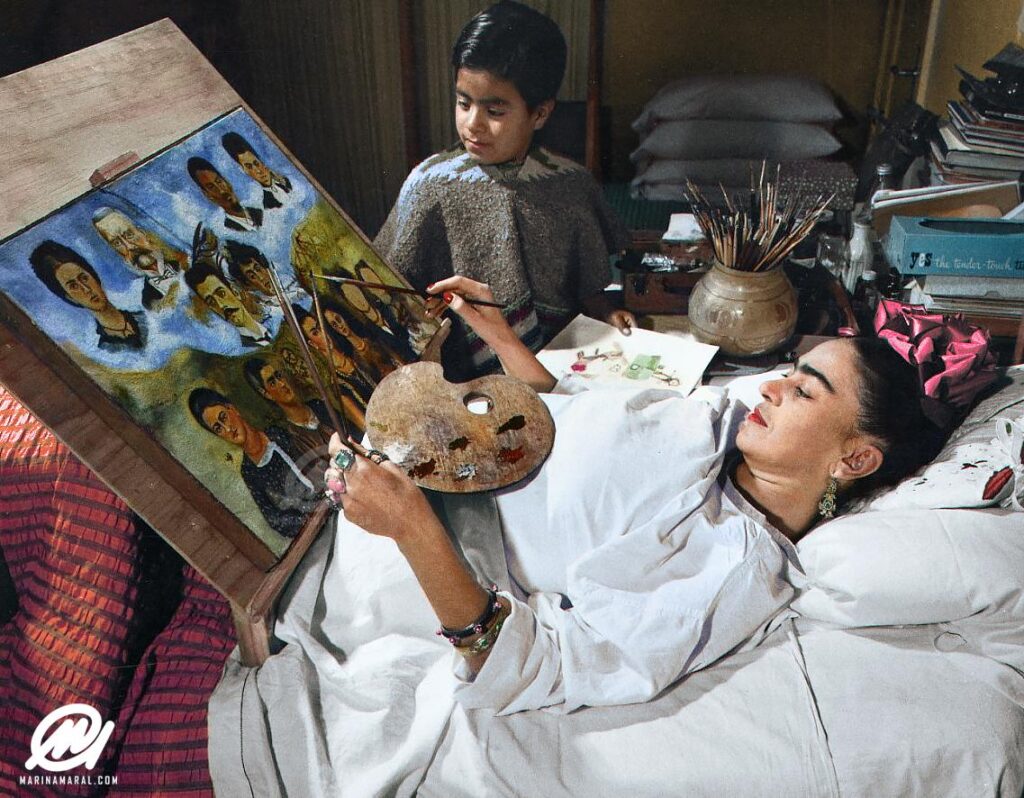 Like Kahlo and her art and her life, this is a dark piece. I didn't have an "agenda" in writing it. It was simply a writing exercise.
He Waited For Her
He waited for her when she was stricken with Polio—thinking surely she would come soon—but somehow she pulled through, and was left only with a slight limp. He didn't mind the limp.

He waited for her to finish school, watching her involvement with the Young Communist League and even the Mexican Communist Party.

He waited for her as she was impaled by a steel handrail when the bus she was riding on collided with a car. He began to grow impatient when she again survived after weeks in the hospital.

He waited for her when she married Diego Rivera—and shook his head as he watched them take up residence in two separate houses. He knew she needed space, and he knew he could offer it to her, if she would only leave all the chaos and cross over.

He waited for her as she suffered her husband's infidelity with his younger sister, and many more in the future. If she only knew that he would love her forever.

He waited for her as she followed her dreams to Paris, where she was transported to a show in an ambulance and carried in on a bed, from which she addressed the gallery guests.

He waited for her as she returned to Mexico for solo exhibitions and a lifetime of fame, all while suffering continual pain. Why did she endure it when she could come be with him? What was this obsession with pain?

He waited for her as she miscarried the child she longed for, thinking surely this would be her last straw.

He waited for her as her father died, hoping that would encourage her to run to him.

He waited for her—often turning away not to watch—as she painted horrific self-portraits, displaying her traumatized body in surrealistic images.

He waited for her with a bouquet of flowers, but he wasn't sure how much longer he could wait. He knew he could end it whenever he wanted to, but he didn't want the explosion to frighten her.

He waited for her—it felt like an eternity—but what does that even mean for someone in his situation?

He waited for her embrace, when she finally—and reluctantly— agreed to join him. Or maybe she wasn't so reluctant, for she had been embracing him all along.