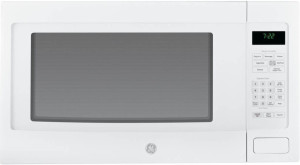 Our GE microwave oven quit working last week. It's about five years old, and I read in the customer reviews for a similar model that they only last about five to seven years. We have a built-in above-counter shelf that was designed for a fairly large microwave, so I ordered another one. I measured carefully, or so I thought, but when it arrived, it was too deep for the space. I hadn't allotted for the several inches that the electrical cord and plug takes up in the back. And, the specifications online don't allow for the curved-out space on the back of the microwave where the fan (?) or other parts are encased. All that to say, we had to pack it up to return it and order a smaller one.
Meanwhile, we have a really small one that we used to use in our master bathroom, which was upstairs in a previous house, so we're using it temporarily. It's amazing how dependent we've become on a microwave oven! This started me thinking back to the early days of our marriage, and trying to remember when we got our first one. This picture is from June 17, 1970. It's one week after our wedding, and I'm cooking and serving the first meal I ever cooked. Ever. (I was barely 19 years old.) It's oven-baked chopped-up steak and vegetables of some sort. I remember following the recipe, lots of chopping, baking in one of our new Corningware casseroles, and it coming out really tender and tasty.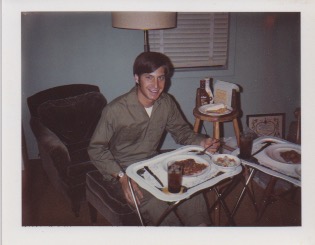 We didn't have a table yet, so here's Bill eating on our TV trays. And of course, we didn't have a microwave. Although they were available for use in homes starting in 1967. But I can't remember when we got our first one. Probably a few years later, when the prices began to come down.
I was discussing this with a friend today who quit using hers ten years ago, due to the warnings about possible health hazards. I also remember a discussion from about ten years ago with a woman who is a gourmet cook and doesn't have or like microwaves. I've read about how they destroy so much of the nutritional value of the foods and other health issues, but I'm not ready to part with mine. And I don't really "cook" a lot in it… other than to steam frozen vegetables. Mainly we re-heat leftovers in it, and we do that quite a bit.
So, do you use a microwave? How often and for actual cooking or just re-heating? It's always fun to hear from readers… here or on Facebook.
Happy Throwback Thursday!