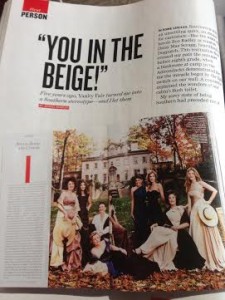 I've been in Atlanta since Sunday, visiting family and attending a medical meeting with my husband. This morning I'm taking him to the airport to head off to D.C. for another meeting while I stay and visit with my childhood best friend, Jan, who was maid of honor in our wedding 45 years ago. It's a rainy day in Georgia, so I'm heading to Phipps Plaza for some indoor shopping first.
All that to say I'm not writing, but I'm giving a shout out to Atlanta author, my friend Jessica Handler, Author of The Invisible Sisters (a terrific memoir) and Braving the Fire: A Guide to Writing About Grief. A copy of Atlanta magazine was in our hotel room, and I loved Jessica's article, "You In the Beige!"  It's Jessica's humorous and poignant account of the photo shoot she was invited to participate in for Vanity Fair about five years ago. They gathered a group of Georgia authors and dressed them in Southern frocks and posed them in front of a mansion.
Handler writes about losing herself in the process of letting the stylists and photographers turn them into "cake-frosted versions of ourselves," dressed in Oscar de la Renta and Swarovski.  The whole scene went counter to the portraits of Southern women that most of the writers had worked hard to represent in their writing. And yet, they let it happen. It's a great story. If you don't live in Georgia and don't have the magazine, you can read it online here:
"Vanity Fair Turned Me Into a Southern Stereotype—and I Let Them.

Enjoy! (P. S. I'm excited to have Jessica's writing as part of the anthology I'm editing, A Second Blooming: Becoming the Women We Are Meant to Be.)