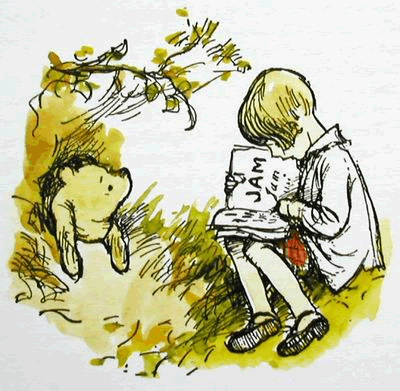 I used to have (before it broke) a white coffee mug with a blue logo from Square Books in Oxford, Mississippi, on one side, and a quote from Winnie the Pooh Goes Visiting on the other. Remember the scene where Pooh ate too much and got stuck in the hole in the tree, so he asked Christopher Robin to comfort him? Then would you read a Sustaining Book, such as would help and comfort a Wedged Bear in Great Tightness? That's how I've been feeling this week. Stuck in great tightness.
Why am I stuck in great tightness? Because I've had several days at home alone with no interruptions and no appointments and no social events and a plan to make major progress on the novel revisions, but I have done very little. I've been talking with two close friends about this stuckness, and they've comforted me with encouragements to rest and reminders that I'm still recovering from a life-threatening car wreck. And I know they're right, because my body and brain just aren't functioning very well yet. And so I've allowed myself some time this week (after two busy road trips recently) to just rest. To read and watch TV and take naps and not leave the house for several days in a row. When I was an invalid and couldn't leave the house, I felt trapped. But now that it's a choice, it actually feels good to have a little self-imposed rest. To waste time and not feel guilty isn't something that comes natural to me, but I'm working on it.
But the other thing that has helped and comforted me in my great tightness this week is to do just what Pooh asked Christopher Robin to do for him—to read a Sustaining Book.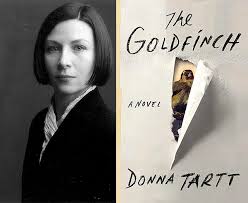 I'm about 150 pages into such a Sustaining Book, and it is wondrously comforting on many levels. Like thousands of others, I've been waiting for Donna Tartt's third novel to hit the shelves for a decade. That's right. This award-winning Southern author (she's from Greenwood, Mississippi) writes one awesome literary novel every ten years. I was a huge fan of her first two books— The Secret History and The Little Friend—so I couldn't wait for her third to come out. And The Goldfinch may be her best yet. (It's Amazon's Book of the Year.)
Tartt told Charlie Rose (in this video):
I've tried to write faster, and I don't really enjoy it.
When I heard her say that in the interview with Charlie Rose, I thought, and I've tried to read faster, and I don't really enjoy it. So I'm taking my time with The Goldfinch and it is definitely sustaining. And maybe, just maybe, it's helping me accept that I need to slow down the writing/revising process with my own novel. After all, I've only spent three years on it so far.
Maybe reading Tartt's work isn't really just me being lazy (see I'm still trying to assuage my guilt) but it's part of the learning process for any emerging literary writer. How can I learn to write a Sustaining Book if I don't read one every time I get the opportunity?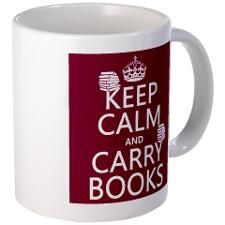 Today and tomorrow I've got several appointments, so I definitely won't be writing. But you know I'll have The Goldfinch with me in those waiting rooms and I won't be able to put it down when I get back home. My next uncluttered day will be Friday, but if I decide not to work on the novel revisions, it won't be because I'm stuck in great tightness. It will be because I'm enthralled in Tartt's great prose.