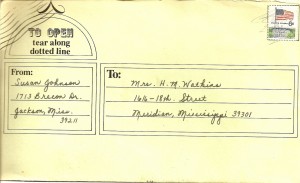 From the time I was about five through several years into my twenties, I wrote letters to Mamaw—Emma Sue Watkins, my mother's mother, for whom I was named. She lived in Meridian, Mississippi, and I was in Jackson. I told her everything. About my fights with my brother. About my first kiss. About falling in love and getting engaged to be married. About elementary school, junior high school, high school and college. And guess what she did? She not only wrote back to me, she also saved many of my letters in a shoe box. My mother found them in the 1980s when she was cleaning out Mamaw's house and gave them to me. What a treasure.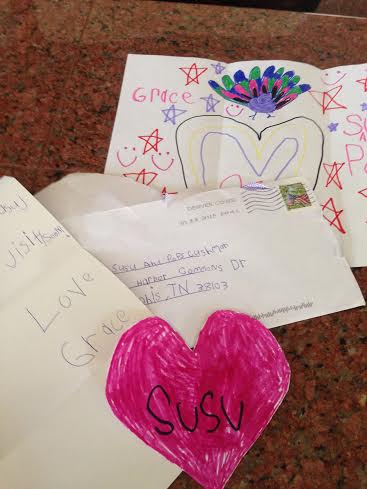 So, now my oldest granddaughter, Grace, just turned 6 and wrote me her first letter last week. She lives in Denver. She addressed it to "Susu and Pops Cushman." I love that. I immediately wrote her back and told her about my letters to Mamaw. I also told her that I would always write back to her each time she writes to me, and that I would save her letters in a shoe box. I hope she inspires Anna, her almost 5-year-old sister to start writing to me when she is able. And of course I'll try to involve Gabby, who is now three, in the process eventually. Why?
Because I believe in the tradition of hand-written letters. Of course they'll be texting me from their iPhones soon, and we do Face Time now and I love that. But there's something about a handwritten letter that trumps everything. It's a skill and tradition worth preserving.
Which brings up the subject of thank-you notes. From the time I could write, my mother had me sending hand-written thank you notes to relatives for gifts. I tried to instill this in my own children. Think about it. Which would you prefer to receive—an email thank you or a hand-written thank you note? I realize that writing an email—or even sending a text—requires some writing skill. But there's something about choosing stationary and writing instruments, stamps (I order mine online to get a great variety of designs) and sitting down for a few minutes to write and address a personal note that engages the senses in a greater way. What if your handwriting sucks? Maybe that's because of lack of practice.
I have one friend who doesn't have a computer. She's 92 and lives in Oxford, Mississippi. She actually edited a book manuscript for me a few years ago—very smart woman. But she did it all by hand on a printed out manuscript, and wrote her notes on a legal pad. Now we exchange letters from time to time. Real letters. I love them.
All this to say that hand-written letters are a tradition worth preserving. That's all.