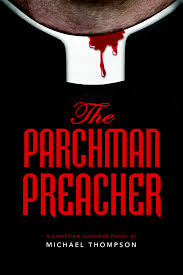 That's what Mississippi mystery author, Carolyn Haines, called Michael Thompson's new novel, The Parchman Preacher. She tells us that he set the story in "the Mississippi of my youth," where he brought to life "the powerful Southern female."
If that's not enough to pique your interest, listen to what Southern author and journalist, Rheta Grimsley Johnson, has to say about Thompson's fictional town of Solo, Mississippi:
…biblical in its proportions, with a revolving Episcopal pulpit, a moonshine swilling postmaster, and a murdering villain.
As Thompson describes the book:
Martha, Mary Magdalene, John the Baptist, Satan and Jesus are key figures in this 1950s suspense allegory of Christ's beginning ministry.

But even if you don't dive that deeply into the plot and subplots, it's still a "romping good tale." Some of Thompson's characters remind me a bit of the colorful people in Jan Karon's Mitford series, although her books are set in North Carolina (except for the Father Tim novel, Home to Holly Springs, which is set in Mississippi.)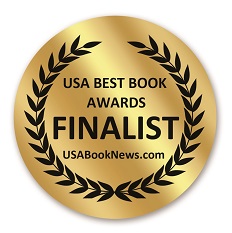 And now Thompson is working on a British version of The Parchman Preacher which will be called The Bedford Preacher. Stories about the darker side of human nature are universal, aren't they? (If you're not from Mississippi, you might not recognize "Parchman" right off the bat…. It's the state penitentiary in Parchman, Mississippi.)
Although I've known of Michael Thompson for many years, when he was running his own advertising agency here in Memphis, we didn't really meet until a few months ago when he joined the informal Memphis writers' group that I formed. The Parchman Preacher isn't his first book. He has also published David—the Illustrated Novel, and his Christian sci-fi thriller, JALA (water in Hindu,) about a future without clean water, has been serialized in a local magazine.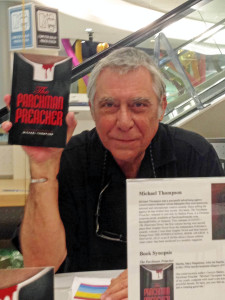 I had a great time in October when Michael and I ended up at adjacent tables at the Memphis Library's annual Bookstock! event for local authors. He gave me an inscribed copy of The Parchman Preacher, which I took home and enjoyed immediately.
If you're in the Memphis area, come meet Michael and hear him read at The Booksellers at Laurelwood this Sunday at 1 p.m. (The Laurelwood site said 2 p.m. earlier, but even if it hasn't been changed, the reading is at 1 p.m.) I'm meeting up with a bunch of folks from our Memphis writers' group for lunch at The Bistro at noon, and then we'll be cheering for Michael during his reading at 1. The Parchman Preacher would make a great Christmas gift for the book lovers on your list! (You can also get the eBook for $4.99 here.) For a free sample, download the Prologue and first chapter here.