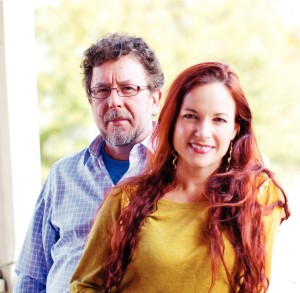 When Beth Ann Fennelly and her husband, Tom Franklin, finished writing their first collaborative book, The Tilted World, they celebrated with a bottle of champagne while sitting at William Faulkner's grave in Oxford, Mississippi. And now the rest of us have cause to celebrate, as their literary love-child is presented to the world on October 1.
Beth Ann heads up the MFA program at the University of Mississippi, where her husband also teaches. Tom has won numerous awards for his novels, while Beth Ann has garnered accolades for her nonfiction and poetry.

I'm sure I'm just one of many fans of Beth Ann and Tom who have been eagerly awaiting their co-written novel, The Tilted World. Having studied under both of these gifted writers at numerous writing workshops and conferences over the past few years, (and having enjoyed many of their readings, like this one in Memphis in 2008, and this one at the Neshoba County Fair, also in 2008) I couldn't wait to see what their joint effort would look like. And it did not disappoint. Both of their brilliant literary voices are woven throughout the story.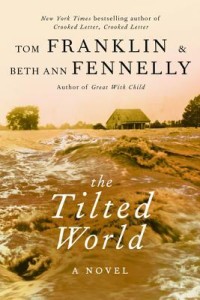 I'm not ashamed to say that I read Dixie Clay and Ingersoll's love-making scene several times, drooling over the lusty and literary images. Unbuttoning her blouse "like picking the mandolin."  And at the end, as "they were thrust into the golden light that bodies can climb to." Wow. And I have to say I'd love to hear Beth Ann read it aloud one day. As beautifully erotic as it is, I realize that somehow the descriptive phrases and even the rhythm of the scenes also seemed to fit the era. They must have done their research well.
I'm not going to write a review here, but I'd like to share Sarah Johnson's starred review at Book List (below), and then a few questions that the authors were generous enough to answer for us. First, the review:
*The Tilted World.

Franklin, Tom (Author) and Fennelly, Beth Ann (Author)

Oct 2013. 320 p. Morrow, hardcover, $25.99. (9780062069184).

Husband-and-wife authors Franklin and Fennelly join forces for a suspenseful, emotionally moving novel about the Great Flood of 1927 that resurrects this nearly forgotten natural disaster and showcases both their talents. Sent to the Mississippi Delta to solve the disappearance of two fellow Prohibition agents, Ted Ingersoll and his partner come upon a botched robbery that left a baby boy the only survivor. When he arrives at his destination of Hobnob Landing, Ingersoll deposits the child with Dixie Clay Holliver, a sad young woman whose son had died two years before. Ingersoll's attraction to Dixie Clay is dangerous; he doesn't realize she's the secret creator of Black Lightning, the region's finest moonshine, or that she and her shifty husband were the last to see the missing men. Meanwhile, floodwaters continue to rise, the levees are barely holding, and financially motivated saboteurs are itching to strike. The pacing amplifies to mirror the increasing tension. The authors superbly depict the bonds of maternal, romantic, and brotherly love, and their slangy dialogue and piquant metaphors enrich their setting. This is a full-bodied shot of bluesy Americana with just the right amounts of grit, heart, and woeful longing, and it goes down smooth and satisfying. — Sarah Johnson
Grit, heart, and woeful longing. Yes!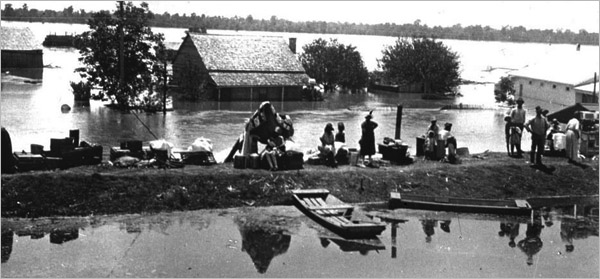 And now a short interview with the authors:
Q: The Inception: In the Acknowledgments section of The Tilted World, it says that the book grew out of your collaborative short story, "What His Hands Had Been Waiting For," and that your agents suggested you expand it to a novel. I'm curious where you got the idea for the short story originally?
A: A few years ago, Tommy was asked to contribute to an anthology of stories set in the Mississippi Delta.  But the deadline was looming and he was running out of juice, so he fished through his drawer of old busted drafts (I think most writers have such a drawer) and reeled in a failed story.   He gave it to me to see if I had any ideas.    I did, so I added them and gave the story back, and he wrote some more and returned it to me.  We did this a few more times until eventually we were finished and, without exactly meaning to, had co-written the darn thing.  Set during the flood of the Mississippi River in 1927, "What His Hands Were Waiting For" is a strange, almost post-apocalyptic story about two government agents riding through the flooded Delta.  They come across two looters and shoot them, then realize one was a woman—and hear a sound behind the looted house which they follow to discover a baby in a basket hanging from a tree.  The baby is now orphaned, so the agents take it with them and give the baby to a woman they come across whose own child has recently died.  The end. 
Or so we thought.  But that little story had some legs, and was reprinted in a few anthologies, one of which made it into the hands of Tommy's agent, Nat Sobel, who called and said, "You never told me about this story." 
"What's there to tell?" asked Tommy.  "It was just a lark, a quick side project."
"No, it's not," Nat said.  "It's your next novel.  And you and Beth Ann are going to write it together."
Which sounded crazy, and crazily irresistible.  Because, although months had gone by, the characters, somehow, were still ghosting around our heads, chatting with each other.  And the historical research was so rich that it almost felt frustrating not to do more with it—like opening a vein of gold in rock and pocketing just a nugget.  And it was fun to collaborate.  Lots of fun, actually.  Writing can be lonely.  Here I was writing with my best friend. 
We agreed to give it a go and promised to have a draft in one year.  It took us three.  (One of my first lessons about collaboration: a novel written by two people isn't finished twice as fast).    
Q: Can you talk about the process of co-writing a novel? Did you take turns with chapters or sections and then edit together, or what?

A: The novel has two point of view characters. There's a female point of view character who's a bootlegger. The male point of view character is a revenue agent. So you can see the natural conflict. When we began the novel, I was purely writing from the female character's point of view, while Tommy was writing from the male character's point of view. It was actually going pretty slowly, partly because Tommy was out on book tour for his novel, Crooked Letter, Crooked Letter. We were making some headway, but not a lot. It actually became a lot more fun and started going more smoothly when we started doing what we called dueling laptops. This is where we would be writing together in the same room, side by side, each on our own laptop. We'd start with the idea: okay we know we need this scene on the levee, and we know this person has to arrive on the scene, and this conversation has to take place. He'd be writing the scene on his, and I'd be writing it on mine. After a while we'd stop and read our parts to each other. Sometimes we'd take all of one person's, sometimes we'd combine some, or do something different entirely from an idea one of us had gotten from the writing. When we started doing that, the writing became more fun and surprising things were happening.   I've always been jealous of what musicians have when they play together on stage because writers don't get that. You don't get the ability to feed off of someone else on stage, or be inspired by someone else, or have that idea of a group making something together. We had that a little bit with writing this novel.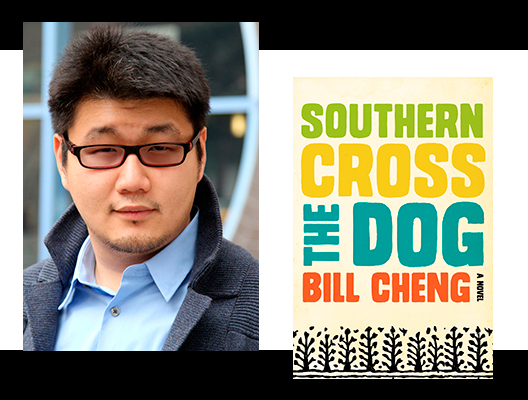 Q: Have you read Bill Cheng's Southern Cross the Dog, which is also set during the flood of 1927.  I was surprised to see two novels with this same backdrop published just a few months' apart. As you know, Cheng has gotten some criticism for writing something so seemingly outside his own "culture." In an interview in Poets & Writers, he says, "I set out to write a sincere and earnest tribute to the blues…. Not being Southern, or black, or a blues musician is not a good excuse for not doing the work. To me, that's the whole point of fiction." He goes on to say that he "finds labels like 'Jewish writer' or 'Asian American Writer' or 'Southern writer' really unhelpful." Do you have any thoughts on his book, the coincidence of both works showing up this year, or Cheng's comments?
A: Yes, I always find it curious when movies or books come out around the same time and, without knowing of the other, cover the same topic.  It's another of the universe's mysteries, I guess.
I have read and admired Bill Cheng's book, and I recommend it!  In fact, we're doing a reading at The Strand Bookstore in NYC Tues. Oct. 8, and we're sharing that reading with Bill Cheng, who we met when he read here in Oxford.
Cheng's book focuses more on the aftermath of the flood, and I think that's so awesome because our novel focuses on the time period leading up to the flood, and the levee camps that were set up afterwards were so devastating and interesting.  I learned a lot about this from Rising Tide, John M. Barry's amazing book about the flood, a serious and capacious nonfiction study.   
While there are some intersections between Cheng's work and ours (we both use the blues, for example) they strike me as quite different works over all.
One last thing about Cheng's work—much has been made of the fact that Cheng never visited Mississippi during the writing of this book—there seems to be a weird implication from some that a young Chinese-American who didn't even visit Mississippi during his writing can't have possibly gotten it right.  And when I read the book, I think—what an imagination he must have!  Tommy and I were able to walk the levee, talk to folks, look at archive photos, etc.  Cheng seems to have gotten things right while never leaving New York City!  It's remarkable, really.
Thanks so much for taking time to answer our questions, Beth Ann and Tom!

Want a sneak preview of The Tilted World? Read an excerpt, "The Bootlegger and the Baby," in the fall issue of The Oxford American.
The Tilted World will debut on October 1. It's available for pre-order at Square Books in Oxford, or your favorite bookseller.