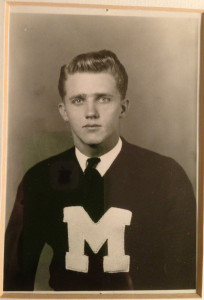 I'm writing this post from Broadstreet Bakery, (their cheese grits rock) just downstairs from Lemuria Books in Jackson, Mississippi. I love to write here. To absorb some of the culture I'm reclaiming from my hometown, which I left in 1988. The voices swirling around me sound like my people. And every now and then I see a familiar face—like this morning, when Jerry Horner, whom I've known since I babysat for his kids back in the 1960s, walked in. He and my father were business partners for many years, and I had a big school-girl crush on him.
Yesterday I met my brand new great-nephew, Oscar Elliott (Eli) Goodwin, who was born a few weeks ago. He gets his middle name from his grandfather, my brother, Michael Elliott Johnson. Eli is one of my people.
And then I went to Lakeland Nursing Home for my regular visit with my mother. I cut about six inches off her hair. After I combed it and pulled it back up into a (much shorter) ponytail, she said, "Thank you. Did you get it all?" And I answered, "Yes, ma'am." I tried to tell her about how the Mississippi State baseball team was playing in the College World Series finals. I reminded her that my daddy was their starting pitcher back in the late 1940s (he also lettered in golf) but she doesn't remember who he is. Or what baseball is. But she's still my people.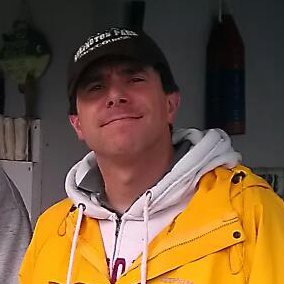 After that I went to my friend, NancyKay Wessman's house, where Susan Marquez (NancyKay and Susan are both terrific writers, by the way) joined us for drinks and supper before we all headed to The Fairview Inn for a salon-style reading in the library lounge. Steve Yates, assistant director/marketing director at the University Press of Mississippi, gave a fabulous reading from his short story collection, Some Kinds of Love: Stories which won the Juniper Prize for Fiction. He read from his story, "The Green Tomato Marquesa's Night of a Thousand and One Triumphs." My emotional response as he read ran the gamut from laughter to serious reflection and most of all, awe at his writing.
Yates weaves a hilarious story of a terrorist plot to destroy Jackson with chemical warfare, set against the cultural backdrop of the Sweet Potato Queens.  As he describes the relationship between Jamil, a Pakistani terrorist, and Maudelynne Arnot Dabb, a librarian at the Eudora Welty Library in Jackson, Mississippi, I was mesmerized. In the beginning of his relationship with the librarian, Jamil consults his terrorist manual for help in how to deal with her:
"Fraternization with Crusader woman may have its values but should be undertaken with the caution of Allah against all Warners and Sinners. American Crusader  woman desires more than any female sect on the globe to talk, and this dagger cuts both ways. Be alert for special knowledge to be gained and for assimilation and access among still more powerful infidels."
It only gets better as they meet outside the library for the first time:
She bit her lip, a fetching expression. "May I make a confession to you?"

Like no other tribe, educated Southern Americans always asked permission before burdening one with personal information. And this endeared them to Jamil in ways he knew were not productive.

He nodded.

"I am a Fruity Countessa. A Green Tomato Marquesa Soon-To-Be. And our Most Recycled Virgin and Apostolic Green Tomato Marquesa says, 'The man of your choice should never be able to predict when vegetable fortune will shower upon him.'"

Jamil felt the shadow of deepening mystery pass before his sun. In Jackson's newspaper he had read an interminable string of articles discussing this faith sect, the Green Tomato (always pronounced Tah May Tah) Marquesas, female disciples of a former newspaper columnist who now gave empowerment advice to women whose lives lacked fulfillment, gratification, and control, whose days needed sassiness to over come the drudgery of men.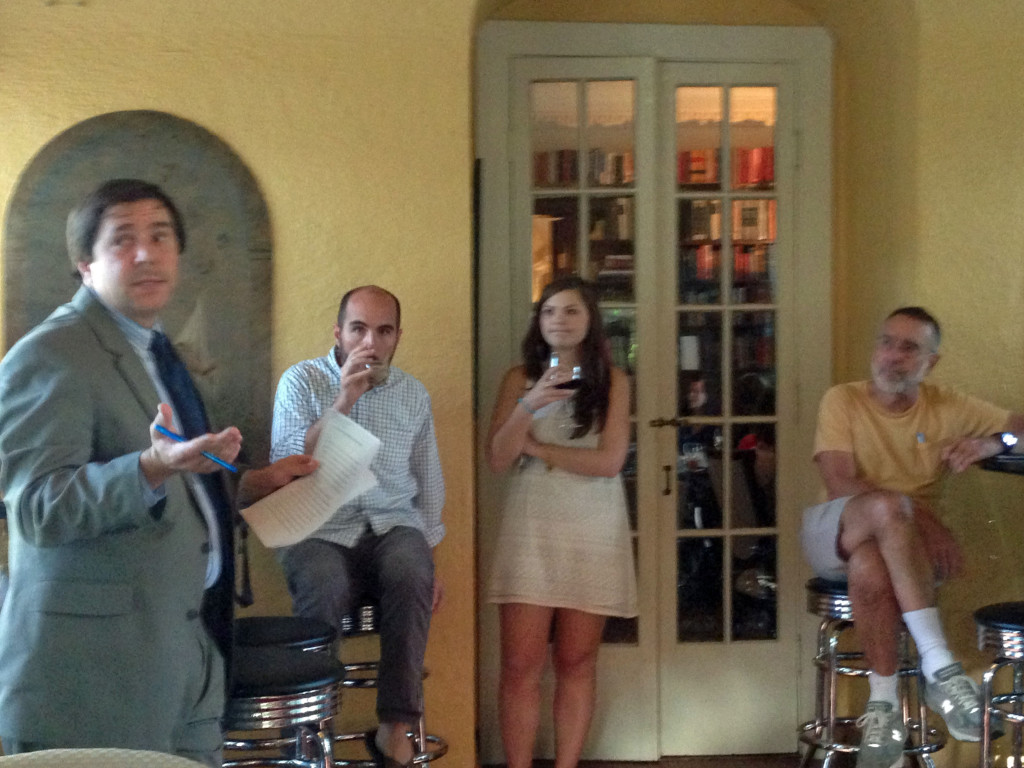 No spoiler alert here—you'll have to read the story to follow their relationship and see whether or not Jamil succeeds in his mission. But Steve Yates certainly succeeded in his, with this wonderful collection of stories, most of which previously appeared in such prestigious publications at The Missouri Review and Southwest Review. One was chosen as one of the Other Distinguished Stories by the editors of Best American Short Stories 2010. Another, "Coin of the Realm," was nominated for the Pushcart Prize. Kudos, Steve! I'm proud to name you among my (Mississippi) people.


But the day didn't end at Steve's reading. NancyKay, Susan and I left the Fairview Inn and headed up I-55 North to the lounge at the Hilton Hotel, where we met up with a high school classmate of mine (Murrah High School class of 1969), Harrell Broome, and his wife, Jackie. We spent the next couple of delightful hours enjoying nightcaps and the music of Johnny Crocker. Harrell is a drummer, and he and Jackie introduced me to Johnny and now I'm hooked. We sang along, danced, and even lured a beautiful young woman who was sitting alone to move over to our table. She was in town from New Orleans, on business. You see, it's true what they say about Southern hospitality. As the evening drew to a close and we exchanged hugs and intentions to do this again soon, I felt something stirring that started about six years ago. A return to my roots. Yes, these are my people.